Riddled by 123 islets spearing out of the cerulean sea, Alaminos in Pangasinan beckons intrepid travelers and pleasure seekers.  Home to a staggering variety of wildlife and fishes, these coral islands are collectively called HUNDRED ISLANDS.  Most of them are desolate, save for the 4 major developed islands: Governors Island, Quezon Island, Marcos Island and Children's Island.
*For an updated HUNDRED ISLANDS TRAVEL GUIDE –> CLICK HERE.
Here's a HUNDRED ISLANDS  travel guide to help you plan your trip itinerary:
How to go to Hundred Islands National Park by bus
Ride a bus bound for Alaminos, Pangasinan, try Victory Liner in Cubao, fare is about Php 400 if coming from Manila. Travel time is 3-4 hours.  Once you reach Alaminos, head to Lucap Terminal where tricycles can take you to Lucap Wharf the jump-off point for island hopping, fare is Php 15 per person, however it only leaves once full.  Alternatively, you can charter a tricycle all the way to Lucap Wharf.
At Lucas Wharf, you need to register and pay the Hundred Island Park Fees. If you're only going to do a day tour, fee is only Php 20 while Php 40 for those who plan to stay overnight at any of the islands.
What to Do in Hundred Islands
If you're up for more adventures at Hundred Islands National Park, rent a kayak for Php 250 per hour (good for 2 persons) and go canoeing from one island to the next!
You can also snorkel and explore the colorful marine life! Snorkeling gears are for rent for Php 100. Other camping supplies like grills, coolers and mats could also be rented out.
WHERE TO STAY IN Hundred Islands National Park 
For those planning to rough it up, camping at Hundred Islands is recommended. Fee is Php 200 per night and tent rental is Php 400. To save on the tent rental fee, bring your own tent. You can also rent a cottage with rooms or open cottage starting at Php 300.
Alternatively, you can do a day tour of the Hundred Islands and find budget hotels in Alaminos instead.
We stayed at Islandia Hotel and Island Tropic Hotel.
Islandia Hotel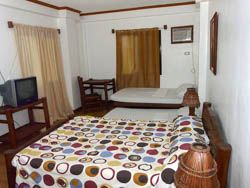 CHECK  ROOM RATES HERE
Marcos Avenue, Palamis, Alaminos City
Island Tropic Hotel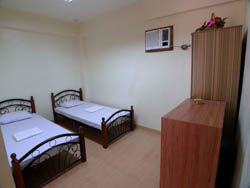 Island Tropic Hotel and Restaurant
Boulevard Street, Alaminos City, Alaminos City
Nautilus Islands' View Lodge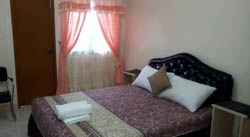 National Road Barangay Lucap, Alaminos City
CLICK HERE TO CHECK ROOM RATES
---
Hundred Islands Travel Budget
| | |
| --- | --- |
| Type of Transportation | Vehicle |
| Bus (roundtrip) | Php 400 x 2 = Php 800 |
| Tricycle (roundtrip) | Php 15 x 2 = Php 30 |
| GRAND TOTAL | Php 830 |
| | |
| --- | --- |
| PARK  FEES  FOR DAY TOUR |   |
| Entrance fee | Php 20 per person |
| Small Boat (1-5 pax) | Php 800 |
| Medium Boat (6-10 pax) | Php 1,000 |
| Big Boat (11-15 pax) | Php 1,100 |
| | |
| | |
| --- | --- |
| PARK  FEES  FOR OVERNIGHT TOUR |   |
| Entrance fee | Php 40 per pax |
| Small Boat (1-5 pax) | Php1,400 |
| Medium Boat (6-10 pax) | Php1,800 |
| Big Boat (11-15 pax) | Php 2,000 |
| | |
| --- | --- |
| Other Fees (Optional) |   |
| Table for Rent/Picnic Area- Day Tour | Php 200 |
| Table for Rent/Picnic Area- Overnight | Php 300 |
| Kayak | Php 250 |
| Snorkel | Php 100 |
| Comfort Room | Php 5 |
| | |
| --- | --- |
| Hundred Island Park Accommodation | |
| Tent/camping | Php 200+ Php 400 |
| Cottage | Php 300-Php 1,500 |
| Twin Rooms | Php 1,500 |
| Family Room | Php 2,000 |
| Cottage | Php 2,500 |
ALSO READ:
FOLLOW ME ON FACEBOOK FOR TRAVEL GUIDE + ItINERARY UPDATES