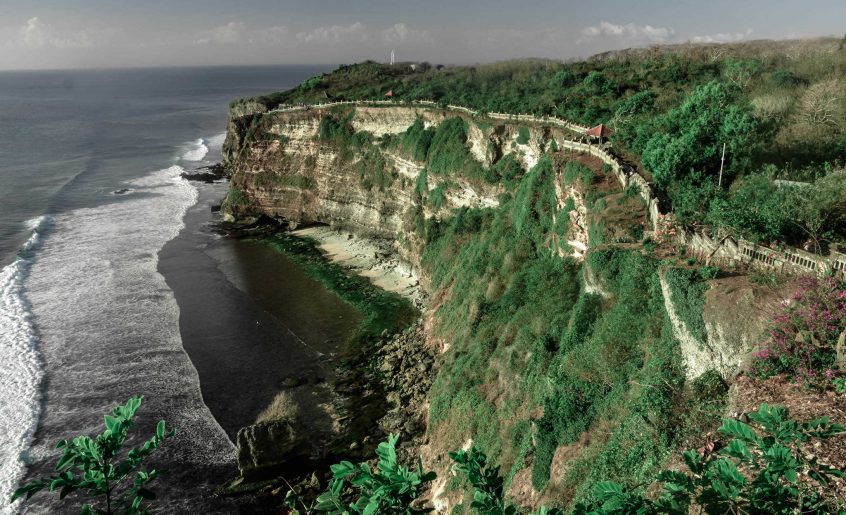 The mere mention of Bali connotes images of serene, tropical paradise clad in exotic culture and  maidens walking on evergreen rice paddies.  But once you arrive in downtown Denpasar, you will be greeted by a lively, crowded strip of souvenir shops, flashy malls, deafening all-night clubs, restaurants and resorts for all types of budget.
Don't fret, because once you start exploring outside the tourist strip of Kuta – where Bali tourism started – you will probably agree that those picturesque images of Bali are indeed real!
Here is a travel guide for first time visitors in Bali who want to have a glimpse of the famous Balinese culture and arts.  I've personally tried the activities mentioned here.
---
HOW TO GET TO BALI FROM MANILA (PHILIPPINES)
Several airlines fly from Manila to Bali, but some of them have a lay over at Singapore or Kuala Lumpur.  Philippine Airlines has direct flights to Bali from Manila.
---
GETTING AROUND BALI, INDONESIA
At Bali Airport (Ngurah Rai Airport) you can take a cab to your hotel, Blue Bird Taxis are the most reliable.  Or better yet, book for Bali Airport Transport to your hotel or destination and back to the airport via a private car (good for 5 persons), you can book Bali airport transport here
If you are staying in Ubud, you can arrange a pick up with your hotel, or rent a car. You can book for Bali private car here
.
BY TOUR PACKAGE

For solo travelers or couples, getting a tour package is a wise idea.  Here's some of the must-do tours for first-timers in Bali: You can  check the price and book the Uluwatu Temple sunset and Kecak Dance Tour here,  check price and book the Tanah Lot Sunset Tour here , and check the price and book an Ubud Tour here.
BY CAR RENTAL
If you are traveling in groups, I suggest you hire a car so you can pick the tourist attractions that you wish to visit. You can book for Bali private car here
BY TOURIST SHUTTLE BUS
Tourist Shuttle Bus is a popular option for tourists traveling to Lombok Island. They also connect to the main tourist centers on Bali. The most established is Perama Bus.
BY MOTORBIKE
You can hire a motorbike in Bali for as low as $7. Check with your guesthouse or hotel or travel agents. Some offers delivery and pick-up service, motorbike insurance, pocket Wi-Fi, GoPro Hero4 Silver and 24/7 roadside assistance.
BY BEMO OR BUS
The main form of public transportation in Bali is the bemo (a van or minibus).  Fares are fixed, however, tourists are usually overcharged. Bear in mind that the bemo won't leave until full.  I will only recommend this if you are with a local who speaks Bahasa Indonesia or Bahasa Bali.
Buses have fixed rate and they leave at the same terminal as bemos.  Only set fares are available, so if you are getting off halfway, you still have to pay for the full price.
---
WHERE TO STAY IN BALI
First timers in Bali often stay in Kuta (I am guilty) and Legian, honeycombed with narrow lanes fringed by surf shops, money exchange, cheap cafes and souvenir shops, not to mention ceaseless motorbikes.
While top end hotels like Mercure Bali and Hard Rock Hotel Bali seem to dominate the area fronting Kuta Beach, there a good number of budget sleeps (called losmen) tucked in narrow lanes like Poppies Lane I, JI Benesari and Gang Bedugus. 
Legian on the other hand, beckons slightly older crowd and families on a mid-range budget. You can find pretty comfortable and reasonably-priced rooms along JI Padma and JI Melasti, or in areas in between as well as along Jl Pura Bagus Taruna.
For high-end tourists, Tuban, Seminyak and northern Legian are the place to be.
LUXURY
Hard Rock Hotel Bali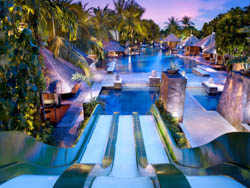 Jalan Pantai, Banjar Pande Mas, Kuta, Bali,
Mercure Hotel Kuta
(We stayed here during our  Bali trip).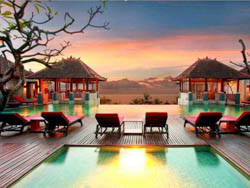 Jalan Raya Pantai Kuta No. 10X,
Banjar Pande Mas, Kuta,
Kabupaten Badung, Bali
MID-RANGE
EDEN Hotel Kuta Bali – Managed by Tauzia
Jalan Kartika Plaza 42 Kuta, Kuta, Bali,
Bintang Kuta Hotel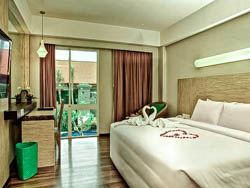 Jl. Kartika Plaza, Kuta, Kuta, Bali,
BUDGET
Pondok Denayu Homestay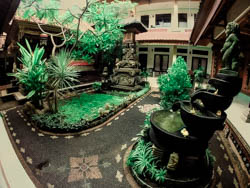 Kubu Anyar Street Gang Kingkong 1 No. 4B, Kuta, Kuta, Bali
Buddha's Guest House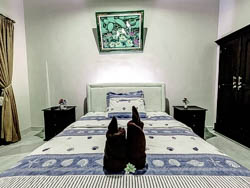 Jalan. Kartika Plaza, gang Pandawa No. 4, Kuta, Bali
---
WHERE TO EAT IN BALI
Indonesian foods are generally Chinese influenced, but if you want to try authentic Balinese or Indonesian dishes, head to a warung or food carts.  Many Balinese dishes require sometime to cook, two of the must-try food here is babi guling (spit-roasted suckling pig) and betutu bebek (duck roasted in banana leaves).
Bebek Tepi Sawah in Ubud serves really good roasted duck!  If you want to taste them, Ubud has restaurants by the rice paddies that serve such dishes.  On the other hand, Potato Head Beach Club is the place to be for sipping cocktails at sunset.
Bebek Tepi Sawah
Jl. Raya Goa Gajah
Ubud, Bali
Open Hours: 10:00 AM – 10:00 PM Daily
(Roasted duck – betutu bebek)
Pepenero
Temple Hill Studios Jl. Wanagiri 18
Jimbaran, Bali
Open Hours: 11:00 AM – 11:00 PM Daily
(Italian dishes)  
Potato Head Beach Club
Jl. Petitenget N0.51B
Seminyak, Kuta
(Cocktails at sunset)
---
BEST MONTH TO VISIT BALI
July to August – Peak Season
May to June – A good month for visiting, the annual rains have stopped
April – Dry Season
November to March – Rainy Season
---
BALI ITINERARY AND THINGS TO DO
Day 1:  JIMBARAN BEACH, ULUWATU TEMPLE AND KECAK DANCE 
| | |
| --- | --- |
| Day 1 |   |
| 08: 30 AM – 10:00 AM | Arrival in Bali |
| 10:00 AM – 11:30 AM | Heading to Ungasan |
| 11:30 AM – 02:00 PM | Lunch at Pepenero – Jimbaran |
| 02:00 PM – 03:00 PM | Heading to Uluwatu Temple |
| 03:00 PM – 04:00 PM | Explore Uluwatu |
| 04:00 PM – 07:00 PM | Watch the Kecak Dance Performance at Uluwatu |
| 07:00 PM – 8:00 PM | Seafood Dinner at Jimbaran Beach |
| 08:00 PM – 09:00 PM | Back to hotel (Mercure Hotel Kuta) |
The best surfing in Bali is arguably found on Uluwatu, at the southeastern coast.  Uluwatu has a world-famous surfing break that produces consistent, great swell of all sizes. It has about seven surf peaks that are perfect for advanced and expert surfers.
Just south of the surfing spot, a cliff is crowned by another famed landmark – Uluwatu Temple, one of the oldest and most important temples to the spirit of the sea in Bali.  During the 10th century, Empu Kuturan, a Javanese priest, established the first temple here.  During the 15th century, the founder of the Hindu-Dharma religion reportedly spent his last days here when he attained moksa (oneness with the godhead).
For the uninitiated, Ulu Watu Temple is notorious for its naughty monkeys that snatch sunglasses, drinks, handbags, hats or just about anything that they can reach.  However during our visit this October, I only encountered one or two while shooting the sunset.
While you are here, don't miss the renowned Kecak Dance at Uluwatu Temple during sunset.  It is one of my favorite activities in Bali. Before the show I met the friendly performers backstage, and I got to talk to them about their practice and preparations.
The Kecak Dance is unique among Balinese dances as it is not accompanied by a gamelan, instead, a group of barechested men wearing checkered cloth around their waist chanting rhythmic chak-a-chak-chak while their arms are raised, swaying back and fort. The Kecak Fire Dance actually depicts a scene from Ramayana, the story of Prince Rama and Princess Sita.
While you are in the area, have dinner at one of the beachfront restaurants along Jimbaran Beach that serves delicious seafood dishes!
Open Hours: 8:00 AM – 7:00 PM
Uluwatu Entrance Fee: 20,000 IDR (sarong and sash included but you need to return them after)
Kecak Dance Ticket: 80,000 IDR
---
DAY 2:
COOKING CLASS AND TEGALLALANG RICE TERRACES
| | |
| --- | --- |
| DAY 2 |   |
| 07:00 AM – 08:00 AM | Breakfast at the hotel |
| 08:00 AM – 08:30 AM |   Gather at the lobby |
| 08:30 AM – 09:30 AM | Heading to Ruma Desa at Tabanan for Cooking Class |
| 09:30 AM – 01:00 PM | Cooking Class and Balinese Cuisine Lunch at Ruma Desa |
| 01:00 PM  – 05:30 PM | Head to Tegalalang Rice Terraces |
| 05:30 PM – 07:30 PM | Back to Hotel |
| 08:00 PM –  09:00 PM | Dinner at Warung Made Seminyak |
| 09:30 PM – 10:30 PM | Back to hotel |
Discover the secrets of the tasteful Balinese cuisines through a Bali cooking class. There are several places that offer cooking courses especially in Ubud, Bali's culinary capital, most of them start with a visit to a local market to buy the fresh ingredients and spices  needed for cooking.
We tried the Balinese Cooking Class at Ruma Desa.  Before being guided to the open-air kitchen, the staff explained the history of Balinese cooking, as well as the Balinese daily life.  They even showed us how to write the ancient Balinese script!
Ruma Desa is actually a Balinese house compound blissfully nestled on the countryside.  The houses here were built following one of the traditional Balinese architecture rules called Asta Kosala Kosali.

What I also like about Ruma Desa is it aims to empower and develop their village through programs such as trekking the rice field, learning about the irrigation, rice planting and visitors can even try plowing the field with the help of a cow!
But if you want to see Bali's celebrated rice field, then head to Tegallalang Rice Field or Jatiluwih Rice Terraces.  In 2012, the subak, a traditional rice cultivation culture was granted a UNESCO World status. Unlike other rice irrigation practices, the subak system is under the influence of a priest who performs the Tri Hita Karana philosophy which aims to create a pleasing relationship with the spirits, the human world and nature.
Ruma Desa Balinese Coooking Class cost: $60-$80
Ruma Desa Adventure Full Program: $69
Ruma Desa
Banjar Baru, Desa Baru Marga,
Tabanan, Bali
---
DAY 3:
UBUD, MONKEY FOREST, TANAH LOT TEMPLE
| | |
| --- | --- |
| DAY 3 |   |
| 07:00 AM – 8:00 AM | Breakfast at hotel |
| 08:00 AM –10:00 AM | Heading to Ubud |
| 10:00 AM – 12:30 PM | Visit the Monkey Forest in Ubud |
| 12:30 PM – 02:00 PM | Lunch at Bebek Tepi Sawah in Ubud |
| 02:00 PM – 03:00 PM | |
| 03:00 PM – 05:00 PM | Sunset at Tanah Lot Temple |
| 06:00  PM – 09:00 PM | Dinner/Back to Hotel |
 If you are looking to immerse in Bali culture, head to Ubud, the cultural, arts and culinary capital of Bali.  Although this can be done as a day trip from South Bali, staying here is also a great idea to  get a taste of the traditional Balinese  life and explore the surrounding areas.
As you might have surmised, Monkey Forest is home to a bunch of monkeys; most of them are pretty naughty and notorious for snatching things like sunglasses, handbags and hats. Avoid kneeling as they have the tendency to attack, like what happened to me while taking a photo of a temple.
The Sacred Monkey Forest also houses a Hindu Temple Complex. And its mission for its conservation is in harmony with the Tri Hata Karana philosophy. You can also stroll outside the park and shop for souvenirs, batik, sarong and paintings.
While in Ubud, it is recommended to see Tanah Lot and its postcard worthy temples.  The rock formations here are known for its Balinese temples facing the sea.  The best time to visit, especially for photography enthusiasts, is during sunset.
---
DAY 4:  
KUTA SURFING, SPA AND SHOPPING
If you have another day to spend in Bali, head to Kuta Beach to witness surfing or learn how to surf.  Sur shops abound nearby.  You can rent an inexpensive surf board and get a surfing lesson.  And while you are at it, don't miss is the iconic sunset.
After all the activities in Bali, you deserve some pampering. Why not get a Balinese spa or a massage?
And before you pack your things in preparation for your flight, go grab some souvenirs from markets and souvenir shops that are standing shoulder to shoulder on the narrow lanes of Kuta. Don't forget to haggle!
---
BALI HELPFUL TIPS FOR FIRST-TIMERS
Dress and act modestly when visiting temples. A sarong or a scarf is handy to cover up; however, the most-visited ones like Uluwatu usually have them for visitors to borrow.
Take off your shoes when entering a house.
Do not step on the offerings at doorsteps and gates which are usually small fragrant parcels made of palm leaves, incense and flowers
Avoid touching a person's head. The Balinese believe that the head is the most sacred part of the body.
Always use your right hand when eating, receiving or giving something.  Using the left hand is believed to be disrespectful.
---
ALSO READ: 
---
---
FOLLOW ME ON FACEBOOK FOR TRAVEL GUIDE UPDATES
FOLLOW ME ON INSTAGRAM