Yogyakarta is history, yes, and also the culture and soul of Java.  This vibrant city has been dropping jaws for years because of its architectural medley of  ancient temples, elaborate heritage buildings, fascinating museums and impressive Kraton (Sultan's Palace).
Interestingly, it also home to indigenous arts, boasting an incredible line-up of traditional craft displays, wayang theaters, home-grown dances, refined batiks and deeply-rooted religious festivals.
For first timers here, Yogyakarta is also affectionately called Yogya or Jogja (pronounced as jogh-jah) and because of the endless attractions sprinkled around the city, you will never run out of things to do while on vacation here!
To help you choose what you want to explore during your visit to Yogyakarta, here's my hand-picked list of Top Tourist Spots in Yogyakarta.  
CATCH THE SUNRISE IN BOROBUDUR
Make a side trip to Borobudur which is located in Magelang, approximately 40 kilometers northwest of Yogyakarta.   I've visited Borobudur before, but it was my first time to see the temple at sunrise this year.  We woke up as early as 3:00 AM in preparation for this splendid experience.
Thankfully, we stayed at the nearby Atria Hotel  that serves really early breakfast.  So while waiting for the rest to wake up, the amiable staff offered me some traditional food to munch and tea to sip.
Anyway, at first sight, Borobudur looks run-of-the-mill; honeycombed with recurring stupa (dome shaped monument housing Buddhist relics). This UNESCO World Heritage Site consists of 9 platforms; the upper three are circular while the lower 6 are square in form. The colossal temple is embellished with over 2,000 gorgeous relief panels of Buddhist elements and over 504 Buddha statues.
Borobudur represents the universe based on Buddhist cosmology according to our friendly guide. "The 3 central elements of Buddhism are expressed in the architectural form of the stupa, the Meru and the mandala, while the panels depict Mahayana Buddhism"
What I also like about Borobudur is that it offers a stunning view of the rural scenery. The summit offers a scenic view of the neighboring Mount Merapi, the most active volcano in Indonesia.
| | |
| --- | --- |
| Borobudur Entrance Fee 2015 | |
| Locals | IDR  30,000 (US$ 2.19/ PHP 103.42) |
| Foreigners | IDR 225,000 (US$ 16.46/ PHP 775.63) |
| Borobudur + Prambanan Package Ticket (Adult) | US$ 30 (PHP 1414.02) |
| Borobudur + Prambanan Package Ticket (Children) | US$ 15 (PHP 701.01) |
---
LEARN HOW TO CREATE SILVER JEWELRY AT KOTA GEDE
Unknown to many tourists, the neighborhood of Kotagede in Yogayakarta is steeped in history.  It was actually the first capital of Mataram Sultanate founded in the 16th century.  Though its former affluence is nearly visible now, some of the important edifices of its monarchs like ancient palace, defensive walls and moats, the royal cemetery and the royal mosque managed to stand the test of time.
Today,  Kotagede is typically visited because of its silver jewelry. The history of the silver craft here dates back to 18th century when the Mataram Sultanate employed Kotagede as a silver handicraft center for the palace needs.  Sometime in 1930, the silver craft of Kotagede  made its mark internationally when the wife of the Dutch Governor ordered large quantities of hand-crafted silver products and had it shipped to the Netherlands.  Many of the ancient silver jewelry made in Kotagede from 1929-1932 are reportedly displayed at the Dutch Tropen Museum in Netherlands.
Overtime, silver craft jewelry in Kota Gede shifted to mass-produced goods due to economic crisis and to meet the locals and tourists demands for affordable silver products.  Visitors can visit one of the shops dappled around Kotagede to watch and learn how to create a silver jewelry.
I recommend buying a piece or two as souvenir to support the local industry.  For those who still want to order and take home the more expensive intricate, engraved products, you can do so.  Silver products sold at the shops range from jewelry to bowls, tea sets to dinner wares and even replicas of Borobudur temple!
---
VISIT PRAMBANAN TEMPLE
A visit to Yogyakarta would not be complete without paying a visit to the gorgeous, elaborately designed Prambanan Temple.  This towering shrine with piercing ratna (the temple's pinnacle) is designated as a UNESCO World Heritage Site, which according to them is the largest temple compound dedicated to Shiva in Indonesia dappled with over 508  stone temples (both ruined and well-preserved) in diverse shapes and sizes.
As in other Hindu temples around the world, its architectural flair is a fusion of arts: the principles of dharma and the traditions of Hinduism.  It is said to imitate Mount Meru – the dwelling of of Shiva and other Hindu Gods.   I sauntered around the complex starting at the less crowded entrance and slowly moved towards the inner zone where the 8 major candi (shrines) and 8 minor ones proudly stand.
It was not hard to notice that the panels of the temples are carved elaborately with reliefs depicting classical Hindu stories like the Ramayana.  The walls of the candi are beautifully embellished with statues of Brahmin, voluptuous apsaras as well as devatas. Enshrined inside the main chamber of each major candi is the main deity.
| | |
| --- | --- |
| PRAMBANAN ENTRANCE FEE 2015 |   |
| Locals | IDR  30,000  (US$ 2.19/ PHp 103.42) |
| Foreigners (Adult) | IDR 225,000  (US$ 16.46/ PHP 775.63) |
| Students | IDR 100,000  (US$  7.31/PHP 344.72) |
| Borobudur + Prambanan Package Ticket (Adult) | US$ 30 (PHP 1414.02) |
| Borobudur + Prambanan Package Ticket (Children) | US$ 15 (PHP 701.01) |
---
WITNESS THE RAMAYANA BALLET SHOW
This has been on my wish list for years, because during my backpacking in Yogayakarta back in 2010, I failed to do this.  Before the much-awaited show, we had dinner first at the Rama Shinta Garden Resto nearby with an impeccable  view of the Prambanan Temple. The dishes served were mostly traditional and one of the best-tasting meals I've had during our Yogyakarta trip especially the satay with peanut sauce!
Anyway, there are several venues to watch the Ramayana Ballet in Yogyakarta, but nothing beats the show at the open air stage on Prambanan Temple complex.  Ramayana Epic in Javanese version consists of four episodes divided into: The Abduction of Dewi Sita, Hanuman on Fire, Death of Kumbakarna and Rama Meet Sita. But we only got to watch the condensed performance not the episodic show.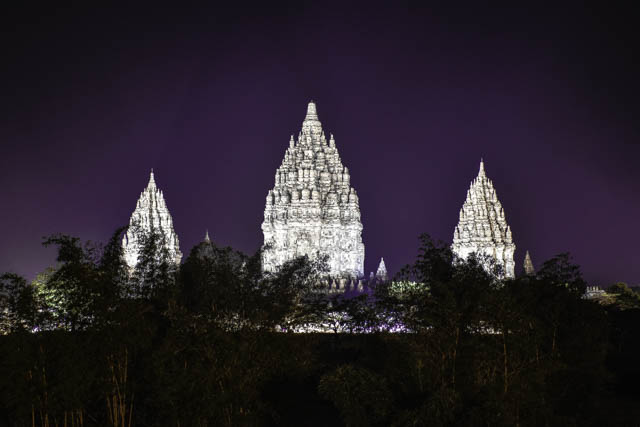 During the show, over 200 performers clad in traditional costumes retell the Ramayana Story through expressive movements of classical Javanese dance accompanied by traditional gamelan music. Needless to say, the show rendered me speechless!
| | |
| --- | --- |
| Ramayana Ballet Prambanan Ticket 2015 | |
| VIP Ticket | IDR 375, 000 (US$ 27.43 / PHP 1,292.72) |
| Special Ticket | IDR 250, 000 (US$ 18.28/PHP 861.81) |
| Class 1 Ticket | IDR 175, 000 (US$ 12.80 /PHP 603.27) |
| Class 2 Ticket | IDR 100, 000  (US$ 7.31/ PHP 344.72) |
| Class 4 Ticket | IDR   40, 000  (US$  2.93/PHP 137.89) |
---
EXPLORE THE ROYAL PALACE AND MEET THE ROYAL GUARDS
The Royal Palace (kraton/keraton/karaton) in Yogyakarta is home to about 2,000 Royal Guards but only about 1,000 are reportedly active.  Being a Royal Guard at the Kraton is a job for life, just like being born a Sultan, it's a job passed on the next generation.  Thankfully, once they get old enough and could no longer work they are looked after at the palace.
Upon entering the palace, you will meet two Royal Guards and hundreds more as you proceed inside.  They are clad in traditional uniform – long sleeved polo matched with what seemed like kain panjang batik and a keris or branggah (kris) at the back.   Near the entrance you will most likely hear a traditional gamelan playing a traditional Javanese song.  It is called a macapat song performance, a poetry reading performance describing the human life cycle from birth to death with specific compositions accompanied by gamelan music.  This oral tradition traces it roots back to Majapahit Empire.  Immerse in this melodic trance before exploring the entire kraton.
The Royal Palace isamo a sprawling complex of pavilions built entirely on ancient beliefs.  In fact, it was designed to reflect the Javanese cosmos; facing directly north towards Mt. Merapi while its back is pointing towards the south where the Indian Ocean is located which is believed to be the dwelling of a key Indonesian sea spirit. Even the placement of pavilions and trees all have symbolic meanings based on ancient Javanese world view.
Today, the Royal Palace is not just the home of the Sultan ad his family, but it also serves as the setting of important ceremonial and cultural functions.  Visitors can explore its pavilions and get up close with some of the essential historic collections kept in glass boxes such as antique weapons, glassware, ceramics, statues, furniture, Royal carriages and photographs.  
| | |
| --- | --- |
| Kraton (Royal Palace) Entrance Fee 2015 | IDR 12, 500 (US$ 0.91/ PHP 43.09) |
| Fee for camera/video | IDR 1,000 (US$0.73/ PHP 3.45) |
---
GET LOST AT THE WATER PALACE
I remember on my return to Yogyakarta 3 years ago, I tried searching for Taman Sari Water Castle (Water Palace) which is just sitting nearby the Royal Palace according to my map. But I literally got lost. Thankfully, I finally set foot on it on our recent, but we were too early so there was still no water in the pools.
This place was actually built as a holiday retreat for Sultan Hamengkubuwono after years of many wars. Though it's not really well-maintained compared to other heritage buildings we visited in Yogyakarta, visitors can still enjoy its aesthetics.  One of the pools here is where the concubines would bathe while the Sultan watches to choose one.
There was an area that feel a tad creepy though – the underwater tunnel of Sumur Gumling (Gumuling Well).  But the central area with an elevated platform where four staircases meet is a good spot for a photo op.
Meanwhile, a part of the complex where a man-made lake called Segaran used to be is now clad with houses and their settlement is called Kampung Taman.  The community is known for their batik and traditional painting craft. It's fun walking here despite the unforgiving heat of the sun because the narrow alleys are painted with Javanese arts that are perfect for some photo op. I was told that even Facebook CEO Mark Zckerberg visited a place here called Kampoeng Cyber.
| | |
| --- | --- |
| Taman Sari Entrance Fee 2015 | IDR 12,500 (US$ 0.91/PHP 43.09) |
| Fee for Camera/Video | IDR 2,000 (US$0.15/ PHP 6.89) |
---
PAINT YOUR OWN BATIK
The mere mention of Indonesia conjures images of batik, a technique of wax resist dyeing applied to a cloth. In fact, Indonesian batik was designated as a UNESCO Masterpiece of Oral and Intagible Heritage of Humanity.
At Museum Batik, you can learn how to paint batik on textiles. Here, craftswomen teaches visitors how to draw intricate patterns using canting and wax that are kept heated in a small pan.
---
SHOP TILL YOU DROP AT MALIOBORO STREET
Whenever I visit Yogyakarta, I  always stay near Malioboro Street, the shopping mecca of the city. Back in the days, this was an important road where the Sultan typically pass on his way to the Royal Palace.
Today, this lively street is fringed by shops that never stopped expanding. From affordable batik dresses, bags, skirts and toys, say it and you will find it in Malioboro! Don't forget to haggle!
If you are wondering of things to do in Yogyakarta at night, stroll at the stretch of Malioboro Street and you will find lesehan standing shoulder to shoulder.  These are the tents serving a variety of Indonesian dishes at affordable prices.  You  can savor the meal while sitting cross-legged on the floor  the way the locals eat.
---
WANDER AROUND ULLEN SENTALU MUSEUM
Javanese culture and arts museums are sprinkled around Yogayakarta, but if you can only make it to one, pick Ullen Sentalu Museum, an impressive find at the foot of Mount Merapi.  This sprawling museum was founded by a family who grew up in the batik and textile industry.  Bounded by love for conservation of ancient batik, some batik-lovers opted to display their masterpieces here.
Visitors are divided into groups upon entering the museum housed in a colonial building, with one guide assigned to each group. Take note that taking photos and videos is prohibited. It's easy to get lost here with the maze-like corridors housing different exhibitions from intricately designed gamelan to age-old photographs of the royal family including three-dimensional paintings of Sultans an d Princesses whose eyes seemed to follow you, among others.
But I particularly enjoyed the poignant hand-written poems and letters of Gusti Nurul to her lover – her cousin. She is known as the desired Princess of Solo because she is so beautiful, smart and talented, yet she opted not to marry a royal because she refused polygamy, instead she married a soldier, her cousin, and lived away from the public eye in Bandung. At the time of our visit, she was still alive, sadly, she just died on November 1o, 2015 because of old-age in a hospital in Bandung.
At the end of the tour, a jamu, herbal drink made of tangerine, lemongrass and curcuma taken from a Sultan's recipe book was served to us. We also enjoyed a sumptuous lunch at Beukonhof Restaurant adjacent to the museum that serves Western dishes.
| | |
| --- | --- |
| Ullen Sentalu Museum Entrance Fee (locals) | IDR 30,000 (US$2.19/PHP 103.42) |
| Ullen Sentalu Museum Entrance Fee (foreigners) | IDR 50,000  (US$3.36/ PHP 172.36) |
---
CATCH THE SUNSET AT  THE  RATU BOKO KERATON
Though often overlooked by foreign tourists, the Ratu Boko nestled on top of hill overlooking the Prambanan Temple is another important archaeological site that houses the ruins of an ancient keraton (palace).  One of the essential discoveries here is an Abhayagiri Vihara inscription dating back to the 792 CE which mentioned a Buddhist monastery on top of a hill.  Although other reports also mentioned of Hindu elements found on the site.
Because of its strategic location, it is also believed to have been used as a fortress during the struggle for power of the Mataram Sultanate. Ratu Boko Keraton is a perfect spot to catch the scenic Yogayakarta sunset.
| | |
| --- | --- |
| Ratu Boko Sunset Entrance Fee 2015 (Locals) | IDR 70,000 (US$ 5.12/PHP 241.31) |
| Ratu Boko Sunset Entrance Fee 2015 (Foreigners) | IDR 110, 000 (US$ 7.31/ PHP 379.20) |
---
FEAST ON TRADITIONAL INDONESIAN FOOD
If you want to try the best tasting Indonesian meals, try it in Solo or Yogyakarta. Gudeg should be on top of your list. This is made of sweet jackfruit served with nasi (rice), chicken, crunchy beef skin called krecek, sambal and tahur egg. As cliche as it may sound but if you wish to know a place you have to try its street food. Try satay dipped in peanut sauce or sambal, bakso (meatball soup dish) and my personal favorite pece lelel served with sambal and nasi.
As I mentioned above, the lesehan in Malioboro also serves dirt cheap Yogyakarta traditional food.  And even the dinner buffet at Prambanan Temple (Rama Shinta Garden Resto) have really good chicken satay with peanut sauce, mei goreng, gudeg and nasi goreng.
But if you don't mind spurging, try dining at the posh Amanjiwo (owned byAman Resorts) with a breath-snatching view of Borobudur temple.  Another personal favorite is Plataran Borobudur which serves the best-tasting Indonesian style smoked duck.
---
LISTEN AND LEARN HOW TO PLAY THE GAMELAN
Gamelan is a traditional Indonesian (Javanese, Balinese and Sudanese) music which is produced by a gong, kenong, saron kendang, rebab, seruling (bamboo flute) and drums.  The gamelan of Yogyakarta is Javanese gamelan distinct for its lower and softer tones that express the harmony of the spiritual and physical life.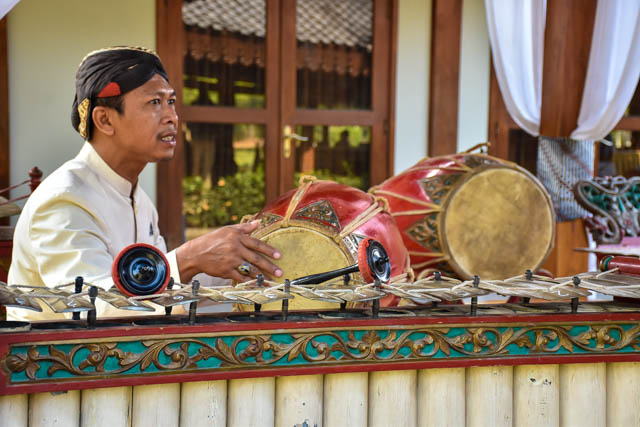 Visitors can listen to gamelan music at the Royal Palace,  in some hotels like the Atria Hotel and restaurants like Gadjah Wong Restaurant. Interestingly, you can also try it at Borobudur Temple like we did and just give a tip to the man teaching visitors how to play.
---
WHERE TO STAY IN YOGYAKARTA
Hotel Phoenix Yogyakarta
Jl. Jendral Sudirman No.9
Daerah Istimewa Yogyakarta 55233
Click this link to check room rates and book here
HOW TO GET TO YOGYAKARTA FROM MANILA:
Philippineairlines.com fly daily between Manila and Jakarta. From Jakarta, you can fly to Yogyakarta or take a bus or train.
---
*CONVERSION RATE:
$1 = IDR 13, 673
Php 45 = IDR 13,053.91
$1 = $ 47.13
---
RELATED POST ON INDONESIA:
Win a Free Trip to Komodo Island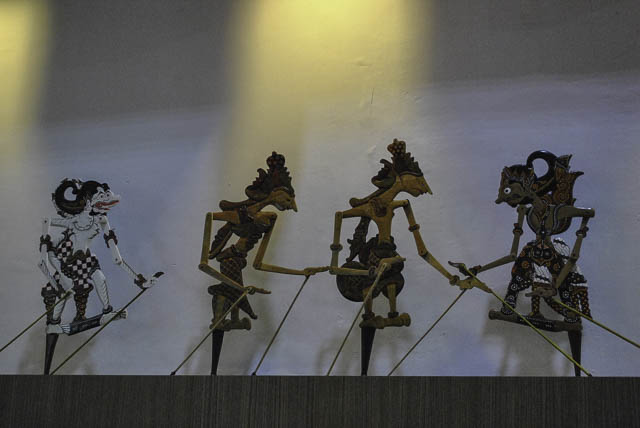 For updates on the best places to visit in Indonesia,
like and follow the Official Social Media accounts of Wonderful Indonesia:
• Facebook: Indonesia.Travel
• Instagram : @indtravel
• Twitter : @indtravel
• Google+ : Indonesia.Travel
FOLLOW ME ON FACEBOOK FOR TRAVEL GUIDE UPDATES
FOLLOW ME ON INSTAGRAM