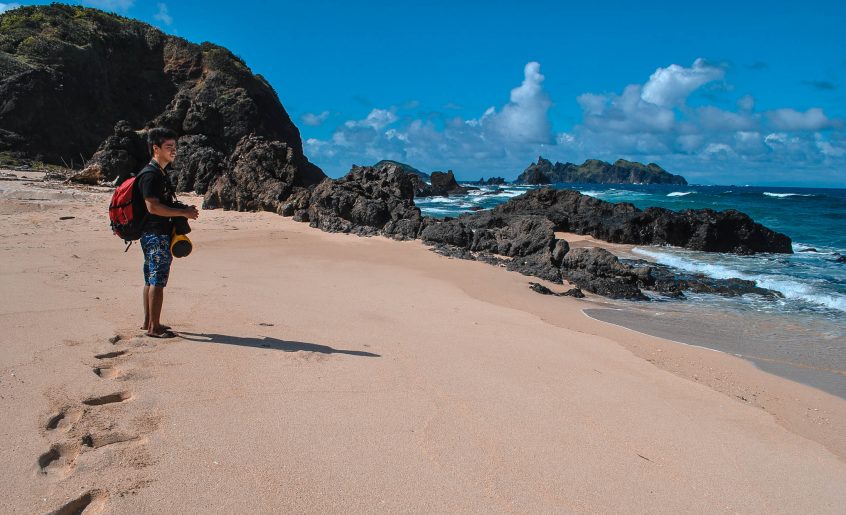 Palaui Island is a protected landscape and seascape nestled in the northeastern most part of  Cagayan Valley, Philippines.
I still recall our first attempt to conquer Cape Engaño in Palaui Island back in 2010. During that time, detailed information on how to get to Palaui is limited. In fact, if you type "Palaui" online, the search engine will suggest the country "Palau". A kind fisherman with his family approached me and my friend Angel of Lakwatsero and let us hitched in his boat without asking for anything in return. Touched by his genuine hospitality, we asked the fisherman to be our guide to trek the lighthouse. He politely refused and gave us directions instead because he opted to go fishing at night. At that time, like many locals of Palaui, he doesn't know yet that tourism could provide them additional income. We asked for his number, and then off we went to search for the path to Cape Engaño lighthouse.
Unfortunately, we never arrived at our elusive destination. We got lost in the forest, walked nine hours around the island and ended up having badly wounded and scarred legs. We have failed, but we took home a story of finding the courage to know when to give up, and meeting kind locals.
We blogged our experience and returned 6 months after (July 2011) with our friends.
With the influx of tourists to Palaui Island due to blogs and social media, the boat of the fisherman who helped us eventually turned into a tourist boat by day. Indeed tourism helps create jobs, but like any other tourist attractions that have risen to fame, change is expected.  New rules have been implemented to protect the island; the boat rate and guide fees are now regulated. I hope with all these changes, the locals of Palaui Island will still benefit from its tourism revenues. And may this marine reserve be continually conserved and protected for the benefit of future generations.
How to get to Palui Island in Cagayan from Manila
BY PLANE
If you're taking a plane to Tuguegarao, you can just walk outside the airport, a few meters away is the highway leading to Sta. Ana.  Cross the street and wait for vans  or bus en route to Sta.Ana, Cagayan.

BY BUS

You can get to Palaui Island from Manila by taking a Victory Liner bus bound for Tuguegarao (Fare is Php 600) from Kamias, Sampaloc and Caloocan.  At Tuguegarao City, proceed to the van terminal and ride a van to Sta. Ana, Cagayan.
From Sta.Ana Cagayan to San Vicente port
The bus/van will stop at the Sta.Ana Commercial Center where you can buy food, water and booze.  Take a quadcycle / tricycle to Sta Vicente port. Take note of the  642 kilometer, that's the  last kilometer marker up north.   There is a Php 50 fee that you need to pay for before going to the island  at the Tourism Visitor's Office and you have to sign in the log book.
At San Vicente port, you can hire boats to Palaui Island.  To avoid getting lost  (like what happened to us) , please get a guide.  Depending on the package that you paid for,  or  if the sea is calm, the boat can take you directly to  Cape Engaño lighthouse, no trekking required.
Boatman 
I highly recommend kuya Edwin Tabucol, a local of Palaui Island. Contact no: +63 926 9064 657  or +63 916 1165 850 . He has two boats that can be rented to take you to the lighthouse and to Palaui from San Vicente. He can also guide you to the lighthouse.
I just revisited Punta  Verde and met up with Kuya Edwin to check on the changes in the island and how tourism has changed the life of his family.
He is now the vice president of  the boatmen association (PASAMOBA Cooperative).  He showed me the standardized boat rates now.
---
BOAT RENTAL RATES
Maximum of 8 passengers. Good for 6 hours only from the time of boarding to arrival.  An additional fee of Php 100 for every extended hour of service. Additional Php 300 for an overnight in Punta Verde.
| | | |
| --- | --- | --- |
| DESTINATION | BOAT RATE | TRAVEL TIME |
| Cape Engaño Lighthouse | Php 1,800 | 45 minutes |
| Anguib Beach | Php 1,500 | 25 minutes |
|  Siwangag | Php 1,500 | 30 minutes |
| Puzurubo | Php 1,800 | 30 minutes |
| Crocodile Island | Php 500 | 5 minutes |
| Punta Verde | Php 1,000 | 25 minutes |
|  Pugo Muro | Php 500 | 5 minutes |
---
Palaui Combination Tour Rates
DESTINATION

TOUR RATE

Crocodile Island

2 hours – Php 500

6 hours – Php 800

Crocodile Island + Pugo Muro Island
30 minutes –  Php 1,000
Anguib + Cape Engaño
Php 3,000
Punta Verde + Cape Engaño overnight
Php 2,800
Punta Verde + Mabolbol Overnight
Php 2,500
Crocodile + Anguib Beach
Php 1,800
Cape Siwangag
Php 2,200
Siwangag + Anguib
Php 3,000
Cape + Crocodile
Php 2,200
Punta Verde + Anguib
Php 2,200
Snake Island + Crocodile
Php 1,500
Punta Verde + Crocodile
Php 1,000
Punta Verde (Cape trekking)
Php 2,500
Special trip  (Punta Verde + Cape Engaño + Crocodile Island +Anguib)
Php 3,500
Special Trip Overnight (Punta Verde + Cape Engaño + Crocodile Island +Anguib)
Php 3,800
---
WHERE TO STAY IN PALAUI ISLAND
Camping near the beach or near the Cape Engaño lighthouse is no longer allowed to protect the beach and the island. I was told this is because of the lack of discipline of previous tourists (leaving trash and vandalizing).  There is no resort or hotel in Palaui, your only option is homestay.
For Palaui Homestay you may contact :
Elsa Lagdaran – mobile number: 0905 283 2559
Rate is Php 250 per head. Her house has 2 rooms that are good for 8 people.  Pitching a tent outside her garden is also allowed, same rate applies Php 250. Homestay rates are standardized. Ate Elsa can also cook meals for you, just tell her in advance.
Alternatively, you can stay overnight in Sta. Ana, Cagayan.
STA. ANA . CAGAYAN RESORTS/HOTELS
Country Inn Hotel and Restaurant
Samuk-samok, Centro, Santa Ana, Santa Ana, Cagayan
Click here to check room rates
 Jotay Resort

Barangay Centro, Santa Ana, Santa Ana
Click here to check room rates
Avalon Beach Club Hotel
Dugo – San Vicente Road, Santa Ana
Click here to check room rates
Edens Lodging House
Arellano St., Centro, Santa Ana
Click here to check room rates
---
THINGS TO DO IN PALAUI ISLAND
Swimming, beach bumming, snorkeling, diving, game fishing, adventure trekking, camping, sunset watching, last kilometer marker for Luzon (KM 642), colonial  lighthouse Cape Engaño
Bring your own camping equipment and flashlight, there's no guesthouse, hotel or resort in the island, camping near or at Cape Engaño lighthouse is now prohibited. You have to stay at Punta Verde. Check out the list of accommodations above.
Bring your own snorkeling gear since the waters around Palaui Island is part of a marine reserve
The island is actually a watershed having several waterfalls. I was told there's already a wash room near the lighthouse where tourists can wash up.
On the northeast side of the island you can see two islands: the Dos Hermanas (two sisters).
For the more adventurous soul, try hiking the East side of the Island to the West but again, make sure you have a guide with you to avoid getting lost.
The trek to the lighthouse will take you through a coastal community, mangrove forest, inter-tidal zone, agricultural area, forest and some grassland before getting to Cape Engaño lighthouse.
PALAUI ISLAND SIDE TRIPS
Crocodile Island close to San Vicente port
Anguib Beach– is another white sand beach in Sta. Ana, Cagayan .
Cagayan Special Economic Zone- casinos, a naval camp
Palaui Island was used for Survivor TV series  back in June 2013.
---
PALAUI ISLAND TRIP ITINERARY
This 2 days/ 1 night Palaui travel itinerary is ideal for long weekends or weekend trips.  Just leave Manila Friday Night and leave early afternoon on Sunday. You can also start the trek earlier than I wrote here so you can leave early and arrive in Manila early morning.
| | |
| --- | --- |
| DAY 0 |   |
| 09:30 PM | Travel to Tuguegarao from Manila |
| | |
| --- | --- |
|  DAY 1 |   |
| 10:30 AM | Estimated Arrival in Tuguegarao |
| 10:35 AM | Early Lunch |
| 11:00 AM | Tuguegarao to Sta.Ana by Van |
| 01:00 PM | Buy drinks, snacks and food at the market |
| 01: 20 PM | Tricycle to San Vicente Port |
| 01: 35 PM | Registerat the Tourism Office and pay the Php 50 environmental fee |
| 01:45 PM | Proceed to San Vicente Port. If you haven't contacted a boatman yet (see my recommended boatman above) you can charter a boat at Sta.Ana Port |
| 02:00 PM | Boat ride from San Vicente Port to Punta Verde in Palaui Island |
| 02:25 PM | Arrival in Punta Verde, Palaui Island |
| 02:30 PM | Check in at Homestay or Pitch Tent at Homestay |
| 03:30 PM | Swimming |
| 04:30 PM | Explore the community, talk to the locals |
| 07:00 PM | Dinner (you can order dinner in advance from Ate Elsa (see her homestay details above) |
| 09:00 PM | Lights Out |
| | |
| --- | --- |
| DAY 02 |   |
| 05:00 AM | Wake up call |
| 05:30 AM | Breakfast |
| 06:00 AM | Start of trek to Cape Engano Cove + Lighthouse in Palaui Island |
| 09:30 AM | Arrival at Cape Engano. Lighthouse Photo op + Swimming |
| 11: 30 PM | Trek back to Punta Verde community |
| 02: 30 PM | Arrival in Punta Verde. Bath and prepare stuff for check out |
| 03:30 PM | Check out |
| 03:35 PM | Boat ride from Punta Verde in Palaui Island to San Vicente Port in Sta.Ana |
| 03:55 PM | Arrival in San Vicente Port, Sta.Ana |
| 04:00 PM | Tricyle to Van Terminal near the market |
| 04:15 PM | Van ride to Tuguegarao from Sta. Ana |
| 07:15 PM | Arrival at Victory Bus Terminal in Tuguegarao |
| 07:30 PM | Bus back to Manila |
---

PALAUI ISLAND TRIP BUDGET
Note that this is good for 1 person. so if you are traveling with someone or with a group, trip budget is much cheaper.
| | |
| --- | --- |
| ACTIVITY | BUDGET |
| Bus Fare between Manila dn Tuguegarao (roundtrip) | Php 600 X 2 =Php 1,200 |
| Van Fare  between Tuguegarao and Sta.Ana | Php 220 x 2 = Php 440 |
| Environmental Fee | Php 50 |
| Palaui Island Homestay | Php 250 |
| Boat to Punta Verde (roundtrip) | Php 1,000 |
| Guide Fee (trekking) | Php 300 + tip |
| Meals (per meal x # of meals) | Php 150 x 3 = Php 450 |
| GRAND TOTAL | Php 3,690 |
---
PALAUI  ISLAND TRAVEL TIPS
Wear rashguard and aqua shoes when swimming and snorkeling to avoid being stung by sea urchins, jellyfish or stone fish.
Do not step or touch corals when snorkeling.
Never leave your trash nor collect plants or  sand.
Bring mosquito repellent and personal medicines.
Stack up cash (Philippine peso) as everything is on cash basis.  ATMs abound in Tuguegarao, you can withdraw there before proceeding to Sta. Ana
No restaurant in Palaui Island, you can buy food at Sta.Ana Commercial Center walking distance to the van terminal) before proceeding to San Vicente port.
You can also text Ate Elsa (mobile # 0905 283 559), she has a homestay in Palaui, if you want to have your meals cooked.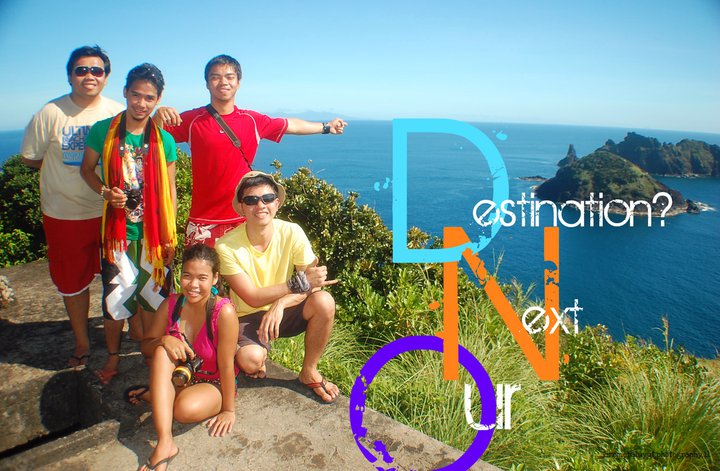 ---
First published : February 2011
Updated: June 2013 /  June 1, 2014 / March 2016/ March 2017
---
FOLLOW ME ON FACEBOOK FOR TRAVEL GUIDE UPDATES
FOLLOW ME ON INSTAGRAM 
Related posts: