So you've been to Kalanggaman Island in Leyte? Do you know that there are equally enchanting sandbars in the Philippines that you can also visit? Here's a list of the best sandbars I've been to in the Philippines.  If your personal favorite is not on this list, feel free to leave a comment below.  I sure hope to visit in the future.
BEST SANDBARS IN THE PHILIPPINES
COTIVAS SANDBAR (CARAMOAN)
Devoid of luxury trappings, Cotivas is one of the most beautiful islands in Caramoan and it has a picturesque sandbar to boot.  The rippling creamy sand that emerges during low tide is lapped by navy blue waters inhabited by a good number of starfish.  A few modest shacks stand here which makes it a good spot for lunch during your island hopping tour in Caramoan.  This island was used for filming the hit TV series Surivor.
MANLAWI SANDBAR (CARAMOAN) 
Although we missed the vast rippling sandbar of Manlawi since we arrived here at high tide, we still enjoyed swimming in its placid, clear water fringed by rolling green hills.  A handful of modest cottages are sprinkled on the shore where locals sell tempting buko.  This is also a good place for picnic as your group can rent some of the floating cottages dappled here.
---
MANJUYOD SANDBAR (NEGROS ORIENTAL)
Time your visit during low tide and see for yourself the postcard-worthy sandbar of Manjuyod.  This creamy sandbar  is a usual stop-over during the Bais dolphin watching tour.
---
BULOG DOS SANDBAR (CORON)
This postcard-worthy sandbar connects Bulog Dos Island to Malaroyroy Island in Coron, Palawan.   The powdery Bulog Dos sandbar is lapped by turquoise, knee-deep water, and offers a beautiful view of Coron limestone hills.
---
WHITE ISLAND (CAMIGUIN)
The poster girl of the volcanic island of Camiguin is the more than kilometer long White Island. It offers a stunning panorama of Mt.Hibok Hibok and Mt.Vulcan. On regular weekends or holidays, expect it to be swarmed by day trippers who come here to bask in its emerald green and azure waters hugging its horseshoe-shaped shore. As the sandbar is devoid of cottages, renting a beach umbrella is your best bet if you're seeking for shade. Otherwise, feel free to spread your beach towel, mat or sarong on its powdery white shore, and bask in the sun for a perfect tan!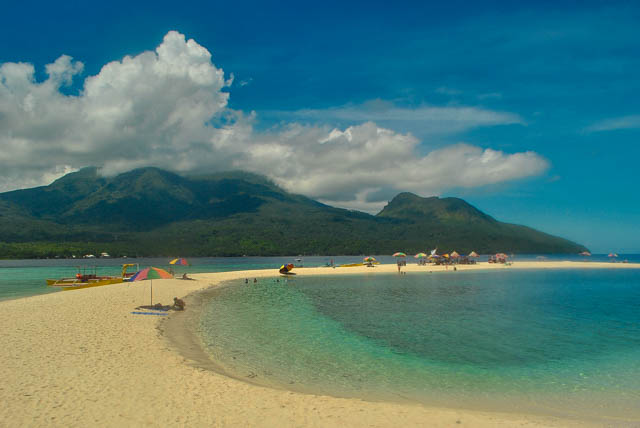 ---
VANISHING ISLAND (SAMAL)
While most sandbars on this list are situated in a remote spot, the Vanishing Island offers a view of the nearby lively city.  This gorgeous sandbar sprinkled with mangrove trees is situated in Samal, Davao del Norte known for its white sand beaches.
---
MALALISON SANDBAR
Just 2.5-3 hours away from Boracay Island, Malalison Island like its more famous neighbor is hemmed in by scenic beaches.  Look for the sandbar with powdery, snow-white sand surrounded by azure sea.
---
SANDBAR ISLAND (PUERTO GALERA)
This tiny strip of land which is also known as Elizabeth's Hideaway connects Mindoro Island to Boquete Island (formerly called Paniquian Island).   The turquoise water lapping its shore and the teeming marine life here makes Sandbar Island a favorite getaway in Puerto Galera.
---
PUTING BALAS (PAGADIAN)
Located off the coast of Pagadian City in Zamboanga del Sur, Puting Balas Sandbar offers a much-needed respite from the bustling city. This stunner that rarely sees tourists boasts of golden powdery sand lapped by cerulean waters. Once your boat docks, watch in awe as flocks of birds – not used to the presence of people – fly off in unison and perform spectacular swirls in mid-air.
---
SNAKE ISLAND (EL NIDO)
As you might have surmised, Snake Island got its name from the S-shaped sandbar that emerges during the low-tide. It is situated in a remote-feeling spot in El Nido, Palawan dappled with limestone hills and smaller islands clad by verdant jungles.  Tourists need to climb a nearby hill (easy trek) for a bird's-eye view of Snake Island.
---
VIRGIN ISLAND (BOHOL)
Captivating photos of the Virgin Island convinced me to visit this famed spot in Bohol.  But because it was off-peak season (habagat), the sandbar is not as stunning as seen on photos, not to mention there were tons of dead seagrass scattered all over. But it doesn't mean you have to skip it.  It's still a charming U-shaped sandbar with powdery white sand.  Recently, religious images of saints, angels and the Holy Family have been constructed here.  The Virgin Island is part of the island hopping tour in Bohol along with snorkeling in Balicasag Island and dolphin watching.
---
BALABAG BARAS (GUIMARAS)
For those interested in exploring off-the-beaten Guimaras, you can go island hopping in San Roque, Nueva Valencia.  One of our favorite spots during the tour was Balabag Baras, a sandbar in Suba Malawig where we spent most of our time swimming in its crystal clear water surrounded by mangrove trees and rocky islets.
---
FOLLOW ME ON FACEBOOK FOR TRAVEL GUIDE UPDATES
FOLLOW ME ON INSTAGRAM