Brunei Darussalam (literally, "The Abode of Peace") is a tiny yet wealthy country in the northwestern coast of Borneo.  Brunei travel surprised me – its serenity, order, sense of space and grandiose structures and towering minarets adorning the city proper of  Bandar Seri Begawan (BSB) left me in awe!
Brunei has one of the oldest reigning monarchy in the world and is almost an absolute monarchy with Sultan Hassanal Bolkiah.  The country has virtually low crime rate and has a high standard of living compared to its neighboring countries in South East Asia, not to mention a relatively high employment level.  Much of this is owed to the considerable oil and gas deposits of Brunei. Brunei Darussalam is divided into four districts:  Brunei Muara (home to Brunei's capital –Bandar Seri Begawan also called BSB or Bandar), Tutong, Belait and Temburong.  I only had the luxury to tour Brunei Muara though.  Here's my blog of  list of top tourist attractions in Brunei.  Will also post a Brunei Travel Guide blog soon.  Many of Brunei attractions are concentrated within the city center and can be reached by just walking or book hassle free Brunei Full Day City Tour + Water Village Tour with Lunch here.
BRUNEI TOP TOURIST ATTRACTIONS
SULTAN OMAR ALI SAIFFUDIN MOSQUE (BRUNEI MOSQUE)
When you hear BRUNEI TOURS there's one structure that comes to mind – the majestic OMAR ALI SAIFFUDIN MOSQUE, known to tourists as Brunei Mosque, the most famous tourist attraction in this rich Islamic country.   This impressive structure with golden dome is a symbol of the strong Islamic faith of the Brunei people taking its inspiration from contemporary architecture and classical Islamic style.  This neck-swiveling mosque is located at the very heart of the Brunei capital city – Bandar Seri Begawan or BSB near the Kampong Ayer water village.  Non-Muslim tourists can enter the mosque, wear proper outfit. Hijab (headscarf that hides the hair, neck and ear, only the oval shape of the face is visible) as well as abaya and jilbab are available at the mosque's entrance. Tourists can borrow the outfit to enter the Brunei Mosque.
Omar Ali Saiffudien Mosque Operation Hours:
Daily (except Thursday and Friday)- 8am – noon, 1:00 pm – 3:00 pm, 4:30pm – 5:30 pm
Thursday – open to Muslims only
Friday – 4:30 pm -5:30 pm
Entrance Fee: Free
KAMPONG AYER
KAMPONG AYER water village was dubbed as the "Venice of the East" by the Spaniard colonizers and Brunei's most important heritage, offering tourists a glimpse of Brunei's old-fashion Asian charm.   It is the largest water village in Southeast Asia surviving hundreds of years.  In fact, even the government's attempt to transfer its residents to dry lands by building modern housing schemes have failed.  The stilt houses with wooden walkways situated in Brunei River are linked villages, and can be reached by water taxis, its primary mode of transportation.
You can book a Kampong Ayer Tour here  The Kampong Ayer Village Tour includes a visit to Kampong Ayer Cultural and Tourism Gallery, followed by a tea break at a private local home.
BRUNEI HISTORY CENTER
Brunei History Center is located along Jalan Sultan (jalan means street) and was established to do research, to collect, study, publish and exhibit the History of Negara Brunei Darussalam.
Brunei History Center Operation Hours:
Monday – Thursday   and Saturday – 7:45 am – 12:15 pm, 1:30-4:30 pm;
Entrance Fee: Free
ROYAL REGALIA BUILDING
The circular ROYAL REGALIA BUILDING that is lavishly carpeted and made up of marble is also located at Jalan Sultan beside Brunei History Center.  It houses an extraordinary collection of priceless Royal Regalia, including crowns, silver sailboat courtesy of the Maldives, a magnificent coronation carriage (usungan) and a replica throne and also contains an exhibition of the life of the current Sultan.
PROBOSCIS MONKEY RIVER CRUISE (BRUNEI RIVER)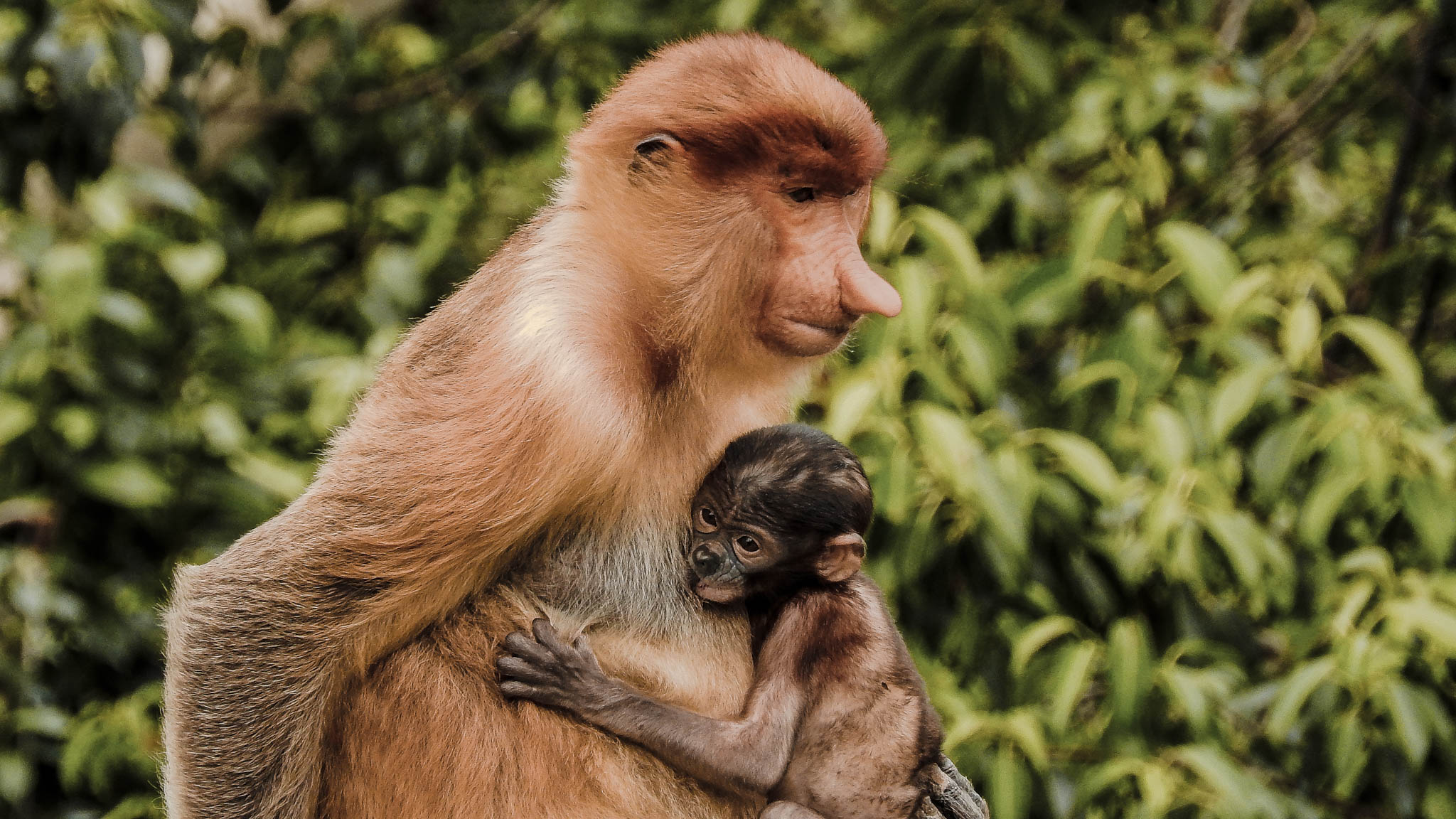 The proboscis monkey (Nasalis larvatus) is a tangerine-colored, endangered monkey known for its unique long nose and endemic to the island of Borneo (Brunei, Indonesia and Malaysia).  You can catch a glimpse of proboscis monkey by joing the Brunei River Cruise that will also cruise past the Istana Nurul Iman, the official residence of the Sultan of Brunei. The cruise takes tourists to a mangrove forest inhabited by kingfishers, mudskippers, egrets, herons and the rare proboscis monkey that usually comes near to the water's edge in the early morning and at dusk time. Book a Brunei River Tour with Proboscis Monkey here 
TAMU KIANGGEH (BRUNEI MORNING MARKET)
Tamu Kianggeh which is situated on the banks of the Kianggeh River in front of the Chinese Temple is the daily produce market in Bandar, Brunei.  If you wish to relish the delicacies of Brunei, this market is a good place to start, not to mention it is cheap. I went around and was happy to find some "Filipino Mangoes" being sold here.  Some Bruneian food that can be found here are satay, pais, liking, belutak laplap, kuih,etc.  It is also interesting to note that just like in Kota Kinabalu, there are many Filipino workers in Bandar Seri Begawan.
BRUNEI MUSEUM
IMPORTANT: Brunei Museum is currently CLOSED for renovation until further notice.
Brunei Museum is located along the Brunei River and like any other museums, it is rich with ancient artifacts. An interesting gallery here is the Oil and Gas Gallery  (Brunei is a country rich in oil and gas) and of course the highlight, the luxurious Islamic Art Gallery.  Along the way to Brunei Museum, you will pass by the Arts and Handicrafts Centre where they provide trainings for Brunei youths who are interested in Brunei traditional arts and handicrafts like weaving, basketry, bamboo-working, brass-casting and crafting of kris, traditional dagger.
How to get to Brunei Museum and Arts and Handicrafts Center:
Take bus#39 (Eastern Line bus) – last bus leaves at 5:45 pm
Brunei Museum Open Hours:
Monday-Saturday 9:30 AM – 5:00 PM
Friday- 9:00 AM -11:30 AM AND 2:30 AM – 5:00 PM Admission is free.
Arts and Handicrafts Center Open Hours:
Monday-Thursday 8:00 AM- 5:00 PM
Friday and Saturday 8:00 AM – 11:30 AM and 2:30 PM – 5:00 PM
EMPIRE HOTEL AND COUNTRY CLUB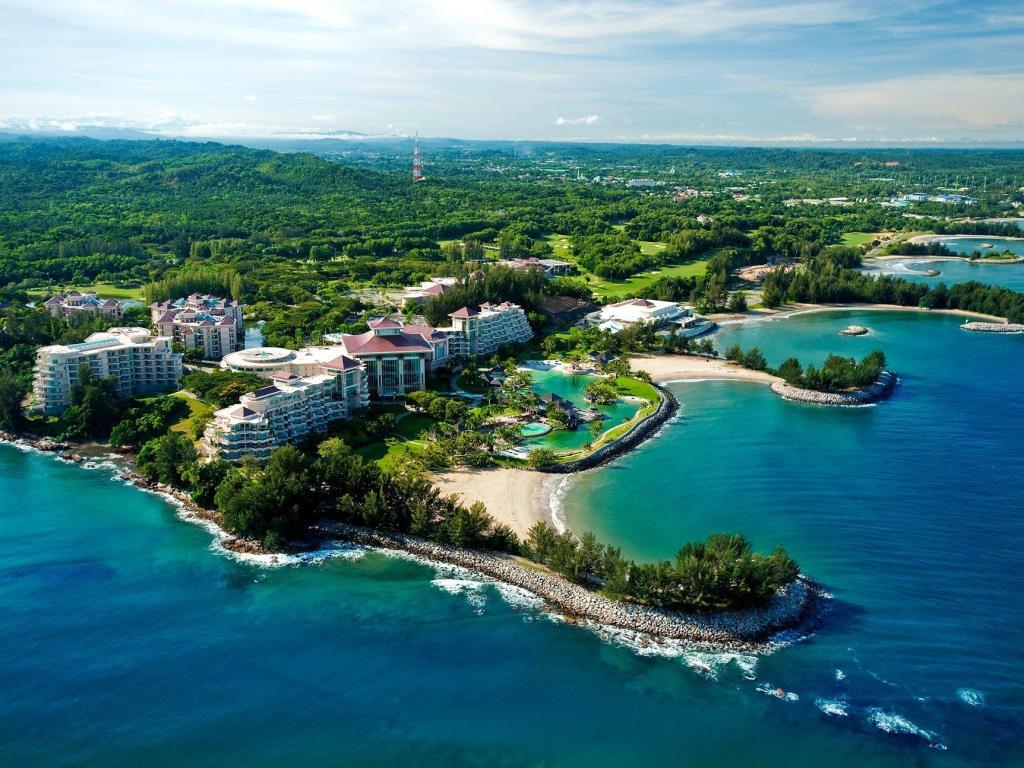 Photo by Empire Hotel/ Agoda
They say that a visit to Brunei won't be complete without seeing the opulent Empire Hotel and Country Club. Visitors who aren't hotel guests can tour around some of the complex in the hotel (there's a free buggy tour during Friday from 10:00 am – 11:00 am), eat in the restaurants here (but be wary of the expensive price), but you need to pay BND 10 / PHP 351 / USD 14  to  swim in the pool.
JAME ASR HASSANAL BOLKIAH MOSQUE
Malay traditions are Brunei's cultural root, but Islam is its heart.  The most striking and the biggest mosque in Brunei is Jame Asr Hassanal Bolkiah Mosque, also called Kiarong mosque by the locals, is located in Kampung Kiarong.
How to get Jame Asr Hassanal Bolkiah Mosque:
Take Circle bus#01 and #55 from Bandar Seri Begawan's bus terminal to Gadong.
Entrance Fee: Free
ULU TEMBURONG NATIONAL PARK

Photo by Baron Reznik
The Canopy Walk at Ulu Temburong National Park is of the popular attractions in Brunei. It is the first national park in the country and a protected forest. Day trips from the capital of Bandar Seri Begawan is possible. Book a Day Trip to Ulu Temburong National Park here
---
OTHER TOURIST ATTRACTIONS IN BRUNEI
ISTANA NURUL IMAN PALACE
The Istana Nurul Iman Palace is the house of the Sultan and the seat of Brunei Government.  The royal residence is said to be the biggest of its kind in the world, bigger than London's Buckingham Palace, with about 1,788 rooms.  It is interesting to note that the architect of this elegant mansion is a Filipino National Artist – Leandro Locsin.
JERUDONG PARK
Another top attraction Brunei that I failed to visit is the Jerudong Park Play Ground, said to be the largest and most expensive amusement park in South East Asia funded by Brunei Government.
MUARA BEACH
Beyond the Brunei Museum to Muara district are popular beaches in Brunei, namely  Muara Beach, Meragang Beach also called Crocodile Beach and Serasa Beach.  Muara Beach has a long stretch of sand and ideal for leisurely walk, however, most hawker stalls are open only during weekends (it's a popular weekend getaway for locals).  Crocodile Beach is also good for leisurely walk and a good spot to watch Brunei sunset.  Serasa Beach on the other hand is a water-sports complex – tourists can do sailing, windsurfing, and water-skiing here.
TASEK LAMA PARK
Now moving north to Jalan Tasek Lama, about 5 minute walk from the Tamu Kianggeh is a small serene park called Tasek Lama Park.  The main attraction here is the small waterfall, there's a playground for the kids and a garden.
---
ALSO READ:
---
WHERE TO STAY IN BRUNEI
BRUNEI BUDGET HOTELS
Qing Yun Resthouse


Unit B26 delima jaya kompleks jasa awam block b simp62 kpg delima satu,
Kianggeh, Bandar Seri Begawan, Brunei Darussalam
Apek Utama Hotel


Simpang 229, K/M 2, Jalan Kota Batu, Kota Batu, Bandar Seri Begawan, Brunei Darussalam
Palm Garden Hotel
Lot 45328, Simpang 88, Kampong Kiulap, Kianggeh, Bandar Seri Begawan, Brunei Darussalam
Easybox Budget Hotel


NO 4&5 FIRST FLOOR BLOCK E ABDUL RAZAK COMPLEX GADONG BRUNEI DARUSSALAM
BRUNEI MIDRANGE HOTELS
The Centre Point Hotel


Abdul Razak Complex, Gadong, Gadong, Bandar Seri Begawan, Brunei Darussalam
Star Lodge


Lot 27192, Jalan Pulau Kubu, Brunei-Muara, Jerudong, Bandar Seri Begawan, Brunei Darussalam
BRUNEI HIGH-END HOTELS
The Rizqun International Hotel

Abdul Razak Complex,Gadong, Gadong, Bandar Seri Begawan, Brunei Darussalam
Radisson Hotel Brunei


Jalan Tasek, Kianggeh, Bandar Seri Begawan, Brunei Darussalam
The Empire Hotel and Country Club


Jerudong Negara BG 3122, Jerudong, Bandar Seri Begawan, Brunei Darussalam
---
About the Blogger : Gael is a Filipina travel blogger. Her work has appeared in local and international publications.
Follow her on [wp-svg-icons icon="facebook-2″ wrap="i"] Facebook , [wp-svg-icons icon="twitter" wrap="i"] Twitter and [wp-svg-icons icon="instagram" wrap="i"] Instagram.
For advertisements, sponsorship and partnerships, you may reach her at gaelhilotinblog (at) gmail (dot) com.
---
LIKE MY PAGE ON FACEBOOK FOR TRAVEL GUIDE UPDATES
---
FOLLOW ME ON INSTAGRAM
---
Watch my latest
[wp-svg-icons icon="youtube" wrap="i"]

Youtube video.
Don't forget to click
[wp-svg-icons icon="point-right" wrap="i"]
SUBSCRIBE HERE