No trip to Auckland will be complete without experiencing the beauty of Waiheke Island. Considered as a gem in the gorgeous Hauraki Gulf, Waiheke is home to world-renowned vineyards and award-winning wines. From Sauvignon Blanc to Pinot Gris, Rosé, Chardonnay, Viognier, Syrah, Cabernet and Dessert Viognier, the place is definitely a haven for wine lovers.
Waiheke, which means "cascading or ebbing water" in the native Maori Language, is nestled east of Auckland and is generally 2-3 degrees warmer than the mainland. The island's climate is strongly influenced by the surrounding sea; with the ocean acting as both a fan and insulator, the sea breezes moderate rising temperatures in midsummer and also moderates falling temperatures at night. This simply means that the island's mean temperatures during the growing seasons are comparable to those of the "hotter" regions and is just the right climate to allow varieties to ripen fully over an extended period. With mineralized soils that are generally conducive to flavor in wine, Waiheke island is probably the best place to taste some of the quality-produced wines in the country. Visit over 20 wine cellars operating and providing an impressive range of gold medal-winning wines, bask in the beauty of the rolling hills, taste a local gourmet food, soak up to some culture, find your bearings and enjoy the scenic views from one of the best wine regions in New Zealand.

HOW TO GET TO WAIHEKE FROM AUCKLAND
The island is only a 40 min ferry ride from Downtown Auckland. Fullers & Explore have regular ferry schedules to Matiamatia, Waiheke 7 days a week. The fare for an adult return ticket is $36 and $18 for children (5-15yrs old. 5yrs old and below are free). For a one way ticket, it costs $22 for adults and $11 for children. See the following details below for the ferry schedule:

Downtown Auckland – Matiamatia, Waiheke
Mon, Tue, Wed, Thurs, Fri
5:35 am
6:10 am
6:30 am
7:15 am
8:15 am
9:00 am
10:00 am
11:00 am
12:00 pm
1:00 pm
2:00 pm
3:00 pm
4:00 pm
4:30 pm
5:00 pm
5:30 pm
6:00 pm
6:30 pm
7:15 pm
8:45 pm
10:15 pm
11:45 pm
Sat & Sun
7:00 am
8:15 am
9:00 am
10:00 am
11:00 am
12:00 am
1:00 pm
2:00 pm
1:00 pm
3:00 pm
4:00 pm
5:00 pm
6:00 pm
7:30 pm
9:30 pm
GETTING AROUND WAIHEKE ISLAND
The Island of Waiheke has a full range of transport options once you arrive at Matiamatia Wharf. You can opt to purchase ALL DAY BUS Passes or avail one of the packages offered by different tours. There are also cars and bikes that are available for rent. For the adventurous type, discovering the island by foot is also possible. You can get trail maps at any info centre or at the ferry terminal.
Fullers All Day Bus Passes
Adult – $10
Child – $6
Family – $26
Car Rentals
**Rates start from $150
SEALINK
0800 732 546
Waiheke Rental Cars
09 372 8635
Blue Cars
0800 BLUE EV (0800 258 338)
Email: [email protected]
Bike Rentals
Full-day bike rentals are available with rates starting from $35, inclusive of helmet, lock, and maps.
Onya Bikes Waiheke
Location: 124 Oceanview Road, Oneroa
022 050 2233
Waiheke Bike Hire
Location: Matiamatia Car Park, Matiamatia
09 372 7937
Waiheke Mountain Bike Club
Location: Onetangi Sports Park, Onetangi
WAIHEKE ISLAND WALKING TOURS
If you are on a budget, taking a walk along the scenic roads of Waiheke might just be the perfect activity for you. There are various art galleries that line up the streets from the Matiamatia ferry terminal. A 3km stroll will lead you along the foreshore to the start of Atawhai Whenua bush reserve track.
Another 15min walk will take you to Alison Park, where you will find several sculptures from the past Headland Sculpture on the Gulf Exhibition. From here, you can walk further to Oneroa where you will find the Artworks Centre, the Whittaker's Musical Museum, Waiheke's Cinema, the Artist Goldsmith and Toi Gallery, the Space Gallery, the Tivoli Art shop, and the Red Shed Art Gallery.
Further down the road you will find the Oneroa Beach, where you can have a picnic and watch the amazing views at the cliff top. If you have more time, you can also try the 100km Te Ara Hura walk around the island that starts from Oneroa. You'll pass by different villages, wetlands, sandy beaches, and some secluded coves. Maps are available at info centres, the library, and most hotels and backpacker inns.
WAIHEKE ISLAND TOURS
Full Day & Half Day Island Tours by Fullers
Wine on Waiheke
**With a complimentary All Day Bus pass.
Tour starts at the Picturesque Mudbrick Vineyard to the Goldie Room and ends at Te Whau Vineyard.
Duration: Half Day
Rates: $130/Adult (inclusive of return ferry tickets); $110/Adult (Tour only)
Departs Auckland at 1pm from Wednesday to Sunday
Taste of Waiheke
**with a light lunch and a complimentary All Day Bus Pass.
Tour starts at the Stonyridge Vineyard to the Rangihoua Estate and ends at Mudbrick Vineyard.
Duration: Full Day
Rates: $140/Adult (inclusive of return ferry tickets); $120/Adult (Tour only)
Departs Auckland 11am Daily
Waiheke Explorer
Tour includes a guided tour of the island's history and culture. Comes with a complimentary All Day Bus pass.
Rates: $57/Adult, $28.50/Child (inclusive of return ferry tickets);
Departs Auckland at 10am, 11am & 12pm Daily
Wheels on Waiheke
Tour includes a free full day car and bike rental. Explore the island at your own pace and create an itinerary the suits your tastes. Pickup is available at the Matiamatia Terminal, along the bright green rental car booth (sign-posted "Waiheke Auto Rentals").
Rate: $99/Adult (inclusive of return ferry tickets)
Departs Auckland Daily
WHERE TO STAY IN WAIHEKE ISLAND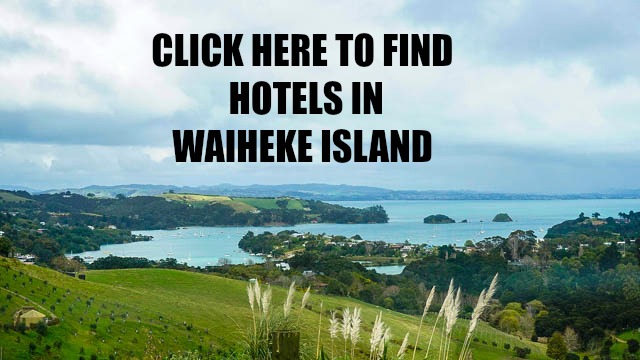 WAIHEKE ISLAND ATTRACTIONS
Stony Ridge Vineyard
Home to the country's most sought-after red wines, Stony Ridge Vineyard is also considered as one of the top ten 'must visit' wineries in the world on an article published by The Guardian. Nestled among olive trees and picturesque vistas and vineyards, here, you can spend a day in solitude while enjoying a glass of red and soaking up to the aromas of Tuscany.
Opening Hours: 11:30am – 5 pm
Location: 80 Onetangi Rd, Onetangi Valley
09 372 8822
Email: [email protected]
www.stonyridge.com
Mudbrick Vineyard
World-renowned for its award-winning wines, globally inspired cuisines, stunning views by the sea, and french potager gardens, Mudbrick Vineyard is, by far, the most scenic and romantic place to visit on the island. With over 200 weddings happening every year, the place has the most glorious settings and is also packed with an amazing lineup of wines.
Opening Hours: 10am – 5pm Daily.
Location: Church Bay Road, Oneroa, Waiheke Island
+64 9 372 9050
Email: [email protected]
www.mudbrick.co.nz
 Wild on Waiheke
Unlike other vineyards that only offer wine tastings, this unique place not only offer some of the best craft beers, but also offers a multi-activity experience to its visitors. You can opt to try and learn archery or the laser claybird shooting, or just enjoy and relax while enjoying a glass of wine or a bottle of beer over a game of pétanque.
Opening Hours: 11am – 4pm Daily (Summer), 11am – 4pm Thurs to Sun (Winter)
Location: 82 Onetangi Rd, Onetangi Valley
09 372 3434
www.wildonwaiheke.co.nz
Rangihoua Estate
Aside from wine, Waiheke Island is also known for producing some of the best extra virgin oils in the world. If you are planning to do some olive oil tastings, you can never go wrong with Rangihoua Estate. Their superb flavours and quality-produced olive oils will probably help you transform your favourite dishes to extraordinary delights.
Opening Hours: 11am-3pm Daily (Summer), 11am – 2pm Wed to Sun (Winter)
Location: 1 Gordons Road, Rocky Bay
09 372 6214
www.rangihoua.co.nz
WAIHEKE ISLAND BUDGET
A daytrip on the island is quite pricey especially if you are going to book one of those wine tours. However, everything will be worth it especially after tasting some of the best wines in New Zealand that you'll only find in the island. Expect to shell out around $100-150 for a daytrip. If you want to do an overnight stay, a budget of $200-250 should be enough depending on the activities that you will consider.
Suggested Itinerary: Day trip Waiheke Island Tour
**Fullers & Explore "Taste of Waiheke" package
0800 Wake Up Call
0830 Breakfast
0930 Travel to Ferry Terminal
1000 ETA Ferry Terminal, Buy tickets
1100 Board ferry to Matiamatia Bay, Waiheke
1140 ETA Waiheke, Meet with tour guide
1200 Light Lunch at Stonyridge
0100 Wine Tasting at Stonyridge
0130 Olive Oil Tasting at Rangihoua Estate
0200 Wine Tasting at Wild on Waiheke
0300 Wine Tasting at Mudbrick Vineyard
0430 Depart to Ferry Terminal
0500 Board Ferry to Downtown Auckland Terminal
0540 ETA Auckland
WAIHEKE ISLAND TRAVEL TIPS
⊗  Check out the island's Festival Calendar, your trip might coincide with one of the events like the Winter Arts Festival, the Local Wild Food Challenge, or the Shakespeare Festival and many more!
⊗  If you are looking for some adrenaline activities, there are plenty to choose from. Enjoy cycling, sailing, golf, zipline, sea kayak, or paddle boarding. Inquire at the info centres for rates and bookings.
---
FOLLOW ME ON INSTAGRAM
ABOUT THE WRITER AND PHOTOGRAPHER:
Hannah Cepe is a 22 year old Fine Art Photographer and solo traveler based in Manila, Philippines. Born with a keen eye for the arts and a passion towards photography, Hannah dreams of traveling the world and creating stories through her photographs.  Follow her adventures on  Instagram @hannahcepe.
FOLLOW ME ON FACEBOOK FOR TRAVEL GUIDE UPDATES
FOLLOW ME ON INSTAGRAM