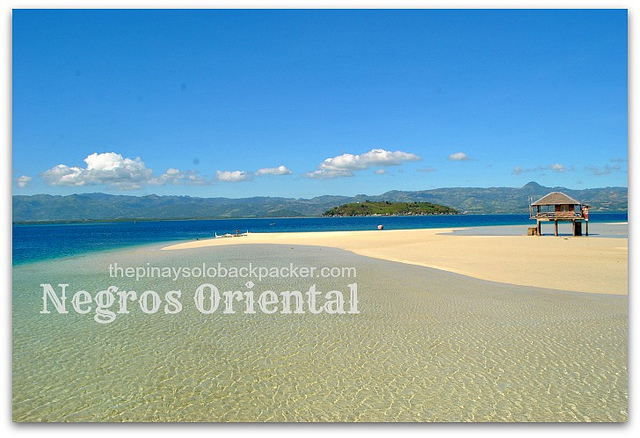 Undeniably, nothing can encompass nature's magical prowess, and Manjuyod Sandbar is one perfect testament to that.  Devoid of luxury trappings, even coconut trees are nowhere in sight, Manjuyod Sandbar is like a white gem that emerges from the seafloor when the tide recedes.
I was blessed to have spent my birthday in Manjuyod Sandbar courtesy of Sta. Monica Beach Club Resort. When our outrigger boat approached the atoll, seamless powdery white sands lapped by glimmering aquamarine waters warmly greeted.
Although geographically located in Manjuyod, Negros Oriental, the usual jump-off point is the municipality of Bais. From Capiñahan Wharf in South Bais Bay, we reached Manjuyod Sandbar via an outrigger boat within 15 minutes.  It is a typical stop-over during the Bais dolphin and whale watching tour.  And it is highly advised to visit the sandbar early in the morning to catch its momentous appearance. There is no sign of plush resort here, only three native cottages dotting the sandbar, and they all offer a gorgeous tropical isle scene.
The balmy weather seemed to clad the entire region even if the destructive storm Pablo was expected to hit Dumaguete in a day or two.  So we wasted no time and hurriedly frolicked in the beach and basked in its sandy shores just in time before the dreamy island disappeared.
At noon, our charming chalet amusingly floated in the water and the calm waters were gently crashing on its pillar down below.  And we all blissfully dined here with a dreamy view of the sheer mountainside plummeting into the sun-sparkled cerulean sea.
How to get to Manjuyod Sandbar:
From Dumaguete, travel to Bais or Manjuyod. Charter a boat from Capiñahan Wharf at South Bais Bay in Bais, Negros Oriental.
You may also contact the Manjuyod Tourism Office in advance; they have a booth in Sidlakan Negros Village in Dumaguete City.
Manjuyod Tourism Office
Poblacion Manjuyod, Negros Oriental
Cellphone number: (+63) 919 488 2950 or landline: 035 404 1136
Email: manjuyodtourismoffice@yahoo.com
Manjuyod Sandbar Tour – Boat Rate/Fees
*The Manjuyod boat rate is for whole day rental already which includes boat tour to Manjuyod Sandbar, Bais City Bird Sanctuary and the Mangrove Forest.
Php 2,500 (boat is good for 15 pax)
Php 5,000 (boat good for 60 persons)
Additional Php 1000 for dolphin and whale watching tour.
For Manjuyod Sandbar overnight rates, contact the Manjuyod Tourism Office.
>