On the southern part of Bicol region, in the town of Bulusan in Sorsogon, stands a beacon known as Bulusan volcano. Rising at 5,135 foot above sea level, it is believed to be the 4th most active volcano in the Philippines.
m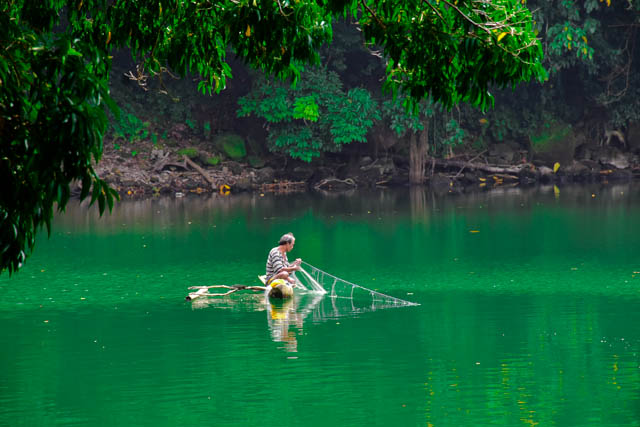 A local catching fish at the vibrantly colored Bulusan Lake. 
The sleepy town of Bulusan sheltered by the tropical lushness of its forest and soaring mountains has long been a local favorite.  Here's a travel guide to help you plan your trip to Bulusan.
THINGS TO DO IN BULUSAN/ BULUSAN TOURIST ATTRACTIONS:
Picnic at Dancalan Beach
The cream powdery sand of Dancalan Beach is very accessible. For an entrance fee of Php 10 per person, one can swim in the azure sea overlooking the San Bernardino Island crowned by the Spanish-era lighthouse. Open cottages (Php 100) and closed huts (P350 for 3 hours/wash hour and Php 1,000 for 12 hours/overnight) are speckled around here.  Parking fee per day for motorbike is Php 20, for tricycle Php 30 and for car it's Php 50.
See the ruins of Punta Diamante
Unknown to many tourists, at the heart of Bulusan town proper is an age-old triangular fortress constructed during the Spanish colonial era. Here you can still find one watchtower that stood the test of time – the Bulusan belfry, alongside the modest Parish of St.James the Great.
Chase the Waterfalls
Back in the days Palogtoc Falls was a popular choice for swimming due to its cold spring hemmed in by verdurous flora. Today, Bayugin Falls which echoes in a quiet forest has taken over its popularity.
Bask in Bulusan Lake
Like a sea, Bulusan Lake spreads out depicting nature's beauty (photo by Lakwatsero)            
A tranquil scene awaits visitors at Bulusan Volcano National Park which provides a sanctuary for different species of plants and birds.  At the foot of the famed volcano, nature has created a perfect setting for a lake. Tourists can swim here or rent a kayak for Php 100 to paddle around its emerald green water hemmed in by woodlands.    
Climb Mt. Bulusan                 
For the adventurous, you can climb the gorgeous peak of Mt. Bulusan. Mountain guides are available for hire at Bulusan Lake. Registration is Php 550 per person. Guide is Php 500 per day, good for 5 persons.  Porter is Php 350 per day.  Contact Ana G. Bo (Operations Manager) at 0907 435 2268 / email: [email protected]          
Side trip to Barcelona town    
From Bulusan town proper, the modest town of Barcelona can be reached by taking a jeepney bound for Gubat. Just tell the driver you will get off at Barcelona Church built in 1874, the only remaining well-preserved coral stone church in the province. Fronting it is the picturesque bay where an ancient watchtower in ruins stands. If coming from Gubat, take a jeep bound for Bulusan, fare is Php 16 per person.
Surfing in Gubat
A rising surfing spot in Buenavista has been attracting surfing enthusiasts in recent years. For a complete guide on Surfing in Gubat, read here.  I recommend heading to Lola Sayong Surf Camp if you wish to surf or stay overnight in Gubat. Contact Noli Mercader at 0905 242 1693.            
HOW TO GET TO BULUSAN, SORSOGON          
From Manila to Gubat, Sorsogon        
Buses such as DLTB, CUL and Philtranco have daily trips to Gubat, Sorsogon from Pasay, Cubao and Alabang. Fare is around Pho 850 – Php 950 for air-conditioned bus and around Php 600 for ordinary bus. It is a butt-numbing trip of 13-14 hours.      
From Gubat Sorsogon to Bulusan          
At Gubat town proper, walk to the market and look for a jeep bound for Bulusan.   If you wish to drop off first at Lola Sayong Surf Camp on Buenavista, Gubat, jeepney fare is Php 8.   If you wish to get off at Barcelona, fare is Php 16. From Barcelona to Dancalan Beach, fare is Php 20.  From Dancalan to Barcelona, fare is Php 25.        
How to get to Bulusan Lake
From Gubat, you can ride a jeep en route to Bulusan town proper.  And from the town proper (at the market), charter a tricycle that will take you to Bulusan Lake. Usual rate is Php 150 one way or Php 300 round-trip. Travel time is around 20-30 minutes.
The mighty Bulusan volcano crowns the neighboring town of Irosin.
From Manila to Irosin to Bulusan
  Alternatively, you can also take a bus bound for Irosin or Bulan/Matnog such as DLTB, CUL, Raymond, Penafrancia, Philtranco or RSL from Pasay, Cubao or Alabang. Fare is around Php 900 for air-conditioned bus.  Travel time is 13-14 hours.  
From Irosin to Bulusan
  At Irosin, charter a tricycle to take you to Bulusan Lake. Roundtrip fare is around Php 400. Travel time is around 30-40 minutes.  
From Legazpi to Bulusan
  Nearest airport to Sorsogon is Legazpi, about 2 hours away. Philippine Airlines and Cebu Pacific flies daily between Manila and Legazpi.   From Legazpi Airport, you can take a cab or tricycle (Php 80) to Legazpi Bus Integrated Bus Terminal, take a bus en route to Bulan and tell the driver you are getting off at Abuyog in Gubat. At Abuyog intersection, cross to the other side (ask the locals or read the signage). Wait for jeep bound for Gubat at the waiting shed.   Alternatively, you can take a bus bound for Sorsogon at Legazpi. At the Sorsogon Integrated Bus and Jeep Terminal, transfer to a jeep en route to Gubat.  
BULUSAN TOUR SAMPLE ITINERARY
  Day 1  
8:30 AM Arrival at Gubat, Sorsogon
8:45 AM Breakfast at Lydia's Restaurant
9:00 AM Ride a jeep to Barcelona in front of Gubat Public Market
9:20 AM Arrival at Barcelona
Visit Barcelona Church and the ruins of the Spanish-era Fort
Photo op at Barcelona Bay
Barcelona Church is said to be the last remaining Spanish-era coral stone church in the province. 
10:20 AM Board a jeep en route to Bulusan and get off at Dancalan Beach
10:45 AM Jeep to Bulusan Town Proper
11:15 AM Lunch at Bulusan Public Market
11:45 AM Visit Bulusan Belfry and Church 12:00 PM Charter a tricycle to Bulusan Lake
12:30 PM Swim, Kayak and bask in Bulusan Lake
03:00 PM Back to Bulusan via chartered tricycle
03:30 PM Ride a jeep back to Gubat
04:10 PM Get off at Lola Sayong Surf Camp in Buenavista, Gubat
04:20 PM Surf Surf Surf
6:00 PM Early Dinner  
Day 2  
7:00 AM Surf and Snorkel  
If you are staying for at least 1 more day, you can head to Matnog for island hopping. See my Matnog Travel Guide here.
BULUSAN SAMPLE TRAVEL EXPENSES
Roundtrip Fare to Gubat from Manila – Php 1,800 (approximately Php 900 per way)
Jeep to Barcelona from Gubat               – Php      16   per person x 2 (for return trip)
Jeep to Dancalan from Barcelona          -Php       20   per person x 2 (for return trip)
Dancalan Entrance Fee                          -Php       10
Jeep to Bulusan Town from Dancalan   -Php       25 per person    x 2 (for return trip)
Chartered tricycle to Bulusan Lake        -Php     300 (roundtrip) additional Php 50 if you wish to continue to Irosin instead of going back to Bulusan.
                                                                    – Php     150 tip (not required but we gave the driver extra for the wait time) Bulusan Entrance Fee                             -Php 20 per person
Lola Sayong Cottage (Overnight)           – Php    800 good for 4 pax with breakfast so Php 200 per person if 4 pax
If you opt to pitch your own tent            – Php     75 per day
You can also rent a tent from Lola Sayong –  Php 150 includes tent pitching fee ( good for 2 pax)
Surfing board rental with Instructor          -Php 350 per hour
Surf board rental only                                – Php 200 per hour or Php 600 per day  
Total  per person if two pax (expenses divided by two)    – Php 2,942 (based on cottage sharing, camping is cheaper)   *Food/Groceries/Booze/Cocktails not included here.  
Where to Stay:
During our trip, we did not stay at Bulusan but decided to spend a night at Gubat so we can get a surfing lessson the next day.
Lakwatsero chilling at Lola Sayong Surf Camp.
Lola Sayong Surf Camp
Brgy. Buenavista
Gubat, Sorsogon
closed cottage rate: Fan room with common C.R –  Php 800, good for 4 pax, with breakfast.
tent rental: Php 150 (good for two) /pitching fee included
pitching fee (own tent) : Php 75  (good for two)
Contact local surfing instructor Noli Mercarder  at (+63)905-242-1693
* All photos were taken using Nikon D5500 . 
Nikon Philippines
Website : www.nikon.ph
Facebook : Nikon Philippines 
Instagram: @officialnikonph
FOLLOW ME ON FACEBOOK FOR TRAVEL GUIDE UPDATES
FOLLOW ME ON INSTAGRAM 
>