Capiz is home to the eponymous Capiz shells (Placuna placenta) locally known as pi-os.  That is why it is not surprising to see an abundance of locally-crafted Capiz shell products for sale here. This largely uncharted province in Western Visayas is oozing with immaculate beaches, majestic caves and mouth-watering seafood!
Interestingly, Capiz was the second Spanish settlement established by the Spaniards after San Miguel, Cebu. Upon arrival at Pan-ay, Captain Diego de Artienda who was sent by Miguel Lopez de Legazpi declared the town the capital of the province which was later transferred to Capiz town (present-day Roxas City) because of its strategic (coastal) location for trade and naval defense.
Today, Capiz is a thriving city sprinkled with some remnants of its glorious heyday and makes for a perfect escape from the crowd-magnet Boracay.
If you're wondering what to do in Roxas City and Capiz, here's a list of top tourist spots in Capiz.
CAPIZ TOURIST SPOTS
ROXAS CITY TOURIST ATTRACTIONS

 
Manuel Roxas Shrine
The ancestral house of Capiz' famed son – Manuel Acuña Roxas, the last President of the Commonwealth and the 1st President of the Republic of the Philippines is located at the corner of Rizal and Zamora Street in downtown Roxas City, the capital of Capiz province. The well-preserved abode has been declared a National Historical Shrine. Today, the Manuel Roxas Shrine serves as a private residence of the Albar Family, descendants of Jovita Acuña Barrios.
---
Roxas Cathedral
Crowning downtown Roxas City is the Immaculate Conception Metropolitan Cathedral Parish known as Roxas Cathedral. This beautiful stone church was completed in 1876, destroyed by the typhoon back in 1698 and reconstructed in 1954.
---
Roxas City Fountain
Built in 1925, the Roxas City Fountain in front of Roxas Cathedral at the heart of the city plaza has been a subject of controversy. Interestingly, the fountain's focal center is the kilometer zero point of the city. The original fountain was destroyed during the World War II and was rebuilt in 1946 where eight sculptured fishes with jet sprays so that water gushes from their mouth where installed. But in 2007, the original design of the Roxas City Fountain  was heavily altered  reportedly costing millions of pesos . Four kneeling male reminiscent of European flair were installed drawing both praise and criticism from the locals. But when a new administration was elected in 2010, these controversial statues were demolished and resurrected back to its original design. Talk about wasted  tax payer's money.  In 2012, another renovation was made, eventually turning Roxas City Fountain into a dancing fountain drawing  flak from the public again.
---
Roxas City Bridge
Across the controversial Roxas City Fountain is the Roxas City Bridge (Old Capiz Bridge) which was constructed in 1910. The 106 year-old bridge where the placid Panay River traverses has stood the test of time, connecting the commercial center to the main road. Because of this, some locals call Roxas City as the "Venice of the Visayas".
---
Roxas City Bandstand
At Halaran Plaza near the Roxas City Bridge, you can find a beautifully-designed earthquake- proof bandstand built in the 1920s by Jose Roldan, the first Filipino principal of Capiz trade school. This spot served as the site of political rallies.
---
Capiz Provincial Capitol
The neck-swiveling Capiz Provincial Capitol with neoclassical architectural flair is another well-preserved old structure situated in Roxas City Plaza.  This beauty was designed by the American architect William Parsons and built in 1910.
---
Panublion Museum
While you're in Roxas City, do visit the Panublion Museum.  Fascinatingly, this museum is actually a huge water tank built in 1910 and painted in white.  Panublion Museum houses a variety of excavated artifacts, memorabilia of the former President Manuel Roxas as well as historical vestiges and traditional dress of the indigenous tribe of Capiz.
---
Capiz Pilgrimage Sites
While in Roxas City, you can drop by at the giant statue of Jesus Christ that is 132 feet tall.   It stands on  a hill overlooking Roxas City.  Meanwhile, in Sapian, Capiz, another pilgrimage site – the Our Lady of Lourder Grotto Meditation Hills, is attracting pilgrims.
---
Baybay Beach
Since Roxas City, the capital of Capiz is dubbed as "Seafood Capital of the Philippines", don't miss eating seafood during your trip here! Head to the popular gray sand Baybay Beach hemmed in by eateries that serve dirt cheap, mouth-watering seafood that are cooked to order!  It's the best place to gobble up rare diwal clam (angel wing clam), a Roxas specialty as well as oysters, crabs and shrimps.
---
Mantalinga Island
For dive enthusiasts a visit to Mantalinga Island is highly encouraged. It lies off the coast of Baybay Beach and is also a good spot for kayaking and sailing
---
PAN-AY TOURIST ATTRACTIONS
Dakong Linganay (Big Bell)
Just 15 minutes away from Roxas City in Capiz is the town of Pan-ay, home to the biggest Christian church bell in Asia.  The 10.4 ton big bell which is known locally as Dakong Linganay  was made in 1878 from  melted 70 sacks of coins donated by the locals.  The bell was cast by Don Juan Reina,  a dentist known his  metal casting.  You can find the Big Bell hanging in the bell tower of Sta. Monica Church.
---
Sta.Monica Church (Pan-ay Church)
In 1997, the baroque church of Sta.Monica (also called Pan-ay Church) was declared a National Historical Landmark.   The church is built out of coral stones and its façade is adorned with saint stature and sculpted flowers.  The interior of Sta.Monica Church  is equally charming as it has retained its original terra cotta floor and three altars in Baroque style.  Adjacent to the church is an L-shaped convent housing Museo de Santa Monica.  Displayed here are images of saints made from wood and ivory, silver retablos and gold vestments.
---
CAPIZ RIVER CRUISE
Did you know that Capiz has a river cruise too, just like the Loboc River Cruise?  Head to Palina Greenbelt Eco Park  to enjoy the idyllic river cruise while being serenaded by local performers aboard a bamboo floating cottage.  You also get to try dining here while enjoying the placid river and scenic surroundings.  On weekends at 8:30 AM, you can avail of the Capiz river cruise for only PHP 100 with snacks.  You may contact Palina Greenbelt Eco Park at +63 910 609 7475.
---
OTHER TOURIST ATTRACTIONS IN CAPIZ
Capiz is bursting with caves. Explore the stunning Quipot Cave with a massive chamber bursting with awe-inspiring stalactites, stalagmites and drapers. The cave is draped by dense wilderness home to wild ducks, birds and deer.
Marvel at the beauty of Pilar Cave, believed to be an ancient burial site of the original inhabitants of the province. The caverns are adorned by beautiful orchids blooming in the summer.
Balisong Cave is where the battle against the Spaniards took place which took the life of the Capizeño revolutionary – Juan Arce.
The extensive Suhot Cave is known for its crystal clear water  flowing from a spring.  Reportedly, it is connected to Badian Cave in the neighboring town of Dumarao.
Suhotan Cave has cathedral-like dome and colossal multi-layered chambers clad by stylish drapers, stalactites and a massive stalagmite akin to an image of a saint.
Igang Cave is a  limestone cave situated in Maayon with a colossal chambers hemmed in by stalactites and stalagmites.
---
WHERE TO STAY IN CAPIZ
Hotel Veronica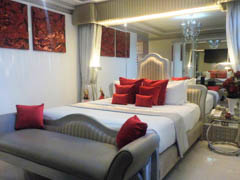 Pueblo De Panay, Lawaan, Lawaan, Roxas City (Capiz)
CLICK HERE TO CHECK ROOM RATES
*We stayed at Hotel Veronica during our recent trip to Capiz.
Roxas President's Inn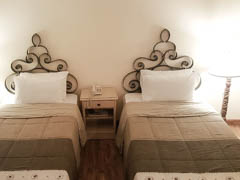 Corner of Rizal & Lopez Jaena St., Poblacion, Roxas City (Capiz)
CLICK HERE TO CHECK ROOM RATES
San Antonio Resort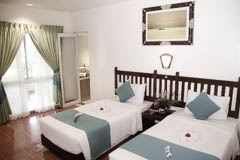 Lawis Baybay Beach, Baybay, Roxas City (Capiz)
CLICK HERE TO CHECK ROOM RATES
---
WHERE TO EAT IN CAPIZ
Never leave Roxas City without trying its seafood.  You can order them through the following restaurants:
TIMPLADO
Baybay Beach, Roxas City
Mobile #: 0919 447 6359 or 6431 737
CAFE TERRAZA
Sacred Heart of Jesus Avenue, Roxas City, Capiz
Mobile: 0917 312 1498
---
WHERE TO BOOK ROXAS CITY AND CAPIZ TOURS
LAS ISLAS TRAVEL AND TOURS
Las Islas Punta Dulog, Pueblo de Panay, Brgy. Lawaan, Roxas City
Contact#:  +63 995 335 7310,  +63 929 595 8870
---
DISCLOSURE:  My  trip to Capiz was made possible by Las Islas Travel and Tours.
---
RELATED TRAVEL BLOGS:
About the Blogger : Gael is a Filipina travel blogger. Her work has appeared in local and international publications.
Follow her on [wp-svg-icons icon="facebook-2″ wrap="i"] Facebook , [wp-svg-icons icon="twitter" wrap="i"] Twitter and [wp-svg-icons icon="instagram" wrap="i"] Instagram.
For advertisements, sponsorship and partnerships, you may reach her at gaelhilotinblog (at) gmail (dot) com.
---
LIKE MY PAGE ON FACEBOOK FOR TRAVEL GUIDE UPDATES
---
FOLLOW ME ON INSTAGRAM
---
Watch my latest
[wp-svg-icons icon="youtube" wrap="i"]

Youtube video.
Don't forget to click
[wp-svg-icons icon="point-right" wrap="i"]
SUBSCRIBE HERE