If you are looking for a side trip from Taipei, consider traveling to Hualien, just roughly 2.5 hours away by train. As Hualien is sandwiched between the Pacific Ocean and Central Mountain Range, it enjoys a landscape rich in scenic beauty, history and mineral resources.  Despite its popularity, it remains a pleasant and quiet countryside escape from the hustle and bustle of Taiwan's capital city.  Hualien seems to have managed to find the balance between tourist development and preservation of nature.  Here's a list of some of the top attractions and things to do in Hualien to help you plan your itinerary.  I recommend staying in Hualien for about 2-3 full days to enjoy its majesty.
---
TOP THINGS TO DO IN HUALIEN TAIWAN
---
 1. VISIT TAROKO GORGE
Taroko Gorge is the poster boy of Hualien, Taiwan. When you speak of Hualien, images of Taroko Gorge come to mind. And it's easy to understand why. The name Taroko itself means "magnificent and splendid", and this is what the national park offers tourists. If you love nature, then this Hualien tourist destination is for you.  Taroko is dappled with towering marble rocks, canyons, jungle-clad mountains and steep valleys interrupted by green rivers. Don't miss the Eternal Spring Shine where a temple sits on a waterfall. However, if you want to soak up nature here sans the crowd, avoid the holidays and weekend.
HOW TO GET TO TAROKO GORGE
By Bus
There are shuttle buses that run between Hualien city center to Taroko Gorge.  You can find the bus at the New Hualien Bus Terminal near the Hualien Train Station.  Taroko Gorge 1 Day bus pass costs NTD 250 (PHP 412 / SGD 11 / USD 8 ), the 2 Day Taroko Bus Pass fare is NTD 400  ( PHP  661 / SGD 18 / USD 13) and the Super Saver Pass will set you back NTD 3,300 (PHP 5,453 / SGD 151 / USD 109). Pass can be purchased at Hualien Bus Station, Family Mart and 7-Eleven.
Buses from Hualien to Tianxiang (Taroko Gorge) run from 7:00 AM to 3:00 PM only.  And buses from Tianxiang (Taroko Gorge) are available from 8:40 AM to 5:00 PM only.
By Tour Package
It is possible to join Taroko Gorge Guided Tours while in Hualien.  You can BOOK A TAROKO GORGE TOUR HERE. The Taroko Gorge tour (day trip) includes comfortable coach transportation with hotel pick-up and drop-off, guide and optional lunch at Tianxiang. You will explore the Swallows' Grotto Trail for the most dramatic view of the gorge, visit the Eternal springs at Changchun Shrine and see Tianxiang red suspension bridge. Tour will take about 6 to 8 hours.
By Private Car Charter
If you are in a group, you can hire a car for a half day Taroko Gorge Tour or full day Taroko Gorge Tour here. Chartered car includes fuel and driver fees, hotel pick-up and drop-off and insurance. You can tailor your itinerary, but best to take advice from your experienced driver on the best Hualien attractions to visit including Taroko Gorge, the Eternal Spring, Cihmu Bridge and Swallow's Grotto.
2. EXPLORE THE EAST COAST
Aside from Taroko Gorge, Taiwan's East Coast is undoubtedly one of the most scenic places to see in the country. A cheap and hassle-free way to explore this is by joining tour packages.  You can BOOK THE TAIWAN EAST COAST NATURE TOUR HERE.
The tour will take you to Fanshuliao Valley that is peppered with beautiful mountains and canyons. Explore Shihtiping where you can witness scenic volcanic rocks on the coast, visit the fishing village in Shihti Harbor as well as the famed Taroko Bridge. And finally, get the best view of the Pacific coastline at Baqi Gazebo and Niushan Huting, where you will surely be mesmerized by the coastal mountain range.
3. HUALIEN WHALE WATCHING
On top of Taroko Gorge National Park, Hualien attracts tourists because of its affordable whale watching. If you are visiting Hualien soon, you can join cheap tour packages that offer whale watching tours.BOOK A HUALIEN WHALE WATCHING TOUR HERE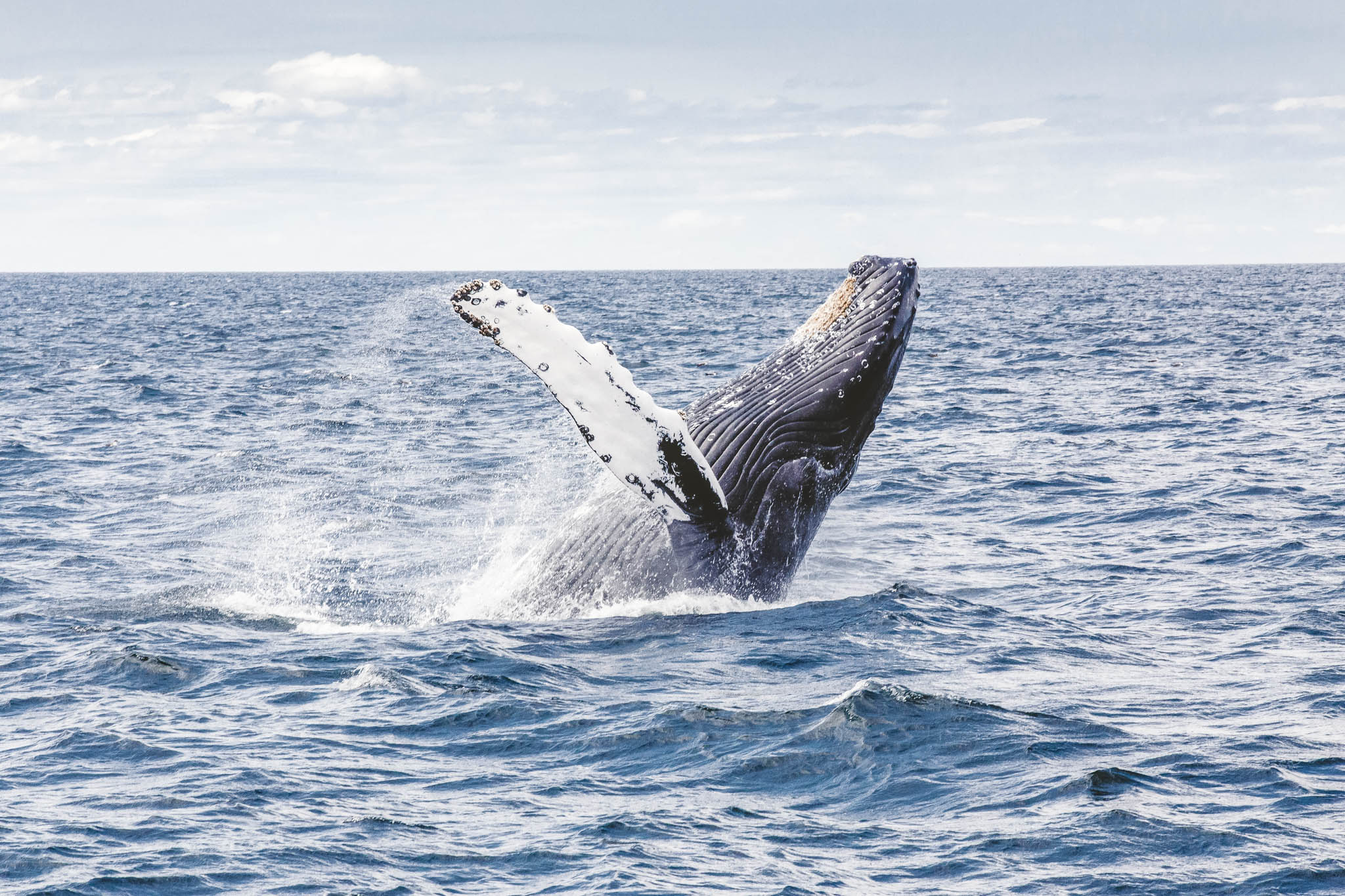 If you are lucky enough, you could sight a range of whale species in Hualien including humpback, killer, sperm, false killer and pygmy killer whales. Plus see the playful dolphins like spinner, bottlenose, pantropical spotted and Chinese white dolphins.  Whale watching season is said to be around April to October, and best to visit early in the morning for possible sighting.
4. FOOD TRIP AT HUALIEN NIGHT MARKET
Don't go home without trying the local food in Hualien.  And aside from the wealth of cafes and restaurants sprinkled around Hualien City, you'll have a lot of options at night markets in Hualien.  I tried the one at Hualien Dongdamen Tourist Night Market (the Ziqiang Night Market has been relocated here) and the food were really mouth-watering (not to mention they're affordable)! I especially loved the aboriginal food being sold here!  To get to Hualien Dongdamen Tourist Night Market, I took a cab from my hostel, fare was NTD 70 (PHP 116 / SGD 3 / USD 2.30).
5. UNLEASH YOUR INNER CHILD AT FARGLORY OCEAN PARK
When in Hualien, unleash the child in you by visiting Farglory Ocean Park.  This is also best enjoyed with your kids, family and friends.BOOK FARGLORY OCEAN PARK TICKETS HERE (transportation included). Get to Ride exciting rollercoasters, flume rides and other awesome attractions.
 6. SEE THE SHIN KONG CHAO FENG RANCH AND ECO-RESORT
Get a glimpse of Hualien's stunning countryside and farm life by paying a visit to Shin Kong Chao Feng Ranch & Eco-Resort.  Here you can learn about cow farming and milking of cows and even soak in hot springs or swimming pool. If you are traveling with kids, they will love the petting zoo, ponies and kids playing areas here. The best way to get around at the farm is by leisurely cycling or riding the electric cars. BOOK THE SHIN KONG CHAO FENG RANCH AND ECO-RESORT TOUR PACKAGE HERE.
 7. GET A GLIMPSE OF HUALIEN CULTURE
The East coast is one of Taiwan's most scenic places and aside from soaking up nature, you can soak up culture here too! Enjoy a day trip to Taiwan's East Coast and see evidence of Japanese culture if you BOOK A CULTURAL EAST COAST TOUR HERE.  The tour includes a visit to Jian Chinxiu temple, the only Grade III Historic site on Taiwan's East coast.  Soak up the serenity of nature at Taiwan's beautiful lakes and see Hualien's Creative and Cultural Park.
8. HUALIEN TEMPLE HOPPING
Temples abound in downtown Hualien.  Consider hiring a bike to get around town and visit them, consult Google Maps for the nearest temple to your hotel.  Or if you have a credit card, you can borrow the yellow bikes scattered around Hualien, you can download the app called OBike.  It's for free! But you need to register and a deposit of NTD 900 (PHP 1,486 / SGD 41 / USD 30) will be charged to you credit card. Deposit is refundable. Alternatively, you can hire a motorbike in Hualien for for about NTD 350 (PHP 578/ SGD 16 / USD 11.49) per day. Ask your hotel/hostel for recommendation.
9.WATER SPORTS ADVENTURE IN HUALIEN
For the adrenaline junkies, you can try the thrilling watersports adventures in Hualien.  Go on a river rafting in Hsiukulan River in Hualien. BOOK RIVER RAFTING TOUR HERE 
You can choose your preferred raft type: latest self-draining boat or upturned raft. River rafting package includes an English-speaking professional rafter and lunchbox meal.
Did you know that you can also go kayak at the gorgeous Qingshui Cliff? BOOK THE QINGSHUI CLIFF SEA KAYAKING HERE. Best to stay safe with a professional guide by your side and a detailed equipment briefing.  You can choose your own time that best suits your itinerary, however, the 4:00 AM to 5:00 PM start is recommended to get the best view of the sunrise across the Pacific Ocean.
10. EAST RIFT VALLEY DAY TOUR
Explore Hualien's logging heritage at Lintian Mountain Forestry Center, an erstwhile lumbering area on top of a mountain that depicts the lumbering industry of the thriving city during the Japanese occupation. Massive timbers, machinery, artworks, and sculptures are on display here. Visit the Butterfly Valley at the Fuyuan National Forest Recreation Area and get your sugar fix by tasting the ice creams at the Hualien Sugar Factory.  BOOK THE EAST RIFT VALLEY DAY TOUR HERE.
---
TAIPE TO  HUALIEN 
---
From Taipei HSR Train Station (beside Taipei MRT Station), you can ride a train to Hualien.  Alternatively, you can take a train from Songshan Train Station like I did.  The train fare was NTD 426 (PHP 704 / SGD 19.43 / USD 14). Upon arrival at Hualien Train Station, you can take a taxi to your hotel in Hualien.
*EXCHANGE RATE BASED ON CURRENT RATE: NTD 1 = PHP 1.65 (SGD 0.05 / USD 0.03)
---
WHERE TO STAY IN HUALIEN
---
CAVE HOSTEL IN HUALIEN
I stayed here during my trip in Hualien. Definitely one of the best budget hostels in Hualien – clean and stylish.
No.248, Zhonghua Rd, Hualien City, Hualien, Taiwan
DISCLOSURE: My Hualien trip was made possible by Cave Hostel Hualien.
---
HUALIEN TRAVEL TIPS
---
Since English is not widely-spoken in Hualien (like the rest of Taiwan), best to have internet when paying a visit here for Google Translate and Google Maps.  You can RENT A POCKET WIFI HERE, just pick it up at Taipei Airport (Taoyuan International Airport ), cheapest rate I've seen so far and it can connect up to 5 devices at once (phones, tablets, laptops etc.)  
Alternatively, you can BUY A TAIWAN SIM CARD HERE in advance and just pick it up at Taipei Airport (Taoyuan International Airport). You can choose from 3, 5, 7 or 10 days depending on your trip duration.  Trust me, it's better to purchase in advance as I had a hard time looking for a place to purchase a sim card in Hualien and they required two government IDs so my host had to buy it for me.  Not to mention that it is also more expensive (paid NTD 500 for 1 GB data)!
The Taroko Gorge Bus also stops at Qixingtan Beach, a popular pebble beach in Hualien.
Getting to Hualien attractions outside the city center can be quite daunting as buses aren't available all the time (except for the bus to Taroko Gorge National Park).  If you are in a group, you can go  HIRE A CAR IN HUALIEN HERE. Otherwise, just join tour packages in Hualien as packages are affordable (book through the links mentioned above).
You can borrow the Yellow Bikes scattered around Hualien for free!  Download the Obike App. But you need to register and a deposit of NTD 900 (PHP 1,486 / SGD 41 / USD 30) will be charged to you credit card. Deposit is refundable.
You can hire a motorbike in Hualien for about NTD 350 (PHP 578/ SGD 16 / USD 11.49) per day. Ask your hotel/hostel for recommendation.
---
ALSO READ : 
---
TAIWAN POCKET WI-FI RENTAL
---
If you're traveling to Taiwan soon. You can RENT CHEAP POCKET WI-FI HERE or BUY DISCOUNTED SIM CARD HERE.
---
About the Blogger : Gael is a Filipina travel blogger. Her work has appeared in local and international publications.
Follow her on [wp-svg-icons icon="facebook-2″ wrap="i"] Facebook , [wp-svg-icons icon="twitter" wrap="i"] Twitter and [wp-svg-icons icon="instagram" wrap="i"] Instagram.
For advertisements, sponsorship and partnerships, you may reach her at gaelhilotinblog (at) gmail (dot) com.
---
LIKE MY PAGE ON FACEBOOK FOR TRAVEL GUIDE UPDATES
---
FOLLOW ME ON INSTAGRAM
---
Watch my latest
[wp-svg-icons icon="youtube" wrap="i"]

Youtube video.
Don't forget to click
[wp-svg-icons icon="point-right" wrap="i"]
SUBSCRIBE HERE