The far-flung Lake Sebu is far from the tedious trappings of commercialism but you will learn a lot from your encounter with the T'boli people, an indigenous group inhabiting this region. Lake Sebu invites you to choose your own adventure with its interesting tourist attractions and priceless culture.
I've rounded up some of the top things to do in this lovely land of the dream weavers:
A visit to Lake Sebu will not be complete without paying a visit to the National Living Treasure Awardee – Be Lang Dulay.  She is a T'boli master dreamweaver known for her fine creations – the t'nalak cloth. T'nalak is a cultural emblem of the T'bolis, produced from fine abaca fibers in 3 colors– black, red and the natural color of abaca leaves. What makes t'nalak tapestry exquisitely unique from other textiles is that the their patterns are inspired by the weaver's dream.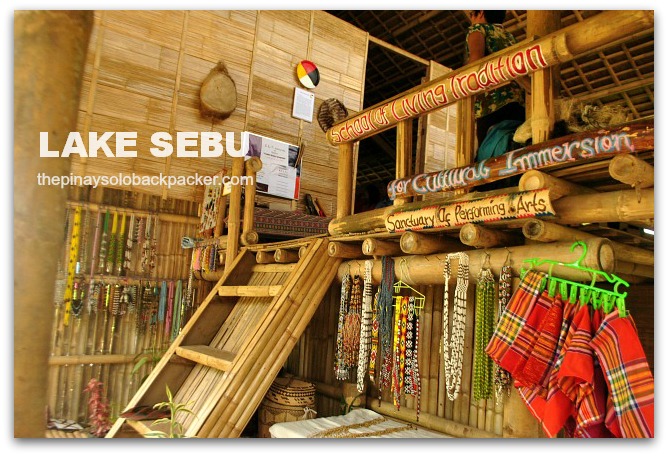 Shop for T'nalak and other T'boli Crafts
Give back to the community by supporting local products and crafts. Make time to shop for T'boli souvenirs such as t'nalak textile, beadworks, headpieces, embroidered blouses, woodcarvings and brass ware. Souvenir shops selling traditional handicrafts and accessories abound near the Seven Falls of Lake Sebu. You can even try on a traditional T'boli dress for a minimal fee, perfect for photo op! Another highly recommended place to shop is the Cooperative of Women for Health and Development (COWHEAD)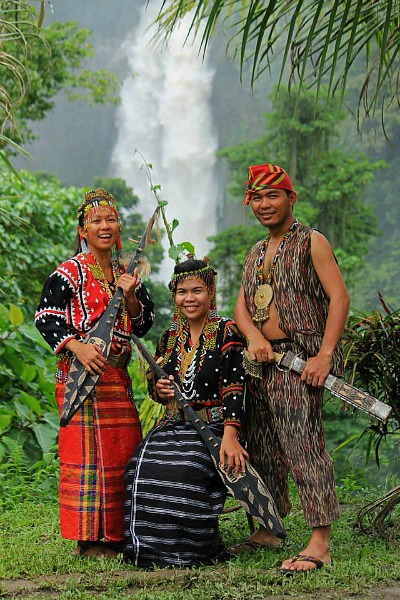 Celebrated around September 16-18, Lemlunay Festival is a rendezvous of the T'boli people and the 6 Tribes of South Cotabato and Davao. 
Canoeing around the lotus-filled lake
Paddling in the placid waters of Lake Sebu using a traditional dugout canoe is every photographer's dream. Visit the lake early in the morning while the pink lotus flowers are in bloom. Lake Sebu is home to three gorgeous lakes – Lake Lahit , Lake Seloton and Lake Sebu.
Some resorts in LakeSebu offers boat cruise along the lake such as Mountain Lake Eco Resort in Brgy.Bacdulong.   Alternatively, you could also charter a boat for Php 500 (good for 15 pax) from local fishermen to explore the surroundings of the lake.
Visit the Seven Falls and Ride the Zipline  
Lake Sebu is dappled with pristine falls, collectively called The Seven Falls. Interestingly, these falls have T'boli names; Falls 1 is Hikung Alu (passage falls), Falls 2 was named Hikong Bente (immeasurable falls), Falls 3 is Hikong B'lebed (coil or zigzag falls), Falls 4 is Hikong Lowig (booth), Falls 5 was baptized as Hikong Kefo-i (wild flower), Falls 6 is Hikong Ukol (short falls) and lastly Falls 7 is known as Hikong Tonok (soil).  You can hike the falls surrounded by forest clad mountains, but a rather surreal way to see it is by riding the Lake Sebu Seven Falls zipline. 
Live fresh tilapia abounds in Lake Sebu, therefore it is no surprise that the locals came up with different ways to serve this fish. Indulge on fried tilapia, sinugba na tilapia, kinilaw na tilapia, paksiw na tilapia and chicharon tilapia, among others. Visit Punta Isla Resort and dine at their floating restaurant where they serve varied tilapia cuisines.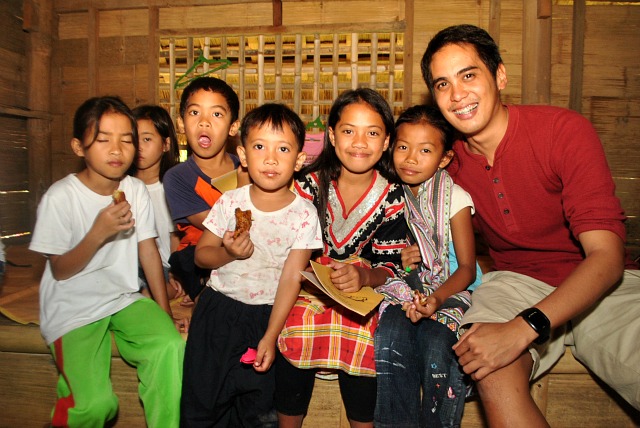 Live with a T'boli Family 
A great way to immerse in the T'boli culture is to experience living with them. Ms.Maria Todi, a T'boli cultural worker has a native house open for visitors beside the Schools for Indigenous Knowledge and Traditions (SIKAT) in Brgy. Lambanig. You can also visit SIKAT where you get to see the T'boli elders educate and train the younger generation with T'boli native song and dance.