In a statement released by MIAA (MANILA INTERNATIONAL AIRPORT AUTHORITY) on its official Facebook page, the reshuffling of NAIA terminals this August 31, 2018 WILL NOT PROCEED.  Under the planned Terminal Rationalization Program, all 4 terminals will be rationalized – Terminal 1 and 3 will be assigned for international flights and Terminals 2 and 4 are designated for domestic flights. However, that plan WILL NOT HAPPEN, NO TRANSFER OF AIRLINES UNTIL FURTHER NOTICE.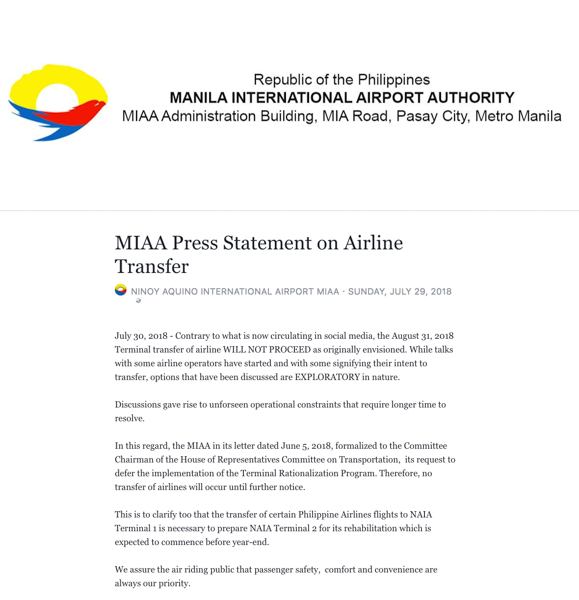 Nevertheless, some Philippine Airline flights (originally at NAIA Terminal 2) will be transferred to NAIA Terminal 1  because the former needs rehabilitation.
Effective this July 31, 2018, the following Philippine Airlines flights shall depart from/ arrive in NAIA Terminal 1 (Manila):
 PR116/117 Manila – Vancouver – Manila vv.
 PR118/119 Manila – Toronto – Manila vv.
 PR126/127 Manila – New York (JFK) – Manila vv.
So, all Canada flights to Manila on July 30 (PR 117 Vancouver- Manila and PR 119 Toronto-Manila) will arrive on NAIAA Terminal 1 in Manila on July 31.
Passengers with connecting flights are advised to observe the 2-hour new minimum connecting time from Terminal 2 to Terminal 1. So, if you will not make it to your connecting flight because of the change in terminal assignment you are advised to make the necessary adjustments to your travel plans or call Philippine Airlines hotline numbers for further assistance.
Vancouver Sales Office: (604) 276-6015 to 6016
Toronto Sales Office: (905) 405-9944 / 405 8774
PAL Reservations Hotline: (632) 855 – 8888
PAL Toll-Free Number: 1-800-I-FLY-PAL
SOURCES:
MIIA Terminal Official Facebook Page
ABS-CBN News TV interview
---
 ALSO READ: