Rotorua, a city in New Zealand's North Island, is widely known for its geothermal activity. It is home to the world-famous Pōhutu geyser, considered as the largest geyser in the southern hemisphere, and which erupts once or twice every hour, shooting out water and steam that can sometimes reach as high as 30 meters. Moreover, aside from geysers, Rotorua also offers a unique encounter with bubbling mud pools, luxury spas, scenic nature walks and some of the most interesting cycling routes.
Also, the city is known as the center for Maori culture. You can experience a wide range of cultural performances, including the Maori's spine-tingling and warlike haka dance. Such cultural shows can also be enjoyed over a nice hangi dinner. "Hangi" is the traditional cooking method of the Maori people where they actually dig a pit in the ground, place food baskets on top of the heated rocks inside the pit, and then cover it with earth for several hours. This method has been the major mode of cooking for the Maori people in New Zealand and up until now, the tradition is still being practiced during special occasions. Various Hangi Menus are also available at hotels, restaurants, and historical villages all throughout Rotorua.
Indeed, a trip to the city is a great way to not only witness some cool geothermal activities, but also a perfect place to experience the richness of New Zealand's Maori culture.  Here's a Rotorua travel blog to guide you on planning your trip to Rotorua New Zealand.
HOW TO GET TO ROTORUA FROM AUCKLAND
Philippine Airlines   has flights to Auckland, New Zealand four times a week every Monday, Wednesday, Thursday, and Sunday. The flight takes about 10 hours, with 1 hour layover in Cairns, Australia.  All-in economy class round-trip fares start from 924 USD (PHP 45K). The fare is inclusive of a 30 kg check-in baggage and a 7 kg hand-carry baggage allowance. An additional fee is applicable for any excess baggage.
Stay tuned for PAL's Pre-Christmas Seat sale this coming November 21-30. Flights from Manila/Cebu/Davao to Auckland is on sale for only 800 USD /Php 39k(round-trip base fare). Travel period starts on February 08, 2017 until June 30, 2017.
Rotorua is about a 3 to 4 hour drive from the city of Auckland. There's a full range of transport options you can choose from if you are planning to visit. Depending on your budget, you can either try to rent a car or go with intercity buses and hop-off-hop-on bus rides. A one way ticket to Rotorua from Auckland via an intercity bus will probably cost you around 34NZD to 54NZD depending on the date and time of your departure. For online booking and bus timetables, proceed to the details provided below.
Intercity Buses NZ
www.intercity.co.nz
+64 9 583 5780
GETTING AROUND ROTORUA
The city of Rotorua is relatively small and can be walked around. However, if you wish to visit some attractions like The Agrodome or Te Puia, you would need to at least ride a bus or taxi going there. A one way bus ticket to Te Puia is 24NZD and a taxi would cost you around 14-20NZD. But if you prefer a hassle-free way tour around the city, rental cars would probably be your best choice. A car rental branch is available at Old Taupo Road, on State Highway 5. Pickups are also available from Rotorua Airport and your accomodation.
New Zealand RentACar
105 Old Taupo Road, Mangakakahi,
Rotorua-Central, 3015
+64 7 343 7920
Budget Car Rentals – Rotorua
5 King Street, Whakatane
+64 7 308 6399
WHERE TO STAY IN ROTORUA
The average hotel prices in Rotorua range from 150 NZD (PHP 5,215) to 400 NZD (PHP 13,907). Budget dorms in hostels costs around 15 NZD (PHP 522) -30 (PHP 1,044) NZD per night while a private room cost around 60 NZD (PHP 2,086)  -80 NZD (2,781).
BUDGET
Four Canoes Hotel
Rotorua City Center, Rotorua, New Zealand
MID-RANGE
 Holiday Inn Rotorua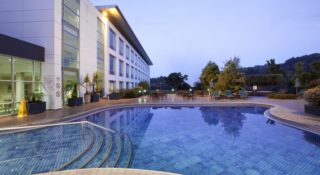 10 Tryon Street P.O.Box 6220
Rotorua City Center, Rotorua, New Zealand, 3043
Silver Oaks Hotel Geyserland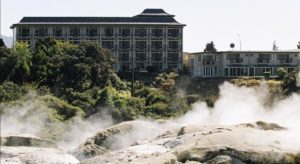 424 Fenton Street, Rotorua City Center
Rotorua, New Zealand
 Splurge
Princes Gate Hotel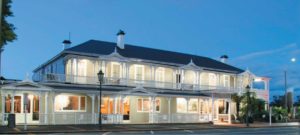 Rotorua City Center, Rotorua, New Zealand, 3010
ROTORUA TOURIST ATTRACTIONS
TE PUIA
Te Puia is probably New Zealand's own geothermal wonderland. Not only that it is home to the world-famous Pōhutu Geyser, here, you will also find the Nga Mōkai A Kōkō mud pool that was named after Koko, a famous chief of the native people who originally settled in the area. A kiwi house can also be found in Te Puia where you can have a close encounter with the nocturnal flightless national bird of New Zealand. And when it comes to Maori Culture, here, you will also find some reconstructed historic villages that will let you discover how the Maori people lived in the early times. During our visit, we were taught about how the Maori people show hospitality and respect to someone who visits their home. They call it "Manaakitanga" which means "we will treat you like one of the family." A nose to nose gesture is made towards the person as a welcome greeting.
Entrance Fees: 52 NZD (PHP 1,808) for Adults; 26 NZD (PHP 904) for Children
Location: Hemo Road, Rotorua, New Zealand
Opening Hours: 8:00am – 6:00pm (October – March); 8:00am – 5:00pm (April – September)
+64 7 348 9047
www.tepuia.com
RAINBOW SPRINGS
If you are looking for a unique wildlife experience in Rotorua, Rainbow Springs is the place to be. The 22 acre park is a perfect place to see 16 different breeds of native birds. Here, you can also come face to face with the so-called living fossil "tuatara", the only remaining species of an ancient order of reptiles that has once shared the earth with dinosaurs.
Entrance Fees: 40 NZD (PHP 1,392) for Adults; 20 NZD (PHP 695) for Children
Location: Fairy Springs Rd, Rotorua
Opening Hours: 8:30am – 9:30pm daily
ROTORUA MUSEUM (Te Whare Taonga o Te Arawa)
The Rotorua Museum is a good introduction to the history of Rotorua since it opened sometime in 1908. This Old English style building displays interesting art galleries, exhibitions and cinema experiences. Interestingly, the museum was initially as Spa Bath House before it was turned into a restaurant, then a nightclub and finally a museum.
Address:
Government Gardens Oruawhata Dr, Rotorua 3046, New Zealand
Rotorua Museum Entrance Fee
Adult (16+ years): $20
Senior (65+ years): $18
Child (5-15 years): $8
Child (under 5 years): Free of charge
Family (2 adults & up to 3 children): $45
Family (1 adult & up to 3 children): $28
Entry to Rotorua Museum is free for Rotorua residents with relevant ID.
Opening Hours:
Daily (except Christmas Day)
Mar-Nov: 9am – 5pm
Dec-Feb: 9am – 6pm
WAIO TAPO GEOTHERMAL WONDERLAND
One of the well-known geothermal sightseeing attractions in Rotorua is Wai Tapo where tourists will be treated to a variety of natural landscapes and volcanic activities. Don't miss the Lady Know geyser when it erupts, there is a presentation about its history at 10:15 AM.  Equally enchanting is the Mud Pool, an ersthwhile site of large mud volcano which was devastated back in 1920.
Address: 201 Waiotapu Loop Rd, Rotorua 3073, New Zealand
Entrance Fee: 32.50 NZD (php 1,127) for adults, 11 NZD (PHP 381) for 5-15 years old and 80 NZD (PHP 2,773) for family (2 adults and up to 3 children), children under 5 years old are free
Opening Hours:
Winter: Tour Daily at 11am
Summer: Stories told at key locations around the park – to be advised..
Hours: April-October: 8:30am-5:00pm (last admission 3:45 pm)
November-March: 8:30am-6:00pm (last admission 4:45pm)
Christmas Day: 8:30 am-5:00 pm (last admission 3:45 pm)
ROTORUA SIDETRIP
WAITOMO GLOWWORM CAVES
Photo by : Opticoverload /CC
A two-hour drive from the city of Rotorua will take you on a magical journey inside the glowworm caves of Waitomo. This is one of those things you would want to tick off your bucketlist. Drift silently in a boat through a limestone cavern full of sparkling little creatures. Although the boat ride will probably just take 10-15mins, the whole experience is too magical! It's like staring at the MilkyWay — only closer. It's completely breathtaking. One of those activities you wouldn't want to miss when you visit New Zealand.
Entrance Fees: 72 NZD (PHP 2,503) for Adults; 32 NZD (PHP 1,113) for Children
Location: 39 Waitomo Caves Rd, Waitomo Caves
Otorahanga 3943, New Zealand
Opening Hours: 9:30am – 5:30pm
+64 7 878 8228
www.waitomocaves.com
ROTORUA TRIP BUDGET
A  Rotorua Daytrip tour including a visit to Te Puia, Rainbow Springs, and a side trip at Waitomo Caves would cost around 260 NZD (PHP 9,040) -300 NZD (PHP 10,430) including bus fares, food, and entrance fees. However, if you are planning to stay longer, most hotel accommodations are quite expensive and if you are on a budget, dorm rooms in hostels would be your best bet. A 100 NZD (PHP 3,477) budget for 3D2N stay in hostels should be enough for your trip.
When it comes to food, purchasing at grocery stores and cooking your own meals will definitely help you save more. Expect to shell out at least 50 NZD (PHp 1,739) – 70 NZD (PHP 2,434) for food/day.
If you love walking, you can tour the city by foot rather than hiring expensive cars or taking the public transportation. There are a great number of scenic lakes in Rotorua that could be accessed through 15-20min walk from the city. Maps are available at various info centers.
ROTORUA NEW ZEALAND SAMPLE ITINERARY
| | |
| --- | --- |
| TIME | ACTIVITIES |
| 06:30 AM | Wakeup Call |
| 07:00 AM | Breakfast |
| 08:30 AM | Travel to Te Puia |
| 08:45 AM | ETA at Te Puia |
| 10:00 AM | Depart Te Puia to Rainbow Springs |
| 10:30 AM | ETA Rainbow Springs |
| 12:00 PM | Depart Rainbow Springs |
| 12:30 PM | Lunch |
| 01:30 PM | ETD to Waitomo Glowworm Caves |
| 03:30 PM | ETA at Waitomo Glowworm Caves |
| 05:30 PM | Travel Back to Hotel |
Rates based on 1 NZD = PHP 34.77
Photos not owned by Hannah Cepe are under  creative commons license.
---
DISCLOSURE:  My trip to Rotorua was made possible by Philippine Airlines.  Book your flights to New Zealand from Manila at philippineairlines.com
---
FOLLOW ME ON INSTAGRAM
---
ABOUT THE WRITER AND PHOTOGRAPHER:
Hannah Cepe is a 22 year old Fine Art Photographer and solo traveler based in Manila, Philippines. Born with a keen eye for the arts and a passion towards photography, Hannah dreams of traveling the world and creating stories through her photographs.  Follow her adventures on Instagram @hannahcepe.
FOLLOW ME ON FACEBOOK FOR TRAVEL GUIDE UPDATES
FOLLOW ME ON INSTAGRAM