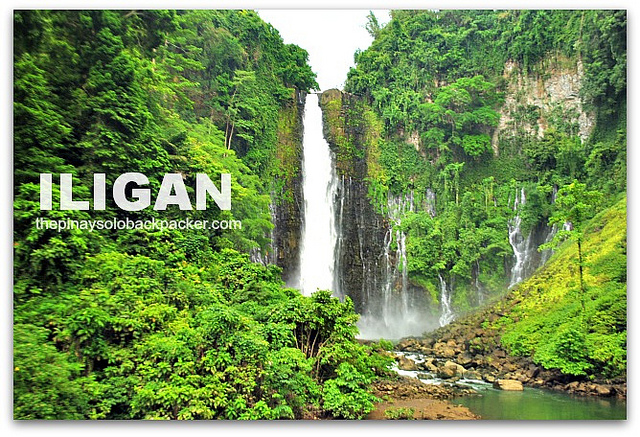 Iligan City, the bustling metropolis of Lanao del Norte is best-known for the poster girl of the province – Maria Cristina Falls.  Despite being hailed as the "City of Magnificent Waterfalls", home to 23 waterfalls, Iligan City doesn't thrive mainly on tourism.  Colossal factories poured into the city's vast industrial park that further strengthened its economy.  A trip outside Iligan city center will give visitors an eyeful of the city's natural beauty.
HOW TO GET TO ILIGAN CITY
Manila to Iligan City via Cagayan de Oro
The nearest airport to Iligan City is Laguindingan International Airport which also serves Cagayan de Oro City.  When booking a flight the destination is Cagayan de Oro for Laguindingan International Airport.
Cagayan de Oro Airport to Iligan City
From Laguindingan International Airport, you can take a bus to Iligan City, fare is Php 135.  If you take the Super 5 Bus, their airport shuttle will drop you off at the National Highway where you will transfer to a Superstar Bus bound for Iligan City.  Transit Bus also have trips from CDO to Iligan, available 24 hours a day.
Alternatively, you can also take an airport shuttle to the National Highway for Php 20 for CDO Transco while Php 50 if you ride the airport shuttle of Super 5 Bus.  Travel time is about 5 minutes.  At the National Highway, just hail a bus bound for Iligan City.
You can also ride a van bound for Iligan City from Laguindingan International Airport such CDO Transco and Lord's Transport.
Airport  yellow taxis (Alphat Airport Taxi)  and metered taxis are also available at the Laguindingan International Airport.
2. From Manila to Iligan City (by plane via Ozamiz) 
Alternatively, you may also take a flight to Ozamiz from Manila
Ozamiz to Iligan City (by ferry and bus) 
From Ozamiz, you may take a bus bound for  Iligan City (which will board a ferry boat ).  Charter a tricycle at the airport to take you to the Integrated Bus and Jeepney Terminal. Fare is about Php 50.
At Ozamiz the Integrated Bus and Jeepney Terminal, ride a bus bound for Cagayan de Oro City. Tell the driver you will get off at Iligan City.
Alternatively, if you're already at the city center, just take a tricycle or pedicab to the port where you can buy tickets for the ferry and then  once you get off the ferry at Mukas Port (Lanao del Norte), ride a bus (that just came out of the ferry).   It is cheaper this way. Ferry fare is Php 25.
Or if you are at Ozamis City center after exploring its nearby attractions, you may also opt to ride the bus at the port, this way you can make sure you already have a sit at the bus once you get off the ferry. Bus fare is Php 70. Ferry ticket is Php 25.  Travel time is 1.5 hours.
There are a couple of hotels and inns in Iligan but I stumbled on a budget inn  (they have hourly rates, so you know what I mean) – Jessica Lodge, fronting the church, just above Reyes Haircutters.
Air-conditioned room rate is Php 400, with private bath. Room is basic but spacious and it is close to the banks and restaurants.
Other places to stay in Iligan City:
Corporate Inn
5 Sparrow Road, IsabelVillage, Palao
IliganCity/ (063) 221 4456
Maria Cristina Hotel
Poblacion IliganCity /(063) 221 3352
Cheradel Suites
Villa Verde IliganCity /(063) 223 8118
Jalexis Inn
20 Zamora St  Iligan City /(063) 223 8907
How to get to the waterfalls in Iligan City:
 How to get to Maria Christina Falls :
From the city proper, ride a tricycle to take you to the terminal of jeeps bound for Buru-un. Make sure you remind the driver that you will get off at Maria Cristina Falls. Fare is Php 12, travel time is less than 20 minutes.  Alight after the steel bridge and cross the road to the entrance of the NPCNaturePark.  Take an uphill walk for less than 10 minutes.
At NPC Nature Park, pay the necessary fees. Entrance fee is Php 35 for adults, Php 25 for kids and seniors.  Add Php 10 for the roundtrip shuttle fare.
*During weekends, the plant releases water to create the legendary "twin falls".
How to get to Tinago Falls:
Tinago Falls as its name suggest is hidden in a lush wilderness.  If you're coming from Maria Cristina Falls, just cross the street after the steel bridge and ride a jeep en route to Brgy, Buru-un.
Alight at the jeep stop and charter a motorbike (habal-habal) to take you to TinagoFalls. Rate depends on your haggling skills, could be Php 50-100. Road to TinagoFalls is quite craggy and strenuous.
From the jump off point to TinagoFalls, kids or teenagers will offer to guide you.  You don't really need one unless you will be swimming alone as they can take care of your stuff while you're out there enjoying the refreshing waters. Also, it doesn't hurt to help the friendly kids and teenagers.
Bring swimming outfits and extra shirts and shorts because you will surely be tempted to jump into the gorgeous deep turquoise waters of  Tinago Falls.
How to get to Mimbalut Falls:
Also situated at Brgy. Buru-un, Iligan City. Mimbalut Falls can be reached by jeeps bound for Buru-un. Ask the driver to drop you at the corner road to Mimbalut adjacent to Iligan City National School of Fisheries.
---
About the Blogger :
Gael is a full-time Filipina travel blogger who had been to all 81 provinces in the Philippines. Her work has appeared in local and international publications. Follow her on
Facebook
,
Twitter
and
Instagram
. For advertisements, sponsorship and partnerships, you may reach her at gaelhilotinblog (at) gmail (dot) com.
---