During my visit to the province of Aklan this year, I explored some destinations untapped by mass tourism such as the unassuming municipality of Tangalan which is usually high-tailed by tourists for the world-famous paradisaical island of Boracay.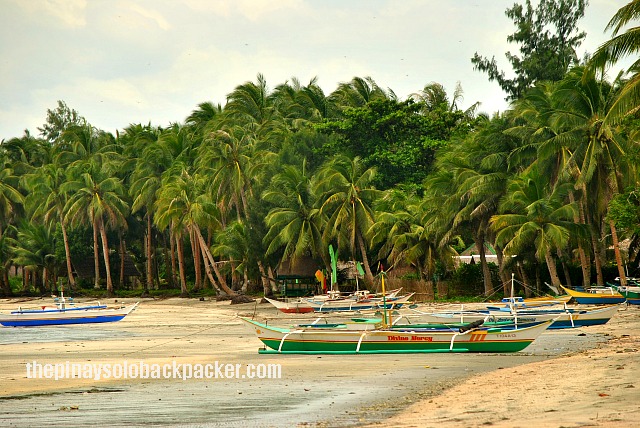 The laid-back Tangalan is a fifth class municipality of Aklan composed of 15 barangays, one of them is Jawili known for Jawili Falls. This natural wonder can be reached by taking a tricycle from the public market near the main highway. Jawili Falls is composed of seven cascades gushing into rock pools that are perfect for swimming. The place has been developed for the convenience of tourists; shower rooms are available as well as a modest restaurant. Some areas are gaudily paved; fortunately the verdant foliage makes up for this unsightly part.
What I like about Jawili is its air of tranquility and timelessness. Its coast is lapped by palm-fringed powdery cream sands and azure sea. Just a short ride from Jawili waterfalls is Jawili Beach, which makes a perfect escape from the crowd and chaos of Kalibo. It may not rival the white sand beaches of Boracay, but it definitely has its own local character.  Fishing boats are docked on the shores of Jawili Beach and if you're timing is right, you may even catch the villagers trawling here.
When in Jawili, make time to swing by Brgy, Agfa where you can find Agfa Point, a cape crowned by a white lonely sentinel.  The beach here is draped by vegetation and its foreshore is wrinkled; with flat bays of rock formations.  The corals and limestone rocks here were quarried by the locals during the Spanish colonial era to build the handsome church of Tangalan dedicated to St. John Nepomuceno. Based on anecdotes, the church took 28 years to construct and was only finished in 1889 making it one of the few remaining Spanih-era churches in the province. In contrast to its striking facade though, the interior of the structure is modest and bare.
How to get to Jawili, Aklan:
From Kalibo, ride a Kalibo-Tangalan jeep, the terminal is near the highway to Aklan Capitol (the road leading to the airport). Fare is Php 23 and travel time is 30 minutes.  Get off at Tangalan Public Market, best to advise the driver you are off to Jawili Falls. At the market, there are tricycles bound for Jawili, you may charter the tricycle or wait for other passengers.  Staying overnight in Jawili is not a problem since there are several beach resorts at Jawili Beach.
---
---
FOLLOW ME ON FACEBOOK FOR TRAVEL GUIDE UPDATES
FOLLOW ME ON INSTAGRAM