Sipalay, the erstwhile mining town of Negros Occidental has evolved into a popular tourist destination. Despite having most of its forests and mountains stripped due to copper quarrying, it remains achingly beautiful.  Thanks to the tropical islands here lapped by parakeet-colored sea.
Here are some of the attractions in Sipalay that first time travelers can visit.
PERTH PARADISE
I first saw Perth Paradise Beach Resort in Sipalay on Instagram and I knew right then that I had to pay her a visit to satisfy my wanderlust, not knowing that the trip going there is an adventure in itself.  Entrance fee is Php 80 per person, use of pool is Php 100 per person and cottage is Php 500.  The impossibly picture-perfect view of island-studded sea is best enjoyed while taking a dip in Perth Resort's azure pool.  Aside from swimming, other activities here include rafting, kayaking and jet ski.
TINAGONG DAGAT
Tinagong Dagat cradles irresistible jade-colored water sprinkled with verdurous limestone hills.  Tourists need to walk a wooden and hanging bridge to get to their sister resort.  There's a stair to the peak of a hill, along the way tourists are welcomed by scenic panoramas at every angle. Entrance fee is only Php 30  per head.
SUGAR BEACH
The tranquil shores of Sugar Beach tick all the boxes for a laid-back beach break.  As you might have surmised, the palm-fringed shore here is sugary brown in color.  The beach is also hemmed in by hills reminiscent of Chocolate Hills in Bohol.   If you are looking for reasonably-priced beachfront resorts in Sipalay, this is the place to be.  You can find the list of resorts here.
PUNTA BALLO
Though the powdery white sand beach at Punta Ballo looks ordinary at first sight, its real treasure lies underwater.  It is a popular snorkeling and diving site.  This place is home to world-class diving shops.
MANGROVE FOREST
Sipalay has striking mangrove forests, and I was able to see one at Brgy. Nauhan on our way to Sugar Beach.  Tourists can also cruise along Dolongan River fringed by Canturay Mangrove Plantation.
 SIPALAY DAY TOURS
⊗ Tourists can charter a tricyle to tour the above destinations. We paid Php 1,500 (good for 3 pax) for a whole day tour. I believe you can still haggle down this price, talk to the driver politely. Entrance fees not included, as well as the boat ride to Sugar Beach. Recommended Sipalay tricycle drivers: Manuel (contact# 0912 1069 599) and Joval (contact# 0910 865 4309).
⊗ Boat ride from Brgy. Nauhan direct to Sugar Beach from Sipalay is Php 250 one way (good for 3 pax). Alternatively, you can ride a paddle boat for Php 50 per person and walk all the way to your resort. There is also island hopping around the nearby islands in Sugar Beach for Php 1,500. Contact Rolly at 0949 1879 798.
⊗ Alternatively, you can go on island hopping tour in Sipalay which includes Tinago, Perth, Campomanes Bay and Punta Ballo for Php 1,500 for 3 hours (additional fees apply for extra hour).
WHERE TO STAY IN SIPALAY, NEGROS OCCIDENTAL
Takatuka Lodge – Beach and Dive Resort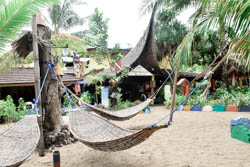 Sugar Beach, Brgy. Nauhang, Sipalay City, Sipalay City
CHECK ROOM RATES HERE or BOOK HERE
Punta Bulata Resort & Spa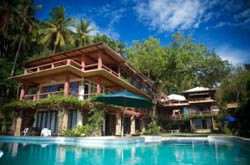 Barangay Elihan, Sipalay City, Sipalay City
CHECK ROOM RATES HERE or BOOK HERE
Sugar Beach House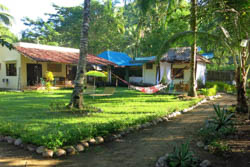 Sugar Beach, Sipalay
CHECK ROOM RATES HERE or BOOK HERE
ALSO READ:
LIKE MY PAGE ON FACEBOOK FOR TRAVEL GUIDE UPDATES
FOLLOW ME ON INSTAGRAM