Japan's train system is really helpful, extensive and convenient, yet it can be complicated especially for first-timers. There are top two things you can use to search for train schedules in Japan : Google and Hyperdia.  However, I prefer using Hyperdia because it's more extensive and I can filter my searches.
Hyperdia is a website where you can search train, airplane and highway bus schedules in Japan and compare prices. It has all the information you can possibly need for routes in Japan. Really impressive.
I personally like traveling by train in Japan, because it's convenient and  cost-efficient since it's near most key attractions and hotels. I don't have to go to the airport and check-in my baggage. Airports are quite far from the city center anyway. Taxi is of course also convenient, but the fare is steep in Japan.
When taking the train in Japan, you need to plan your route and you need to know where to ride or what train to ride so you can maximize your time. Hyperdia can help you with that. But will all the extensive information on their website, it can be mind-boggling which leads us to the question – how to use Hyperdia? Here's a step by step guide to reading and using Hyperdia.
HOW TO USE HYPERDIA
1. Go to Hyperdia.
Go to www.hyperdia.com/en  
You need to get connected to the internet when you access Hyperdia's site. There's no offline service yet as of now. There's a Hyperdia App for Android but it is not available in the Philippines.
2.Enter your Origin and Destination
 On the left side of Hyperdia, see screenshot below, enter your origin and destination.  I have dedicated blogs for some cities and prefectures in Japan (See below ALSO READ at the bottom of this post). Now for each Travel Guide, I have indicated the nearest MTR station for each Top Tourist Spots. So, if you don't know what station to get to, read my blogs.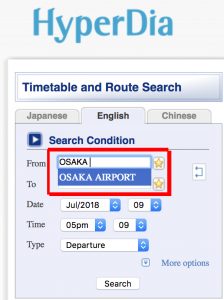 ALSO READ:
SEARCH TIPS:
Make sure you type the right name of the station, double-check your spelling.
Type the station name slowly because after the first few letters, a drop-down list should appear. From there, you can pick the right station.
Some stations have punctuation marks, so be careful. Check if there's a hyphen, slash, space between words and parentheses.
Be careful when choosing the station name make sure it is correct.  For example, Namba station is different from Osaka-Namba station. Namba (Nankai) is different from Namba (Subway).
Some stations have the same name, check the name of the city inside the parenthesis. For example, there's Kabe (Hiroshima)  and there's Kabe (Tokyo).  There's Shin-Fuji (Hokkaido) and there's Shin-Fuji (Shizouka).
Some stations are in the same location but have different names because there are too many railways. This is common in Osaka and Tokyo. For example, Umeda and Osaka have the same location. Osaka is for JR lines while Umeda is for private railways and subways.
In the Japanese language, the letters "N" and "M" sounds so similar, so you will be understood whichever you use. For example, you can say either "sanpo" or "sampo", they will still understand you. But take note that this doesn't apply to sounds followed by vowels. So, when you try to search for Kuhonbotsu station in Tokyo, you can't find it in Hyperdia, but you can find it as Kuhombutsu.
3.Choose the Date and Time
Once you open the Hyperdia site, the date and time is auto-filled by the current date and time. Make sure to change that if you are searching for train routes and schedules for a different day and time.
4. Click the "More Options"
 You can filter your search in Hyperdia. Under the DEPARTURE, notice the "More Options" with a drop-down. Click this to filter your search.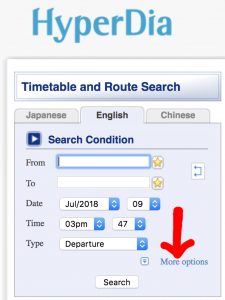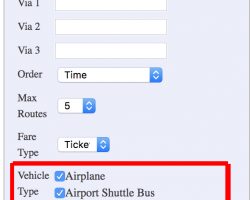 For example:
If you are only looking for train schedules, UNCHECK the airplanes and airport shuttles.
If you are only using the JR Pass, make sure to UNCHECK the OZOMI/MIZUHO/HAYABUSA (SHINKANSEN), private railways, airlines and airport shuttles.
If you don't want to use the bullet train, UNCHECK the bullet train (SHINKANSEN)
5. CLICK SEARCH
 Now if you are okay with your search criteria, click SEARCH. The page will show you the best match for your search query.
IMPORTANT:
Take note that the routes shown are arranged according to the earliest time arrival. But you have to consider other factors because in reality, the earliest arrival time is not always the best option. I usually look at the number of train transfers, the seat fee, the fare and the travel time.
Here are some things you can consider:
1. Fare: To ensure that the train fare is within your budget, check the train fare. The fare breakdown for each train transfer is indicated under the FARE column on the right side. While the TOTAL FARE can be found under the top section for each route.
2. Travel Time: Earliest arrival time doesn't mean it's the fastest. Check the departure time too because sometimes, the train left earlier.
3. Train transfers: I always consider this since even if the trip is faster, it may involve a couple of train transfers. If you are carrying a heavy luggage or traveling with your kids or parents, that is problematic. Also check the walking time from once station to the next when you transfer trains.
4. Seat Fee: Usually for long-distance and premium trains, there's a seat fee.
Reserved and Non-Reserved Seats: For most Shinkansen and limited trains, there are reserved and non-reserved seats. The seats in the Green car are usually reserved seats. Whereas, for rapid, local and express trains, all seats are non-reserved. There's a fee for reserved seats, unless you are using a JR Pass, but then again, you have to go to the JR ticket office before boarding the train, to reserve the seat.
Ordinary and Green: Green cars have first class seats and are usually more expensive. On the other hand, most local trains have ordinary seats.  
5. Train Types: There are 5 types of Japanese trains.
Local Train: This type of train stops at every station.
Rapid Train: This type of train stops skips some stations. Take note that the fare  the for rapid train is just the same as local train fare.
Express Train:  This type of train skips more stations that the rapid train. Also, JR Trains charges an express fee, but other companies do not.
Limited Express Trains: This type of trains only stops at major stations. JR Trains and some other companies charges for limited express trains in addition to the base fare.
 Shinkansen: This type of train are only used by JR. They have a separate platform and charges for limited express fee on top of the base fare.
OTHER FEATURES OF HYPERDIA:
 Once you get the result to your search query, you can see more detailed information.

Train Timetable: Once you click this, it should show all the departure and arrival time of the train for all the station  where the train would stop.
Interval Timetable: When you click this link, you should see all other trains in the same segment. This helps you compare which train would arrive earlier or later.
Station's Timetable: Once you click this link, a new window will show you the departure time of all trains. You can even click the links on each train and get a more detailed information about the train.
HOW TO PAY FOR JAPAN TRAIN FARES:
 There are 5 ways you can pay for the train rides in Japan:
 1. BY IC CARDS
 IC cards are rechargeable smart cards that can be used to pay for fares for public transportations (trains, bus, etc.) and make payments for vending machines, restaurants and shops.
There are many types of IC Cards and they originate from different cities  or prefectures, but many of them are interchangeable. Meaning, you can use them outside of the city or prefectures where they originally started. Here's a list of interchangeable IC Cards in Japan: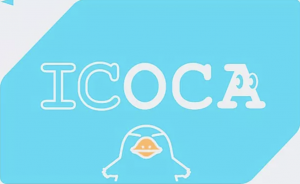 ICOCA : This IC card is originally for JR West for the JR trains in the Kansai Region (Osaka, Kyoto, Nara, etc.) and the Chugoko Regions. But again, you can use this for other cities/prefectures like Tokyo, Nagoya, Hokkaido, etc. and for non-JR trains. Read my other blog on IC card (see the red link below).
RESERVE DISCOUNTED IC CARD HERE
PITAPA : This is the prepaid IC Card of Kansai Region's non-JR trains and subways. But it's a postpaid card, not prepaid card. Not readily available for foreign tourists, anyway, you can just purchase the ICOCA Card above.
SUICA : Prepaid card of JR East for JR Trains in Tokyo, Niigata and Sendai Regions.
PASMO : This is the prepaid IC cards of Tokyo's subway, non-JR trains and buses
MANACA : The prepaid IC Card of Nagoya's non-JR and non-Kintetsu trains, subways and buses
TOICA : IC card of JR trains in Nagoya and some parts of Shizouka Prefecture.
HAYAKAKEN: The rechargeable  IC card of Fukuoka City  for the subways.
KITACA : The prepaid IC cards of JR Hokkaido for JR trains in Greater Sapporo Region and on subways, trains and buses in Sapporo.
SUGOCA : The prepaid IC Card of JR Kyushu for JR trains in Nagasaki, Kumamoto, Fukuoka, Oita and Kagoshima regions.
NIMOCA: This is the rechargeable IC card of Nishitetsu for Nishitetsu trains and buses in the Greater Fukuoka and in some transportations in Hakodate and Kyushu.
2. BY JR PASS
 Is the JR pass worth it? Should you buy a JR Pass? It really depends on your itinerary and how long you will be traveling in Japan. There are many types of JR Pass. But I recommend the sitewide JR Pass for 7, 14 or 21 days, if you will be traveling across Japan for at least 7 days and you will be going to different cities. Otherwise, if you will only be traveling in one region, say Kansai Region like Osaka, Kyoto and Nara, you can just purchase an IC Card or a regional Pass like the Kansai Thru Pass below. For more information on the JR Pass, read The Pinay Solo Backpacker's JR Pass Guide below: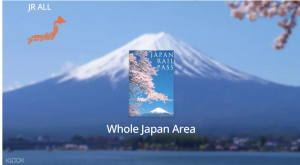 3. BY REGIONAL PASS
Regional passes are a great way to explore each region in Japan. For example, if you plan to just travel within the Kansai Region, covering different cities like Osaka, Kyoto, Nara, Himeji and Kobe, then it makes sense to purchase a regional pass like Kansai Thru Pass. JR also has their own pass – JR West Pass.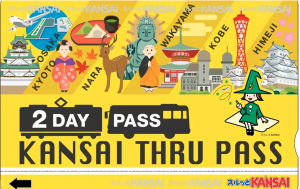 4. BY CITY PASSES
There are different day passes for different transportations in different cities in Japan. For example, the Osaka Amazing Pass, the Osaka One-Day Pass and Kyoto One Day Bus card.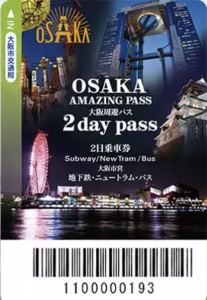 RESERVE PASS HERE (Airport Pick up)
RESERVE PASS HERE (Osaka city pick up)
5. BY REGULAR TICKET
You can buy individual ticket for each ride in Japan, however, I won't recommend this as it will eat up your time. You have to queue to buy the ticket each time you will board the train. Buy a reloadable IC card instead.
ALSO READ:
About the Blogger : Gael is a Filipina travel blogger. Her work has appeared in local and international publications.
Follow her on Facebook , Twitter and Instagram.
For advertisements, sponsorship and partnerships, you may reach her at gaelhilotinblog (at) gmail (dot) com.
LIKE MY PAGE ON FACEBOOK FOR TRAVEL GUIDE UPDATES