Osaka, Japan is a testament that not all places with millions of residents is chaotic and lawless.   This lively city is blessed with dumbfounding infrastructures, well-edited shops, stylish hostels and astonishingly spotless streets! Adding up to its allure are the utterly helpful and disciplined Japanese.  Here's a travel guide blog to help you plan your trip to Osaka.
WHERE IS OSAKA?
Osaka, is a prefecture situated in the Kansai region on Hunsho Island in Japan.  It is sandwiched by Kyoto in the north, Nara in the east and Wakayama in the south.  Osaka is largely known as the economic powerhouse of Kansai region, its capital is Osaka City, the erstwhile capital of Japan (Naniwa).
---
APPLYING FOR A JAPAN TOURIST VISA FOR FILIPINOS

For years I dreaded visiting Japan, because I heard it was expensive, and I feared that my visa will be denied.  So even if I've been offered roundtrip tickets to Japan twice, I was not ready to use it, until recently, when I received another invite to visit Osaka.  This time, I did not want to let it slip away again, so I finally applied for a Japan visa.
The Japanese embassy no longer entertains visa applications.  You have to go through an accredited agency processing Japan visa. You can find the list here.
JAPAN TOURIST VISA REQUIREMENTS
Please submit all application form and other documents for visa application in A4, long or short size.
ALSO READ:
 1. PASSPORT
Validity of within 6 months from return day.  Must have at least 2 blank pages left in the passport.
2. DULY ACCOMPLISHED VISA APPLICATION FORM (download here)
Must have no omissions on the application forms.
3.  PHOTO (1 Copy of 4.5cm x 4.5cm with white background) Please attach only a clear photo.
4. BIRTH CERTIFICATE FROM PSA (issued within (1)year.)
5. MARRIAGE CONTRACT (if married only) . Must be PSA (formerly NSO) issued and valid within (1)year.
(Submission of NSO certificate is waived with submission of OLD USED JAPAN VISA.)
Applicants holding (old or valid) passports with used Japan Visa will be exempted from submitting of marriage contract.
In case of non-record. You must submit certificate of non-record together with the one from local civil registrar.
6.  JAPAN ITINERARY (Prepared by the applicant or the travel agency.)
7.  BANK BALANCE CERTIFICATE Required if applicant is shouldering traveling expenses.
8.  INCOME TAX RETURN (Form 2316 or 1701) Original and (1) photocopy.
9.  GUARANTEE LETTER (only for sponsored visit)
If a person other than applicant will shoulder the travel expenses, please be sure to submit a guarantee letter and passport or any proof of identification from guarantor. Please submit a guarantee letter using the example/format provided by the embassy.
---
WHEN IS THE BEST TIME TO VISIT OSAKA?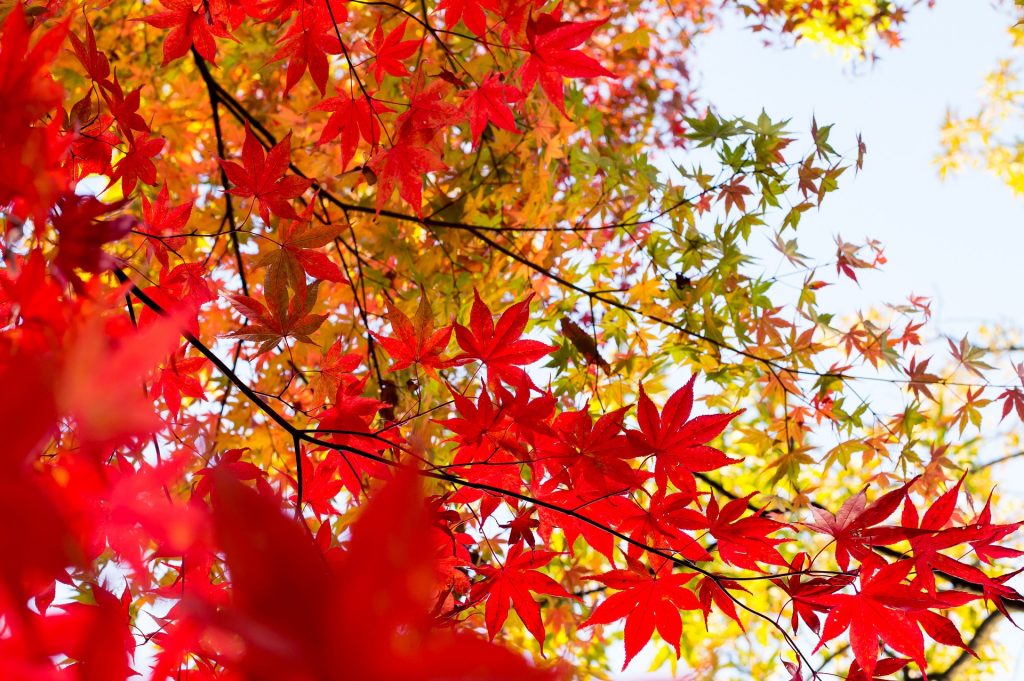 Osaka is a year-round destination, you will not run out of reasons to visit regardless of the season.  But since most travelers going to Osaka also want to visit the nearby Kyoto and Nara, it best to visit during October to November for autumn (colorful foliage) and March to May for spring (cherry blossoms).
---
WHERE TO STAY IN OSAKA
BUDGET OSAKA HOTELS
Hotel Chuo Oasis


1-9-15 Taishi Nishinari-ku, Nishinari Ward, Osaka, Japan
Hotel Sunplaza2 Annex


1-2-11 Haginochaya,Nishinari-ku,Osaka city, Nishinari Ward, Osaka, Japan
Eco-Cube Shinsaibashi
2-9-4 Nishi-Shinsaibashi, Chuo-Ku, Namba, Osaka, Japan
CHECK PROMO ROOM RATES HERE
MIDRANGE OSAKA HOTELS
Hotel Sunroute Osaka Namba


1-1-13, Nippombashi, Chuo-ku, Namba, Osaka, Japan
IBIS Styles Osaka


2 13 Soemoncho Chuo ku, Namba, Osaka
Best Western Hotel Fino Osaka Shinsaibashi

1-2-19, Higashi Shinsaibashi, Chuo-ku, Osaka-shi, Namba, Osaka, Japan
HOTEL MYSTAYS Shin Osaka Conference Center


6-2-19 Nishinakajima, Yodogawa-Ku, Shin Osaka, Osaka, Japan
 HIGH-END OSAKA HOTELS
Holiday Inn OSAKA NAMBA
5-15 Souemon-cho,Chuo-ku, Namba, Osaka, Japan
CHECK HERE FOR DISCOUNTED ROOM RATES
We stayed at Righa Royal Hotel in Osaka.
Righa Royal Hotel
5-3-68 Nakanoshima, Kita Ward, Osaka,
CHECK DISCOUNTED ROOM RATES HERE
If you wish to find cheaper rooms, there are hostels offering dormitory rooms for a slow as PHP 600-PHP 1,000.  But if you are not comfortable staying in a dormitory, there are single to twin-sharing rooms for as low as Php 1,500.  I suggest you check the address before booking to see if it's near the subway or the main tourist attractions.  Otherwise, you can leave your luggage at the Osaka Station lockers.  I recommend finding a hotel near Shinsaibashi Station or Osaka Station.
---
HOW TO GET TO OSAKA, JAPAN FROM MANILA
Cebu Pacific http://cebupacificair.com , the largest airline in the Philippines, flies between Manila and Osaka five times weekly, with lowest year-round fares starting from PHP 6,399. Cebu Pacific also flies from Manila to Tokyo (Narita), Nagoya and Fukuoka, as well as from Cebu to Tokyo (Narita). Book its trademark lowest fares now through http://bit.ly/CEBOsakaflights  or (+632)7020888, or follow its Facebook or Twitter pages for the latest seat sales.
HOW TO GET TO OSAKA CITY FROM KANSAI INTERNATIONAL AIRPORT 
BY TRAIN 
I like using my JR West Railway Pass when traveling by train around Osaka.  You can use this to take the train directly from Kansai Airport to Osaka and Kyoto.  Kansai Airport to Shin Osaka takes about 50 minutes, then transfer to Osaka Station is approximately 3 minutes.  You can also take the train direct to Osaka (Umeda) for 1 hour 10 minutes.
IMPORTANT: Take note that you can only purchase the JR Railpass (Shinkansen) outside Japan, because it can only be used by foreign tourists.  So you have to book the JR Railpass ticket before leaving the Philippines and just pick it up at the JR office situated in any Japan international airport  or at the JR Ticket Office at the train station. You can PURCHASE A 1 DAY JR WEST KANSAI RAIL PASS  HERE
You can also ride a direct train to Namba Station in downtown Osaka. It's a 38 minute ride aboard a retro-future train and you can reserve a seat.  You can  purchase the Kansai Airport-Namba train ticket  here Just up your ticket upon landing at Kansai Airport or at JR Namba Station.
BY  BUS
Alternatively, you can also opt for the KIX Airport Limousine Bus Transfer to Osaka and Kyoto. Bus fare starts at PHP 695 / JPY 1576.03 / USD 14. You can purchase the KIX Airport Limousine Bus Transfer ticket here 
BY TAXI 
Taking a cab to Osaka City center is pricey, the flag down is JPY 650 / PHP 301/ USD 6 and Kansai Airport is really far from the city center.
---
 GETTING AROUND OSAKA
To help you in getting around the city, refer to Google Maps.  For riding trains, check out Hperdia.com to help you decide which train to ride and where to get off.
Osaka City is actually divided into two areas: Kita (North) and Minami (South). Kita is the heart of transportation with big train terminals such as Osaka Osaka Station and Shin-Osaka Station. Take note that Osaka Station is also called Umeda Station. Technically, Osaka Station is a name for JR Lines  and Umeda Station is a name for private lines (Hankyu Line and Hanshin Line) and subways, but just remember that they're just the same.
Thankfully, Minami area is not really that far from the Kita. It will take you only 10 minutes to get to Namba Station from Umeda Station by a subway line (Mido-Suji Line).  One way fare is JPY 240 / PHP 116 / USD 2.34.
 BY TRAIN
JR WEST PASS
If you have a JR West Pass, the JR Osaka Loop Line runs in a loop around Osaka.  It stops at Umeda and Tennoji and Osaka Castle. Additionally, Namba and Universal Studios Japan are also connected to the Loop Line. You can PURCHASE A 1 DAY JR WEST KANSAI RAIL PASS  HERE ,which is good for traveling in Osaka, Kyoto, Nara and Kobe.
PURCHASE A 2 DAY JR WEST KANSAI RAIL PASS  HERE
PURCHASE A 3 DAY JR WEST KANSAI RAIL PASS  HERE
PURCHASE A 4 DAY JR WEST KANSAI RAIL PASS  HERE
But if your are traveling to other parts of Japan, you can purchase a 7 Day JR Pass (Japan Rail Pass)  here.
IMPORTANT: Take note that you can only purchase the JR Railpass outside of Japan, because it can only be used by foreign tourists.  So you have to book the JR Railpass ticket before leaving the Philippines and just pick it up at the airport or at JR Ticket Offices located at major train stations.
If you don't want to purchase the JR Railpass, short train rides usually costs JPY 200 (PHP 93) to JPY 360 (PHP 167) per ride.  So really, you can save a lot by purchasing a JR Railpass.
If you are traveling between Osaka and Tokyo, you can purchase the 7 day here, CLICK HERE TO CHECK THE PRICE OF THE JR RAIL PASS. With this ticket, you can travel between Osaka and Tokyo, travel between Japan's historical cities, including Nara, Osaka, Kobe and Kyoto and 7 consecutive days of unlimited train rides including Tokyo to Kanazawa Shinkansen. Once you purchase through that link, you can just pick up your train pass at the JR Station in Japan including Narita and Haneda Airport JR Stations, Tokyo Station, Shinagawa, Shinjuku, Osaka Kansai Airport, Osaka Station, Kyoto Station and many more.
KANSAI THRU PASS
I recommend getting a Kansai Thru Pass (2 or 3 days), this makes travel easier around Kansai Region (osaka, Kyoto, Nara, Kobe, etc). Basically this all-inclusive ticket lets you ride buses, subways and trains throughout Kansai Region so you can create your own itinerary in Japan.  The Kansai  Thru Pass (2 Day Pass) is roughly PHP 1,807 / JPY  4,071/ USD 36 and the Kansai  Thru Pass (3 Day Pass) is about  PHP 2,349 / JPY 5,293/ USD 48. You can purchase Kansai Thru Pass here.
BY BUS
OSAKA WONDER LOOP BUS
If you will only tour Osaka, I recommend getting on the Osaka Wonder Loop Bus for PHP 1,211 / JPY 2,747 / USD 24.39.  You can purchase the Osaka Wonder Loop Bus + Cruise (2 Day Pass) at a discounted price here. You will get to explore some of Osaka's historic sights like Osaka Castle, plus 13 stops to choose from including Osaka's top tourist attractions mentioned below and shopping destinations. Plus you will also get to take in the sights at the 3 stops on the cruise and enjoy the night view of the river. The bus ticket comes with a free in-depth guide book that also contains discount vouchers that can be used in various shops along the route.
OSAKA AMAZING PASS
Alternatively, you can get an Osaka Amazing Pass for PHP 1,032 / JPY 2340/ USD 21. You can purchase the Osaka Amazing Pass here.  You can choose the duration of your pass for extra flexibility and gain entry to 30 Osaka tourist attraction including Osaka Castle Museum, Osaka Science Museum, the HEP FIVE Ferris Wheel, Umeda Sky Building Floating Garden Observatory, among others. You just have to show your Osaka Amazing Pass, with no prior reservations needed. The pass includes truly unlimited use of the subway, tramway, and bus system within the city.
BY ICOCA IC CARD
If you've been to Hong Kong, you are probably aware of the super helpful Octopus Card, now in Kansai region in Japan, they have the ICOCA Card, a contactless travel card for Kansai trains, buses & shopping. Basically the ICOCA IC Card covers the major cities of the Kansai region including Osaka, Kyoto, Nara and Kobe. To use this, just swipe the ICOCA Card and you can seamlessly hop aboard metros, buses, trains or even pay for your shopping. The card is preloaded with JPY 1,500 / PHP 662/ USD 13 credit, plus the JPY 500 / PHP 220/ USD 4.44 so it's ready to use as soon as you pick it up. Additionally, you can get discounted Haruka rail ticket for the Kansai Airport Express (incl. Tennoji, Shin-Osaka and Kyoto) on presenting your ICOCA card (temporary visitors with foreign passports only). Just pick up the card at Osaka Kansai International Airport Terminal 1: HIS counter (1/F) next to the Northern Exit in the Arrival Hall (Opening hours: 8:30am-10:00pm) or at Osaka City Air Terminal (JR Namba Station), Opening hours: 8:30am-8:30pm.  You can purchase the ICOCA IC Card here.  
BY TAXI

Taking a cab in Osaka City is pricey.   Flag down is JPY 650 / PHP 301 / USD 6, but if the destination is just near or you are confused about the train system in Osaka, then taking a cab is a good option.   I noticed that most cab drivers in Osaka and even in Kyoto are elderly, and they are generally friendly and helpful, reason why I'll still encourage you to take a cab once in a  while.
---
MONEY EXCHANGE IN OSAKA
As soon as we landed at Kansai International Airport, we exchanged our money near the arrival area.   Otherwise, you can just withdraw from the ATMs in 7-Eleven around the city.  Take note that many ATM's in Japan do not accept foreign credit card, debit card or ATMs.  Withdrawal fee is JPY 600 / PHP 300/ USD 6.   Make sure to inform your bank that you will be traveling to Japan so you won't have a problem withdrawing overseas.
---
INTERNET IN OSAKA
Having internet while traveling around Japan is important.   Most likely you will be using the train in getting around which is fast, reliable but is quite complex.  Google Maps and Hperdia.com will be your travel buddy. Google Maps can help you track your location and how far you are from your destination, I've been using this during my bus trips.  Meanwhile, Hyperdia.com can help you decide which train to ride, where to get off and how much you need to pay for the train ride.
When arriving at Kansai International Airport, you can rent a Wi-Fi router at the arrival section for about PHP 397/  JPY 900 per day (they only accept credit cards).  However, because it is in-demand, they usually run out.  So to avoid the hassle of looking for a Wi-Fi router, you can rent before leaving the Philippines, you can rent a 4G WiFi pocket handy device with convenient pick up  and drop off at all international airports in Japan.  You can enjoy 4G WiFi coverage across Japan on a pay per day rental basis and connect up to 5 devices on the same pocket WiFi router. Per day rate is PHP 224 / JPY 508 / USD 4.51.  This is the cheapest rate I've seen so far and it's hassle free.  You can rent a 4G pocket WiFI for your  Japan trip here.
---
WHAT TO DO IN OSAKA FOR FIRST TIMERS
VISIT UNIVERSAL STUDIOS JAPAN (USJ)
<
One of Osaka's most-visited attractions is Universal Studios Japan (USJ) and it's easy to understand why.  The Wizarding World of Harry Potter with its flagship attraction Harry Potter and the Forbidden Journey is a crowd-drawer. You can see here the impressive Hogwarts castle recreation.  Don't miss the butter beer at Hogsmeade and the nearby Hogswart Express Photo Op.  Catch the Universal Re-Boom party at noon which features Universal Studios Japan Character such as the Minions and Hello Kitty, among others. For adrenaline junkies, try the Flying Dinosaur, it's so much fun but not as scary as it looks! Since The Amazing Adventures of Spider Man bagged the first World's Best Dark Ride award for 7 consecutive years by Today's Magazine, do ride it! It's an amazing and immersive experience. Be wary though that resale of tickets is strictly prohibited. Resale ticket are not accepted in the Park. Universal Studios tickets can be purchased online, you can check the price and buy it here: Click here to check the price and purchase the Universal Studios Ticket Japan Ticket
One Day Studio Pass for adults is JPY 7,400 / PHP 3,434 / USD 66 and costs JPY 4,980 / PHP 2,310/ USD 44 for children.  If you want to avoid the long queue, purchase the Universal Express Pass here:  Click here to check the price and purchase the  Universal Studios Express Pass
HOW TO GET TO UNIVERSAL STUDIOS JAPAN
Via OSAKA STATION: From Osaka Station, take Osaka Loop Liner and alight at Nishikujo Station. Travel time is approximately 6 minutes. Transfer to JR Yumesaki Line and alight at Sakurajima Station. Transit time is about 8 minutes. Total fare is JPY 180/PHP 84 (USD 2/SGD 2/MYR 7).
Via OSAKA-NAMBA STATION: From Osaka-Namaba Station take the Hanshin Namba Line and alight at Nishikujo. Travel time is roughly 8 minutes. Fare is JPY 200/PHP 93 (USD 2/ EURO 2/SGD 2.46/MYR 8). At Nishikujo Station, transfer to JR Yumesake Line and alight at Sakurajima Station. Transit time is about 8 minutes. Train fare is JPY 160 /PHP 75 (USD 2/ EURO 1.22/SGD 2/MYR 6).
---
FOOD TRIP IN OSAKA
Osaka is dubbed as the "Nation's Kitchen", the culinary capital of Japan, so yes, do not go home without trying its local dishes.  Some of the traditional food includes takoyaki (octopus bits inside fried dumplings), okonomiyaki (fried cabbage cakes that lookes like omelette), kushikatsu (skewers with different deep fried food such as meat, shrimp, cheese and vegetables) and battera (a block type sushi with mackerel).
If you really want to experience the food culture in Osaka, head to Dotonburi just right across Shinshaibashi.  This place is oozing with restaurants as well illuminated signboards. You know you are in Dotonburi when you see the iconic Glico Man.  This giant billboard was originally installed near Ebusu-bashi Bridge in 1935.  It's a symbol for Ezaki Glico, a confectionary based in Osaka known for their caramel candy and Pocky pretzel snacks.  Average costs of meals in Osaka is JPY 800-1,500 (PHP 373 – PHP 699 / USD 7.7 – USD 14.39)
We had a really tasty marutoku ramen (JPY 700) on our first night in Osaka at Morutoku near Fukushima Station.  Also try eating at teppanyaki (grilling on a plate) restaurants where you eat at the counter while the chef prepares the food in front of you and serves it immediately.
We also got to try the famous Omi Beef, one of the best beef in Japan, along with Kobe Beef and Matsusaka Beef, at Yasu-shi in Shiga prefecture, about 30 minutes away from Kyoto.  It's really a must-try when in Japan!  We dined at a restaurant called Jiku Kappo Sara where they have a special set of Omi Beef Steak that comes with Omi beef steak, sushi, sashimi, tempura, Omi-rice and miso soup for JPY 4, 600 (PHP 2,143 /USD 44) or  you can order their middle set meals for JPY 3,900 (PH 1,817) without the sushi and sashimi.
OSAKA SHOPPING
Osaka is a shopping haven, whether you are looking for upscale designer stores or   discount retail shops, you will find it here.  Umeda in the North and Namba in the south are two of its largest shopping districts. And in between is Shinsaibashi Suji, walking distance from Namba station, the most popular and one of the oldest shopping destinations in Osaka.  Be prepared though because the moment you walk into Shinsaibashi-Dotonburi area, just a 5 minute walk from Namba Station, you will meet a massive swirl of humanity.  Nearby you can also find Amerikamura (American Village), dubbed as the mecca of youth fashion.  This is where you'll find small, inexpensive boutiques standing shoulder to shoulder selling mostly imported and hipster clothes targeting the youth.
SEE OSAKA CASTLE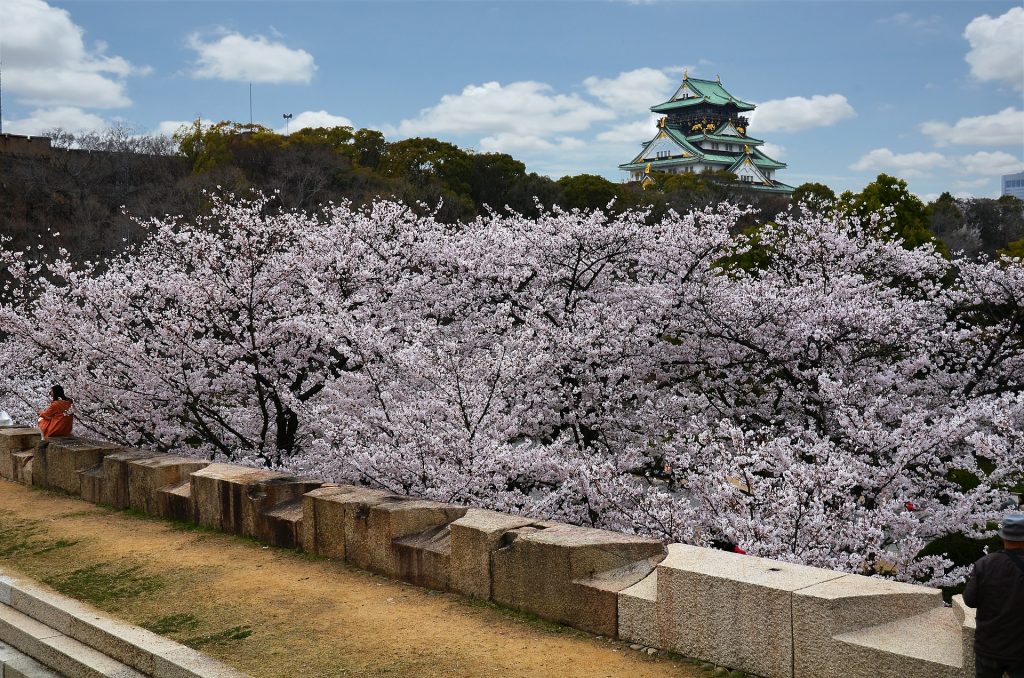 Castles are symbols of power, and although they are believed to have originated in Europe, you can find equally impressive castles in Japan. Osaka Castle is one of the country's most beautiful castles, it is a prototypical Japanese castle, featuring many elements associated with feudal Japanese castle architecture.  It is said to have played a key part in uniting Japan during the Azuchi-Momoyama era. Osaka Castle is flocked by tourists during spring because it is fringed by 600 cherry trees.  To get here, you can alight at the Osakajōkōen Station on the JR West Osaka Loop Line.
OSAKA CASTLE ENTRANCE FEE: JPY 600/PHP 278 (USD 5/EURO 5/SGD 7/MYR 23)
OSAKA CASTLE OPEN HOURS: 9:00 AM – 5:00 PM
HOW TO GET TO OSAKA CASTLE AND OSAKA MUSEUM
FROM OSAKA STATION: At Osaka Station, take Osaka Loop Liner and alight at Osaka Jokoen. Transit time is 10 minutes and fare is JPY 160 /PHP 75 (USD 2/ EURO 1.22/SGD 2/MYR 6).
FROM OSAKA-NAMBA STATION: At Osaka-Namba Station take the Kintetsu Nara Line and alight at Tsuruhashi. Transit time is about 5 minutes. Fare is JPY 210/PHP 98 (USD 2/EURO 2/SGD/ MYR 8). At Tsuruhashi, transfer to Osaka Loop Line and get off at Osaka-Jokoen. Train fare is JPY
 ENJOY THE VIEW AT UMEDA SKY BUILDING
 One of the tallest skyscrapers in Osaka is Umeda Sky Building, a two 40-story building connected by a bridge and two escalators (said to be the highest in the world). The building is accessible via Umeda Station. On top of it is the Floating Deck, an observation deck which offers a scenic view of Osaka skyline. It is open from 10:00 AM to 10:00 PM. Entrance fee is JPY 700 (PHP 324) for adults, Kids (4 years olld and older) are charged JPY 200 (Php 92) and Elementary school students JPY 500 (PHP 231).
---
OSAKA SIDE TRIPS
KYOTO
Kyoto is highly recommended because of its wealth of attractions.   To help you plan your Kyoto trip, you can read my Kyoto Travel Guide with Budget and Itinerary here  But if you are pressed for time, you can do a day trip from Osaka or an afternoon tour. You can book cheap tours to Kyoto from Osaka here.
NARA
Nara, Japan known for its friendly deer is another favorite side trip from Osaka. I'll be posting my Nara Japan Travel Guide soon, but if you have limited time, you can also book a  NARA DAY TOUR from Osaka here, which includes a visit to Nara's celebrated UNESCO World Heritage Sites temples.
ALSO READ:
---
WHERE TO EAT IN OSAKA
Since Osaka is dubbed as the culinary capital of Japan, trying the food here is a must. And the best place to do just that is at Dotonburi, a mere 5 minute walk from Namba Station.  The main road and small streets here are fringed with all types of eateries.
Crowned by the iconic Tsutenkaku Tower, the Shinsekai district is another haven for foodies, created after the World War II (1912), modeled after New York and Paris.  Here you'll find some of the best kushikatsu shops in Osaka.
Osaka Station and Grand Front Osaka has a wealth of restaurants to choose from, but if you find it too clean and intimidating, head to Kitashinchi district, the entertainment capital of Osaka, just 10 minutes by foot south of Osaka Station.
If you're looking for a ramen place, I highly recommend Marutoku near Fukushima Station, order marutoku ramen.
Average costs of meals in Osaka is JPY 800-1,500 (PHP 373 – PHP 699 / USD 7.7 – USD 14.39). If you are on a tight budget, you can try the bento and sushi meals sold at local supermarkets, visit at night around 7:00 PM or when they are about to close because they are tagged with discounts for as low as 50% off!  Meals would usually cost about JPY 279 – JPY 799 (PHP 130 – PHP 373 / USD 2.7- USD 7.7).  Otherwise, you can settle for microwaveable meals at convenience stores like Lawson and Family Mart. But then again, you are in Japan, so I highly recommend you splurge on food once in a while.
---
BUDGET FOR OSAKA JAPAN TRIP
Budget for Osaka trip is tricky as it will depend on how you spend on food and accommodation.  Japan is expensive, but it is manageable.  While our trip to Japan was sponsored, I extended 4 more days to be able to explore more of Kyoto and Nara. And I spent roughly JPY 30,000 (PHP 13, 952) including accommodation, food, JR Pass to the airport from Kyoto, train rides and bus ride and temple entrance fees in 4 days. So for about JPY 8,000 (PHP 3,721) per day you can have a decent accommodation plus 3 meals a day in Osaka, of course that does not include yet the train rides, tour and temple fees.  So roughly JPY 14,000 (PHP 6,531) per day will be safe.
SAMPLE BUDGET FOR OSAKA TRIP
| | |
| --- | --- |
| EXPENSES | ACTIVITY |
| JPY 5,300   (PHP 2,459) | 3-Day JR West Rail Pass |
| JPY 7,400   (PHP 3,432) | Universal Studios Japan entrance fee |
| JPY 3,000   (PHP 1,392) | JPY 1000 (Php 464)  per meal, 3 x  for Day 1 |
| JPY 3,000   (PHP 1,392) | JPY 1000 (Php 464)  per meal, 3x for Day 2 |
| JPY 270      (PHP 125) | Small bottle of mineral water is JPY 90 (PHP 42) 3x daily |
| JPY 6,000   (PHP 2,783) | 2 night room  (JPY 3,000 per day twin-sharing) two people |
| JPY 700      (PHP 325) | Umeda Sky Building entrance fee |
| JPY 600      (PHP 279) | Osaka Castle entrance fee |
| JPY 1,524   (PHP 672) | 4G WiFi (Php 224 per day x 3 days) |
| JPY 27,194 (PHP 12,859) | TOTAL |
*Rate based on JPY 1 – PHP 0.42
* Airfare + Visa fee not included.
---
OSAKA SAMPLE ITINERARY
SCHEDULE
ACTIVITIES
Day 0
ARRIVAL IN JAPAN
01:00 PM
Check-in at NAIA Terminal 3
03:05 PM
ETD for Osaka
07:55 PM
ETA in Osaka. Take the train to JR Osaka Station and shuttle to hotel
DAY 1
OSAKA TOUR (UNIVERSAL STUDIOS JAPAN)
08:30 AM
Breakfast.
09:00 AM
Head to Osaka Station.  ETD for Universal Studios Japan.

Via OSAKA STATION: From Osaka Station, take Osaka Loop Liner and alight at Nishikujo Station. Travel time is approximately 6 minutes. Transfer to JR Yumesaki Line and alight at Sakurajima Station. Transit time is about 8 minutes. Total fare is JPY 180/PHP 84 (USD 2/SGD 2/MYR 7)

Via OSAKA-NAMBA STATION: From Osaka-Namaba Station take the Hanshin Namba Line and alight at Nishikujo. Travel time is roughly 8 minutes. Fare is JPY 200/PHP 93 (USD 2/ EURO 2/SGD 2.46/MYR 8). At Nishikujo Station, transfer to JR Yumesake Line and alight at Sakurajima Station. Transit time is about 8 minutes. Train fare is JPY 160 /PHP 75 (USD 2/ EURO 1.22/SGD 2/MYR 6).

09:30 AM
Wizarding World of Harry Potter (Wand magic, HP and Forbidden Journey)

Universal Globe

12:00 PM
Lunch at the Three Broomsticks
01:00 PM
Universal Re-boom Party and Market

Other Attractions and Rides in USJ

07:30 PM
ETD for Hotel.

If hotel is accessible from OSAKA STATION: From Sakurajima Station, take JR Yumesaki Line and alight at Nishikujo Station. Transit time is roughly 11 minutes. Transfer to Osaka Loop Line and get off at Osaka Station.  Travel time is about 6 minutes.  Train fare is JPY 180/PHP 84 (USD 2/ EURO 1.38/SGD 2/MYR 7).

If hotel is accessible from OSAKA-NAMBA STATION: At Sakurajima Station, ride the JR Yumesaki Line and get off at Nishikujo Station. Fare is JPY 160 /PHP 75 (USD 2/ EURO 1.22/SGD 2/MYR 6) and transit time is roughly 11 minutes. Transfer to Hanshin Namba and alight at Osaka-Namba Station.  Transit time is about 9 minutes, fare is approximately JPY 200/PHP 93 (USD 2/EURO 2/SGD 2.46/MYR 8).

 

08:30 PM
Dinner
10:00 PM
Sleep
DAY 2
OSAKA TOUR (OSAKA CASTLE, OSAKA MUSEUM, TEMPOZAN FERRIS WHEEL, SHINSAIBASHI SUJI, AMRIKAMURA AND DOTONBORI)
08:30 AM
Breakfast
09:00 AM
Head to train station. Depart for Osaka Castle. FROM OSAKA STATION: At Osaka Station, take Osaka Loop Liner and alight at Osaka Jokoen. Transit time is 10 minutes and fare is JPY 160 /PHP 75 (USD 2/ EURO 1.22/SGD 2/MYR 6).

FROM OSAKA-NAMBA STATION: At Osaka-Namba Station take the Kintetsu Nara Line and alight at Tsuruhashi. Transit time is about 5 minutes. Fare is JPY 210/PHP 98 (USD 2/EURO 2/SGD/ MYR 8). At Tsuruhashi, transfer to Osaka Loop Line and get off at Osaka-Jokoen. Train fare is JPY

OSAKA CASTLE ENTRANCE FEE: JPY 600/PHP 278 (USD 5/EURO 5/SGD 7/MYR 23)

11:00 AM
Walk to Osaka Museum. Located across southwest of Osaka Castle.

OSAKA MUSEUM ENTRANCE FEE: JPY 600/PHP 278 (USD 5/EURO 5/SGD 7/MYR 23)

11:00 PM
Lunch
01:00 PM
Walk back to Osaka Jokoen Station and depart for Umeda Sky Building.

At Osaka Jokoen Station. Take the Osaka Loop Line and alight at Osaka Station. Transit time is roughly 9 minutes and train fare is JPY 160 /PHP 75 (USD 2/ EURO 1.22/SGD 2/MYR 6).

UMEDA SKY BUILDING ENTRANCE FEE: JPY 1,000/PHP 464 (USD 9/EURO 8/SGD 12/MYR 38)

*If you are on a budget and not interested in entering the observation deck, you can just take a photo of the building.

01:00 PM
Depart for Tempozan Ferris Wheel in Tempozan Harbor Village.

From Osaka Station, take the Osaka Loop Line and alight at Bentencho Station.  Transit time is 10 minutes. Fare is JPY 160 /PHP 75 (USD 2/ EURO 1.22/SGD 2/MYR 6). At Bentencho Station, ride the Osaka City Subway Chou Line for Cosmo Square and get off at Osakako Station. Travel time is about 5 minutes and fare is roughly JPY 230/PHP 106 (USD 2/EURO 2/SGD 3/MYR 9).

Places to see in in Tempozan Harbor Village: Tempozan Ferris Wheel, Tempozan Marketplace (Shopping Mall with souvenir shops, Legoland Playground and restaurants), Osaka Aquarium, Naniwa Food Theme Park and Mount Tempozan.

Tempozan Ferris Wheel Entrance Fee: JPY 800/PHP 371(USD 7/EURO 6/SGD 10/MYR 31)

03:00 PM
Head to Shinsaibashi Suji and Amerikamura.

From Osakako Station take the Osaka City Subway Chou Line and alight at Hommachi Station. Transit time is about 11 minutes.  At Hommachi Station transfer to Osaka City Subway Midosuji Line and and alight at Shinsaibashi Station. Transit is about 2 minutes. Total fare is JPY 280/PHP 130 (USD 3/EURO 2/SGD 3/MYR 11).

Shinsaibashi Suji is a few minute walk from Shinsaibashi Station. Amerikamura can be reached on foot from Shinsaibashi Suji.

07:00 PM
Head to Dotonbori, walking distance from Shinsaibashi Suji.

Dinner at Dotonbori

08:30 PM
Depart for hotel. Head to Namba Station, about 5 minute walk from Dotonbori Area.

From Namba Station, take the Osaka City Subway Midosuji Line and alight at Umeda Station. Transit time is about 8 minutes.  Fare is JPY 230/PHP 106 (USD 2/EURO 2/SGD 3/MYR 9). Osaka Station is about 5 minute on foot from Umeda (Subway) Station.

 

09:00 PM
Back to hotel.
10:00 PM
Sleep
---
ALSO READ: 
FOLLOW ME ON FACEBOOK FOR TRAVEL GUIDE UPDATES