I wish I could say I enjoyed swimming with the Oslob whale sharks last week, but truth is, I didn't. I am happy for Oslob, these gentle giants locally called tuki caused a huge buzz in the Philippines which is a big help to the tourism revenue of  the once sleepy town. But I am saddened by what I saw; the chaos of  tourists which could scare away or harm the poor whale sharks and even fellow whale shark watchers;  stubborn tourists touching the whale sharks, snorkelers' fins almost hitting my face, scuba divers suddenly surfacing from down under and paddle boats almost running over my head.
Nevertheless, the people of Brgy. Tan-awan,Oslob deserves the blessing that they are getting now.  I love the genuine hospitality shown to us by the locals. I am deeply moved by their simple way of life; I see families happily eating together over humble meals, weary fishermen in green uniforms taking care of tourists, officers constantly checking with visitors if they enjoyed the whale shark encounter and a humble home embracing us. I saw the joy in their eyes, taking pride in the attention that their once sleepy town Oslob is getting.
But I hope in the coming days, more tourists would respect the whale shark guidelines and realize the harm that they could do to them.  The tourism officers and the fishermen are really trying hard to implement the rules and organize the whale watching activity, but the number of tourists should really be controlled and sadly,some tourists are just really stubborn!
Whale shark watching in the Philippines is on the bucket list of most tourists. Who wouldn't? At a reasonable price, you're getting one heck of a travel adventure! Another famous site for swimming with the whale sharks in the Philippines is Donsol, Sorsogon , the "Whale Shark Capital of the World" where unlike in Oslob,  no hand-feeding and no touching of whale sharks.  In Oslob, there's a boat called "whale shark feeder"  that the tuki follows while the boatman feeds them.
Here is my Oslob whale shark travel guide to help you plan your trip:
---
How to Get to Oslob, Cebu for the whale shark watching
 From Cebu City to Oslob
Philippine Airlines, Cebu Pacific and Airasia fly daily between Manila and Cebu.
From Cebu City,  head to the South Bus Terminal and ride a Ceres bus  going to Bato via Liloan.  Tell the conductor to drop you off at Brgy. Tan-awan in Oslob for the whale shark which is just along the highway.  It's roughly a 3-hour ride from Cebu. Bus Fare (air-con) is Php 155.
From Dumaguete to Oslob, Cebu
Philippine Airlines and Cebu Pacific fly daily between Manila.
At Dumaguete City Public Market, look for the multi-cabs going to Sibulan Port.
At the port, pay the fee for the ferry/fastcraft to Liloan.
At Liloan Port, board a Ceres bus going to Cebu City and tell the conductor to drop you off at Oslob Whale Shark Watching
Usually the bus will drop you off at one of the resorts with "Whale Watching" sign.  But take note that if you enter here, the resort  will charge you with a Php 100 fee  for the use of locker,  cottage,   transportation to the briefing station and boat assistance.
Otherwise, you can walk directly to the Whale Shark Watching Briefing Station to register,  pay the fees and attend the short briefing (do's and don't for whale shark watching).
---
Oslob, Cebu Whale Shark Watching Fees 2018
| | | |
| --- | --- | --- |
| TOURISTS | INCLUSION | FEES |
| Local Tourists | Whale watching (in the boat only, no swimming) + life jackeet | Php  300 (USD 6) |
| Local Tourists | Snorkeling with the Whale Shark + Life Jacket | Php 500  (USD 11) |
| Foreign Tourists | Snorkeling with the Whale Shark + Life Jacket | Php 1,000 (USD 21) |
Exchange rate :  Php 1 = USD 0.02
Whale Shark watching in Oslob is good for 30 minutes only.
Whale Shark watching in Oslob is available daily from 6:00 AM to 12:00 PM only.
---
Oslob Whale Shark Watching Car Charter from Cebu City or Mactan Island
Tick off a bucketlist experience: swim and snorkel with whale sharks in the Philippines
Go at your own pace as you enjoy a private roundtrip transfer from your hotel in Cebu City or Mactan Island with an experienced local driver
Participate in shark feeding and explore surrounding coral reefs
Enjoy a scenic 3 hour drive along the Southern Cebu coastline
After your whaleshark experience, you may opt to climb up the amazing Tumalog Falls!
---
Cebu Sumilon Island Day Tour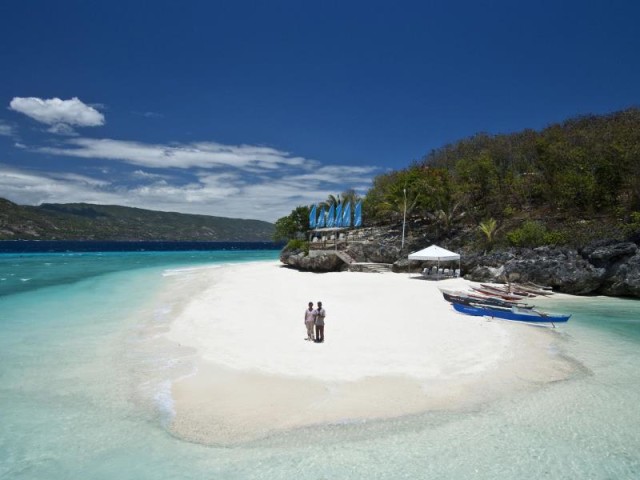 Sumilon Island. photo credit Sumilon Island Resort
Visit one of Cebu's best kept secrets: Bluewater Sumilon Island Resort at the southern tip of the island
Snorkel with the diverse aquamarine species in the first marine protected area in the Philippines
Enjoy a picnic lunch on the beach!
---
Oslob Whale Shark Snorkeling and Badian Canyoneering Adventure
Head to Oslob for a once in a lifetime chance to get up close to real whale sharks
Tick off a bucketlist experience: swim and snorkel with whale sharks in the Philippines
Participate in shark feeding and explore surrounding coral reefs
Climb up the breathtaking Tumalog Falls
Scramble, climb, jump, rappel and swim through the rugged but scenic cliffs of Badian
Make a splash as you brave through jumping off towering cliffs as high as 30 feet!
---
OTHER ATTRACTIONS IN OSLOB
TUMALOG FALLS
How to get to Tumalog Falls in Oslob
To get to Tumalog Falls, just approach a habal-habal (motorbike) driver.  Fare is Php 120, roundtrip. Good for 2 persons.
Tell the driver what time they will fetch you. Pay the driver half  first (Php 60)  and pay the remaining Php 60 once they pick you up.
Pay the Tumalog Entrance Fee of Php 20 per head.
Sumilon Island
Bluewater Sumilon Island Resort
Bangocogon, Oslob, Oslob
St. Joseph Church – Nueva Caceres
Mainit hot springs
1788 church belfry
Spanish-era gazebo
Nigad tree – centuries-old legendary tree
---
Oslob Cebu Whale Shark Watching Trip Budget
| | |
| --- | --- |
|   | FEE |
| Bus between Cebu City and Oslob (roundtrip) | Php 155 x 2 = Php 310 |
| Whale Shark Watching | Php 500 (locals) |
| Habal-habal ride to Tumalog Falls | Php 120 |
| Tumalog Falls Entrance Fee | Php 20 |
| Food | Php 100 per head per meal |
| GRAND TOTAL | Php 950 (USD |
Best to do this on weekdays when there's not much crowd.
Come early to avoid long lines.
Our group left Cebu City at around 3am (Oslob bus runs 24/7 at South Bus terminal).
Coming from our trip in Malapascua, we just stayed at a coffee shop in Cebu IT Park while waiting for 3am.
---
WHERE TO STAY IN OSLOB:
Oslob Malonzo Pension House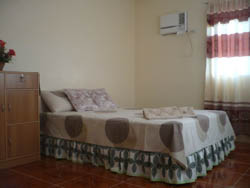 San Jose Street Oslob, Oslob
Seafari Resort Oslob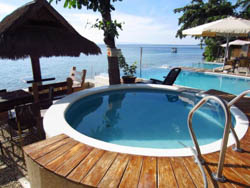 Cuan-cua-ay, Tan-awan Oslob, Cebu
MB Sunrise View Resort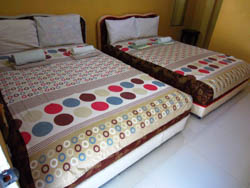 National Highway, Tan-awan Oslob
Bluewater Sumilon Island Resort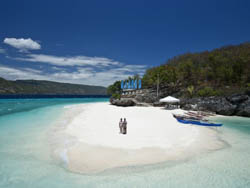 Bangocogon, Oslob, Oslob
CHECK ROOM RATES HERE OR BOOK HERE
---
EXTEND YOUR TRIP
RELATED POST:
---
FOLLOW ME ON FACEBOOK FOR TRAVEL GUIDE UPDATES