This is a detailed blog on Venice Itinerary with budget + Venice Travel Guide, Things to Do and Where to Stay on a budget. 
Surviving against all odds, timeless Venice continue to entice tourists from around the world. This traffic-free city standing on low mud banks facing the Adriatic Sea in Northern, Italy is often recognized as the "Romance Capital of the World", but I arrived here alone. Riding the vaporetto, my eyes sparkled as throngs of old couples sporting elegant Venetian dress  costumes sans the mask, shared stories and laughter reminiscent of scenes from period movies featuring the controversial Casanova. I checked-in hurriedly to our hotel in San Polo, the commercial heart of Venice, where bankers, brokers, and merchants used to thrive.  I roamed its cobbled alleys fringed  by souvenir shops, restaurants, elegant cafes, bustling food markets, opera houses, and pasta shops all the way to Rialto Bridge. I was trying to catch our gondola ride tour  that we booked online, but when I couldn't find it as I was pretty lost, I decided to just walk around and watch in awe as gondolas meandered down the dreamy waterways, reflecting opulent architectures, crumbling ancient walls, and rustic red-brick houses with frescoed facades.  The facades may have faded, and foundations were pretty worn out by tides, but the canals remains one of the loveliest streets I've seen to date. I stood at Rialto Bridge until the last light of the day, watching people come and go while vaporetti and gondolas fade into the horizon. Venice indeed is a visual treat.
---
ABOUT VENICE, ITALY
---
During the Middle Ages, Venice was one of the most influential cities in the world under the leadership of Doges. Their power stretched throughout the Mediterranean to Constantinople (now Istanbul) that permitted the city with trading privileges in the Eastern Roman Empire. Venice's wealth is eminent in architecture and art throughout the city, St. Mark's Basilica is one great example.
Venice declined after it failed to defend Thessaloniki and Constantinople from the Ottomans, which resulted in the loss of their top trading partner. Another cause of its trading regression was the discovery of the new routes to Asia by the Portuguese and Spanish. Not to mention the Black Death that devastated Venice shortly after.
The once powerful city then fell to Napoleon in 1797.  Venice eventually became a part of Italy in 1866.  Today, after over 200 years, Venice hasn't changed much – the same well-worn streets fringed by elegant structures and ancient walls connected by bridges and canals are still trodden, but no longer by merchants, traders or  bankers, but by tourists. Gondolas and vaporetti still flourish, now carrying couples on a romantic holiday and groups of foreigners.  Everywhere you turn, there is something to remind you of its glorious past.
---
VENICE PRACTICAL INFORMATION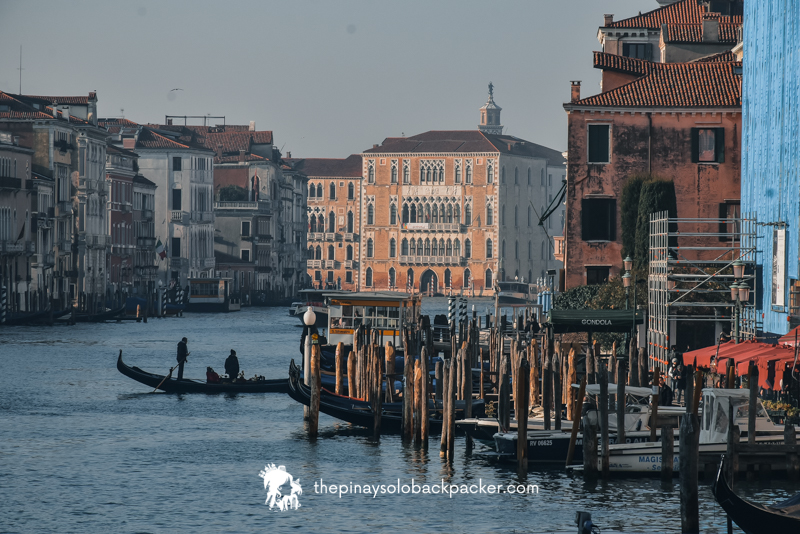 BEST TIME TO VISIT VENICE, ITALY: Best months to visit Venice is  fall season, from September to November because of lesser tourists from the summer season, which is a peak season. The weather is pleasant too, but can be quite cold during November. March to May also is also a good season to travel here due to the pleasant weather, the winter ends around March. December to March can be pretty cold, but the advantages are: lesser crowd and cheaper hotel rates, except during the Venice Carnival in February. Remember that June to August is peak season in Venice, expect prices to soar and the city is overrun by tourists.
We visited Venice in January, during the winter season (November to March), and we loved it because of lesser crowd, cheaper hotels, and discounted shopping!
VISA IN VENICE: Philippine Passport holders are required to obtain Schengen visa to enter Venice. If you will be staying the longest in Italy on your European tour you will need to apply visa at the Italian Embassy.
I applied for a Schengen visa at  the Greek Embassy in the Philippines because it's our entry point and that's where we stayed the longest. For more information, you can click the link below and read my blog.
DOCUMENTS TO BRING:
Passport with Schengen Visa – This is no brainer.
Your travel itinerary
Copy of return flight to the Philippines
Hotel bookings
Employee ID (if applicable) or copy of business permit
We brought with us copy of the requirements we sent for our Schengen visa, just to make sure.
LANGUAGE IN VENICE: People generally speak Italian, but staff of hotels, shops, restaurants, and tourist destinations can speak English. Many signs are also in English.
CURRENCY IN VENICE: Italy uses EURO, current exchange rate is 1 EURO = PHP 63 /USD 1.17/SGD 1.60/MYR 5.
MODE OF PAYMENT: Cash and credit cards are accepted, but make sure to call your bank and inform them that you will be traveling to Italy and provide your travel period so that your transactions will be allowed. My friend's card was temporarily put on hold after one purchase because the bank thought it was a fraudulent transaction. To avoid such hassle, call the bank before leaving the Philippines.
MONEY EXCHANGE: The best rate is still the bank's rate, withdraw money from international ATMs scattered around the city. Avoid exchanging your money at money changers especially around touristy areas as they have terrible rates. I tried to exchange my Swiss francs left from our Switzerland trip but I ended up keeping them due to pretty low rate.
POWER SOCKET: Italy generally uses Type F, E and C electrical sockets, 230 volts, 50 Hz.
POCKET WI-FI: For security reasons, I always encourage people to have their own Wi-Fi when traveling, instead of using Airport Wi-Fi or free public Wi-Fi.
If you are coming from the Philippines, you can rent a cheap pocket Wi-Fi and have it delivered to you: RESERVE HERE
You may also pick it up at the airport in Manila: RESERVE HERE
If you are coming from any of the countries below, you can rent a pocket Wi-Fi for Europe through the link:
Hong Kong: RESERVE HERE
Singapore: RESERVE HERE
Taipei:  RESERVE HERE 
Bangkok: RESERVE HERE
Malaysia: RESERVE HERE
DRONE IN VENICE: Drone is allowed in Italy; however, they have pretty strict rules, for example, you can't fly your done higher than 230 feet or farther than 650 feet. You can only fly your drone during the day and good weather condition, but it must be far away from houses, railroads, buildings and people, and your drone must weigh less than 25 kg.
---
VENICE TRAVEL GUIDE
---
  HOW TO GET TO VENICE:
---

BY TRAIN 
You can also go to Venezia Santa Lucia (don't mistake it with Venezia Mestre), the main train station in Venice, from other European cities like Paris, Zurich, Berlin, etc. Or from other cities in Italy, like Milan, Florence, Rome, etc.
There are two train companies in Italy that serve trains on highspeed line: the state-owned Trenitalia and the privately-owned Italo. We used Trenitalia during our trip to Venice from Milan.
Take note that train fares in Italy aren't fixed, best to book in advance online to get the cheapest rate. The cheapest fare that I could find for Trenitalia is EURO 14.90, while EURO 9.90 for Italo. Trains usually run from 5:00 AM to 11:25 PM.
---
Florence to Venice
Frecciarossa are highspeed trains of Trenitalia and it's the fastest way to reach another city in Italy with 4 levels of service: Executive, Business, Premium, and Standard. You can use this train to travel from Florence to Venice. We preferred this type of train during our trip to Venice because each coach has toilets, sockets at each seat, turning tables, and wide spaces for luggage. On the other hand, Frecciargento trains of Trenitalia both run on the highspeed and traditional line.
Fare: Starts at EURO 15.70
Travel Time: 2 hours and 5 minutes
Train Availability: 5:00 AM to 10:25 PM
Milan to Venice
You can also travel from Milan to Venice by train. We used this route during our Europe trip. Trains from Milan to Venice depart from 5:00 AM and last trip is 11:25 PM. Fares start at EURO 9.90 for Italo, while EURO 14.90 for Trenitalia.
Fare: Starts at EURO 9.90
Travel Time: 2 hours and 25 minutes
Train Availability: 5:00 AM to 11:25 PM
Other European Cities to Venice:
 Like I mentioned above, if you're doing a Europe trip, you can also go to Venezia Santa Lucia (don't mistake it with Venezia Mestre), the main train station in Venice, from other European cities like Paris, Zurich, Berlin, Florence, etc.
---
BY AIR
Marco Polo Airport  is the closest commercial airport to Venice. You can fly here from other major cities in Italy and Europe like Paris, Frankfurt, Zurich, etc. If you are flying from Southeast Asia, there's usually a transit at Dubai, Doha, Seoul (South Korea), or Istanbul (Turkey) before arriving at Venice Marco Polo Airport.
Manila to Venice
There's no direct flight from Manila to Venice. If you are coming from Singapore or the Philippines, a cheaper way is to fly to Athens, Greece via Scoot Airlines  and fly to Rome (Italy) and take a train to Venice from there.
Alternatively, you can also fly to Berlin, Germany via Scoot, then take a train to Venice.
---
VENICE AIRPORT TO CITY CENTER
---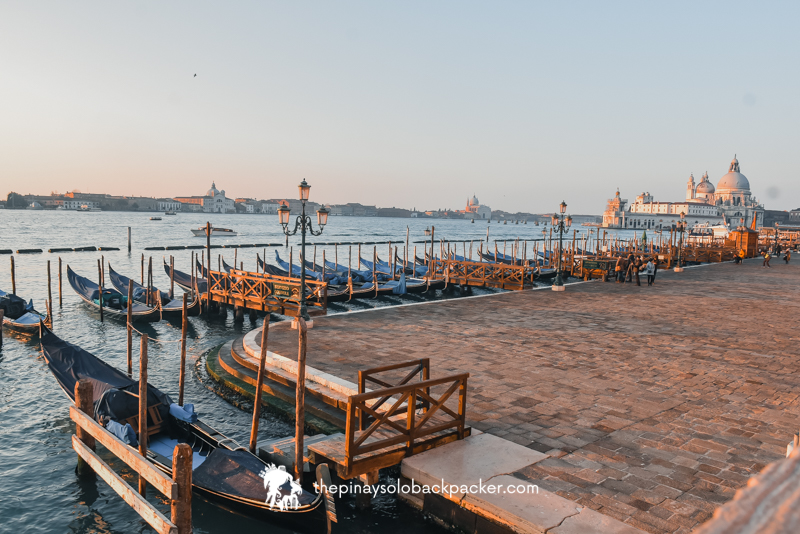 By ATVO Express Bus
 This is not a regular bus, rather a privately-owned bus with comfortable seats and luggage storage compartment below the bus. It runs non-stop from Marco Polo Airport directly to Piazzale Roma, the bus terminal in Venice city center. Its color is usually blue or white with ATVO sign in front.
Fare:
Solo passenger: One way- Euro 8, Roundtrip – Euro 15
Group passengers:  (2-9 pax) – One way – EURO 7, Roundtrip-  EURO 13
Travel Time: 20 minutes
By City Bus
The ACTV City bus #5 goes to Piazzale Roma, usually white and green or orange.  This bus though has several stops along the way and there's no luggage compartment, so you have to take your luggage with you inside the bus.
Fare:
Travel time: 35 minutes
By Water Bus
From Venice Airport, you may take the Alilaguna waterboat (vaporetto) to Venice. Stops include: Rialto, San Marco, Le Guglie, and Fondamenta Nouve. But take note that it has several stops along the way. You can buy tickets at the Public Transport ticket at the Arrival Hall. To get to the dock, exit the Arrival Hall, look for the covered walkway on the left and follow it until you reach the dock.
Blue: Stops at Lido, San Marco, Cruise Terminal and points in-between
Orange: Santa Maria del Giglio via Rialto and the Grand Canal
Red: Stops include Murano, Lido, Giudecca, and San Marco
Fare: One-way is Euro 15, Roundtrip is Euro 17
Travel time: 1 hour and 15 minutes
By Private Car
 For group travelers who wants a hassle-free transfer, you may rent a private car to transfer you from Venice Airport to the city center. Book below.
---
 VENICE ORIENTATION
---
Venice is divided into 6 districts: San Marco, Castello, Cannaregio, San Polo, Santa Croce, and Dorsoduro.  First time tourists usually start their exploration in San Marco and walk to St. Mark's Basilica and the Dodges Palace. In our case, since our hotel is located near Rialto Bridge, we started our exploration in that area, crossed the bridge and walked towards San Marco using Google Maps.  We also availed of the Venice Walking tour to learn more about the city.
---
GETTING AROUND VENICE
---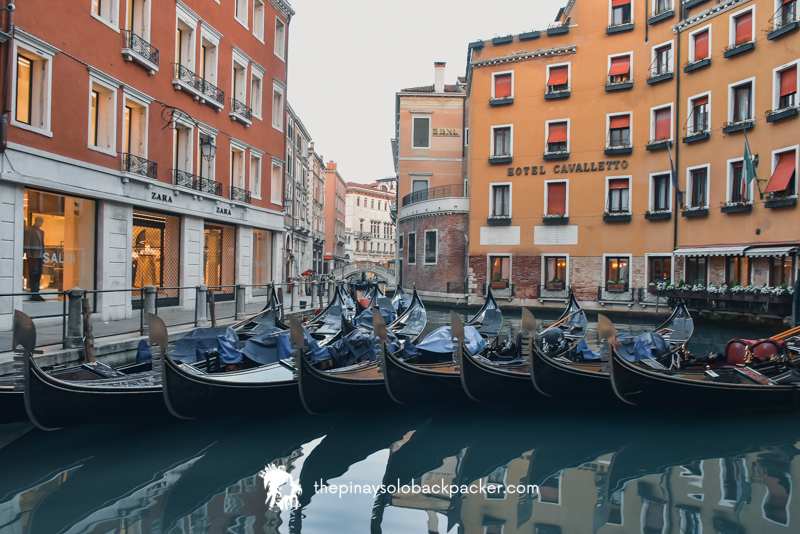 Since Venice city center is mostly composed of water and districts are connected by canals, bridges, and small alleys, there are no cars, buses or trains beyond Piazzale Roma. To get around, you can board a water boat (vaporetto), water taxi, or walk.
By water boat: Venice main mode of transportation is the water bus called vaporetto (plural: vaporetti).  You can buy tickets at Piazzale Roma once you exit the Venezia Santa Lucia train station and at major landing station. One-way ticket costs € 7.50. But if you will be taking a few trips around Venice, best to get a pass. 24-hour pass costs € 20, 48-hour pass costs €30, a 72-hour pass costs €40, and a 7-day pass is worth €60.
Here are some key vaporetto routes in Venice:
Line 1 – Piazzale Roma – Railway – Rialto – San Marco – Lido
Line 2 – San Marco – S. Zaccaria -Giudecca – Tronchetto – Piazzale Roma – Railway -Rialto – San Marco Giardenetti
Line 2/ – Piazzale Roma – Railway – Rialto and vice versa
By Hop-On Hop-Off Sightseeing Boat: If you want a hassle-free tour of Venice, you can book the cheap hop-on hop-off sightseeing boat tour via Klook. Uncover the history of Italy's very own floating city via this sightseeing boat tour!
By water taxi: The water taxi works like a regular taxi on land, with no fixed routes. This is good for group travelers with many luggage as the water taxi can accommodate up to 10 passengers. Fares starts at €50 for short distance ride. But take note that the 7th person has extra charge and it cannot enter some canals.
By walking: You can walk to most places in Venice and that's exactly what we did during our stay there.  Refer to Google Maps for directions. But Venice can be quite complicated to navigate even if you have your smartphone, it's easy to get lost here, so make sure you remember the landmarks and signs.
By guided tours: There are free walking tours in Venice and guides rely on tips only. But  since we don't have the luxury of time to look for a reliable guide in Venice, we booked a walking tour in advance courtesy of Klook, and it was worth it. We learned a lot since our guide is knowledgeable. We got up close with some ancient churches and buildings (even the house where Casa Nova stayed), and we learned about the significance of their architecture as well as the importance of Venice water wells.  We would not have known all these if we just relied on our DIY Venice walking tour.
---
TOP THINGS TO DO IN VENICE
---
1.GONDOLA RIDE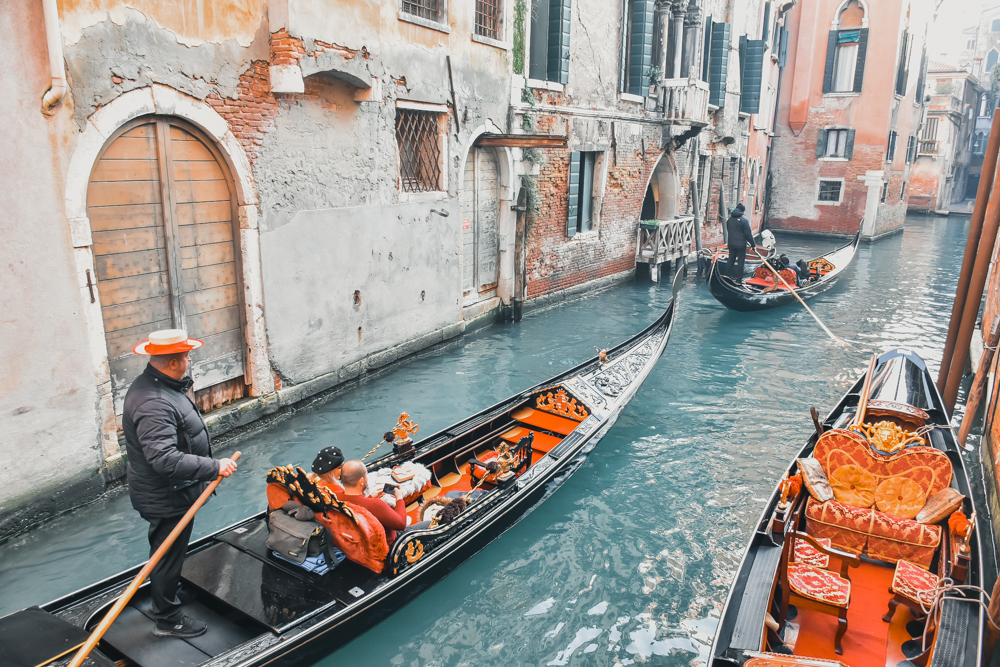 Gondola is synonymous with Venice. It has been a part of Venice lifestyle since the 11th century. It has slim hull and flat bottom, perfectly customized for passing through the narrow canals and lagoons of Venice. The gondola transported merchants, goods, and dignitaries in the olden days. Many wealthy families of Venice owned private gondolas back then. In 1562, it was ruled that all gondolas must be black to prevent people from making an ostentatious display of their wealth.
Today, they are pretty popular mode of transportation for tourists. Each gondola can accommodate up to 6 passengers.
Gondola Day Rate: EURO 80 for 40 minutes, plus EURO 40 for every succeeding hour
Gondola Night Rate: EURO 100 for 40 minutes, plus EURO 50 for every succeeding hour
Yes, the ride is expensive. But don't fret because if you are alone or a party of two, you can save a few bucks if you book the gondola ride via Klook.
---
 2.ST. 

MARK'S BASILICA TOUR
 photo by Detourista
St. Mark's Basilica with onion-shaped cupolas is the most popular basilica in Venice, flaunting its Byzantine facade, a beautiful blend of East and West decorative flair.  Its 5 doorways are designed with mosaics from different eras, while the main door is hemmed in by Romanesque carvings.  Its upper loggia has replicas of the 4 horses of St. Mark also known as Triumphal Quadriga. The original set of  these Roman bronze statues, now housed inside, are originally part of the monument showing a carriage for chariot racing in Constantinople.
You can enter St. Mark's Basilica, but the line is usually long, to skip the line, book the tour below. 
Entrance Fees:
St. Mark's Basilica: Free (The line is usually long, to skip the line, book the tour above.)
St. Mark's Museum: EURO 5 – PHP 314 (USD 6 – SGD 8 – MYR 24)
Pala d'oro: EURO 2 – PHP 126 (USD 6 – SGD 8 – MYR 24)
Treasury: EURO 3 – PHP 188 (USD 2 – SGD 3 – MYR 10)
Open Hours:
St. Mark's Basilica, : 9:30 AM – 5:00 PM, Sunday + holidays: 2:00 PM – 5:00 PM
St. Mark's Museum: 9:35 AM – 5:00 PM
Pala d'oro + Treasury: 9:35 AM – 5:00 PM, Sundays + holidays: 2:00 PM – 5:00 PM
Nearby Attractions: St. Mark's Clock Tower, St. Mark's Square, Doge's Palace, The Bridge of Sighs
Tip: The interior of St. Mark's Basilica is illuminated from 11:30 AM to 12:45 PM on weekdays during liturgical celebrations on Sundays and Holidays.
---
3.DOGE'S PALACE TOUR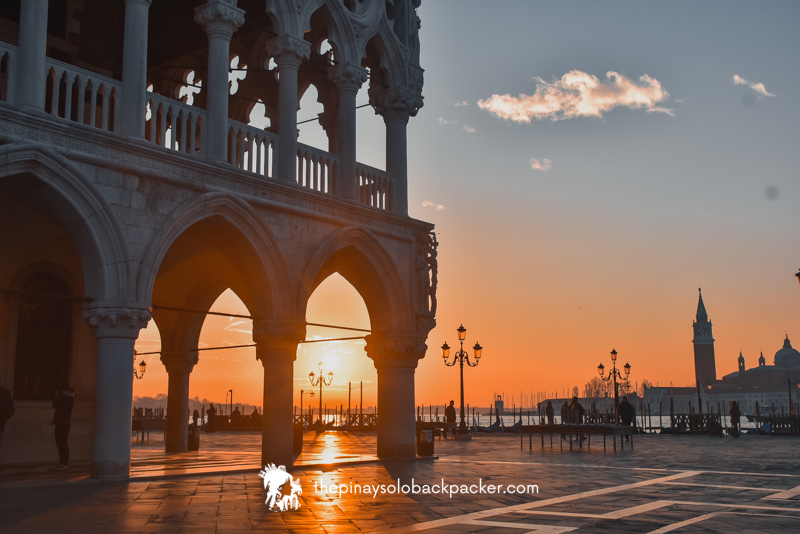 One of the major tourist spots in Venice is the Palazzo Ducale (Doge's Palace), the official residence of each Venetian ruler (doge).  The palace has airy Gothic architecture created in the 14th to 15th century. A tour of the Doge's Palace will take you to the ornately decorated chambers and halls over the 3 floors, the longest canvas painting in the world – "Paradise" by Tintoretto, and it'll culminate  at the Bridge of Sighs and the prisons.
 Entrance Fee: EURO 20
Open Hours: 8:30 PM – 7:00 PM
Nearby Attractions: St. Mark's Basilica, St. Mark's Clock Tower, St. Mark's Square, The Bridge of Sighs
TIP: You can save a few bucks if you avail of the combined guided tour of St. Mark's Basilica + Doge's Palace with Fast Track Entry.  RESERVE HERE
---
4.VENICE WALKING TOUR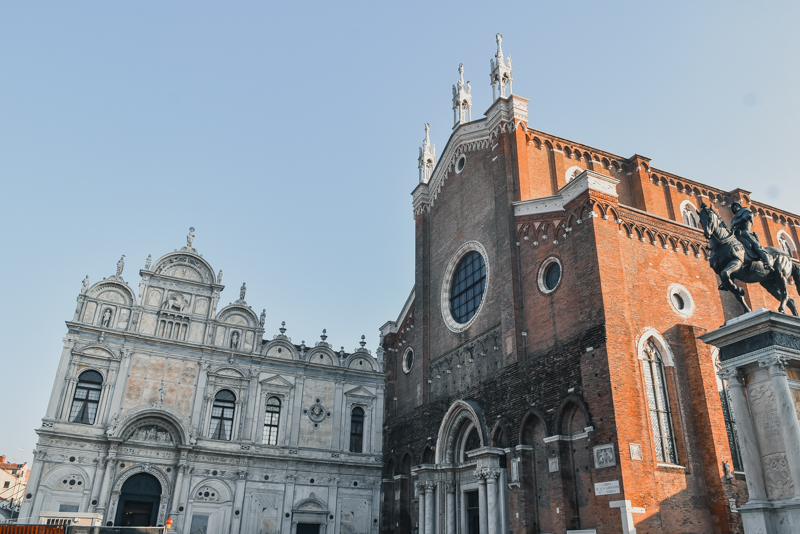 Like I said, Venice is very walkable, and in order for us to learn more about this charming city, we availed of the walking tour via Klook.  It's affordable but surprisingly comprehensive.  The walking tour started at San Marco where St. Mark's Basilica and The Dodge's Palace are located, however, a guided tour inside these buildings aren't included so you need to book them separately below.  Aside from these two, here are some of Venice top attractions.
St. Mark's Square (Piazza San Marco): The main public plaza of Venice where you can find St. Mark's Basilica, St. Mark's Clocktower, Doge's Palaces, and the Procuratie.
Procuratie: The 3 age-old connected buildings in Saint Mark's Square that is also connected to St. Mark's Clocktower.
St. Mark's Clocktower:  This is where our tour started, the clock tower of St. Mark's Basilica is another example of Renaissance building. This towering structure is composed of a gigantic clock and buildings on each side. Two men bronze figure strikes the clock every hour and beneath them is the Lion of St. Mark, the symbol of Venice.
Querini Stampalia  Museum (Fondazione Querini Stampalia): Established in 1869 as commanded by Conte Giovanni, the last descendants of the Querini Stampalia. The museum houses some important paintings and Baroque and Rococo artworks.
Santa Maria Formosa: Just a stone's throw away from Querini Stampalia Museum  is Santa Maria Formosa designed by Renaissance architect Mauro Codussi. Based on anecdotes, Virgin Mary is said to have appeared to San Magno, Bishop of Oderzo in the form of a woman's buxom (formosa) and asked him to build a church under a white cloud.  Thus, Santa Maria Formosa is the first church in Venice in honor of Virgin Mary.
San Zaccaria Church: Nearby Sta. Maria Formosa is the 15th century monastic church of San Zaccaria.
Santi Giovanni e Paolo: Known as San Zanipolo, this is one of the key Gothic Churches in Venice, built by the Dominican's in the 14th century.  It is dubbed as the "Pantheon of Venice" because it houses the remains of the 25 doges (military leaders) of Venice. Inside the church are several key artworks by Lombardi family and other leading sculptures.
Casanova House: Your probably heard of Giacomo Casanova before, mostly from movies featuring his love affairs. But he's more than that, the guy is also a writer, poet, a spy and an alchemy enthusiast. There are debates whether he is truly a Venetian or Armenian, but that won't erase the fact that he was pretty known in Venice. The Casanova Family House is situated in Calle Malipiero 3082, but we visited the house where Casanova stayed for a while.
Grand Canal:  The canals of Venice have beckoned tourists over the years, and the most photographed is the Grand Canal that winds through the heart of the city.  It is fringed by palaces bearing the names of the erstwhile well-regarded Venetian families.

 

Rialto Bridge:  The oldest of the 4 bridges along the Grand Canal of Venice.
The Bridge of Sighs and Piombi: Piombi, known as The Leads, is a former prison in the Doge's Palace.  The Old Prison is connected the New Prison by the Bridge of Sighs.
Venice Wells: Did you know that wells are littered all over Venice, and there are over 600 of them? Despite being surrounded by waters, Venice doesn't have enough fresh water back then, so the locals had to resort to collecting rainwaters, but even that wasn't enough.  Because of this, wells were built and the plan was to fill them with water from Benta River by building small canals. The basement of  a well is called puteal, and  overtime the once simple puteals became intricately decorated with bas-reliefs. Even the wealthy locals of Venice built their own wells in their private courtyard. Some of the famed puteals here include the two signed bronze puteals inside the Doge's Palace.
Venice Shops: Everywhere you go, you'll see shops littered in Venice, especially around St. Mark's Square and the Grand Canal.  You can buy Venetian masks, tricorni, leather shoes and bags, classic gondolier slippers, different shapes and colors of home-made pasta, souvenirs, and Murano glass jewelries.
---
5.FOOD AND WINE WALKING TOUR
Indulge in Venice's local cuisines and wines with   food and wine walking tour.
---
6.MURANO, BURANO, AND TORCELLO ISLAND TOUR
 You can do a day tour around these 3 destinations from Venice at a very reasonable price.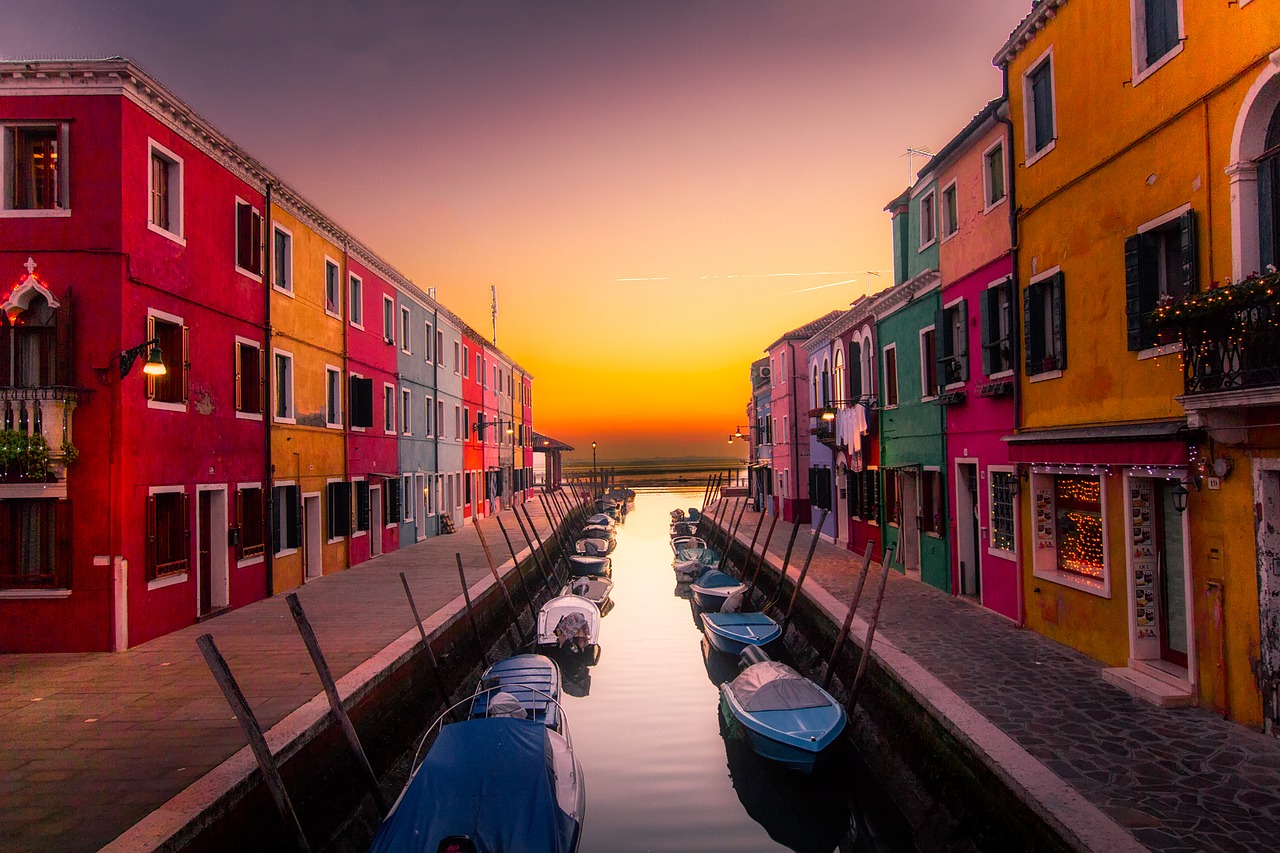 Murano
Murano is a bunch of islands north of Venice that is connected by bridges. It is the proud center of the glassmaking industry since 1921 when the craftsmen and furnaces were moved here due to the risk of fire. Murano's highlight is Basilica de Santi Maria e Donato, known for its 12th century Byzantine mosaic floor and the Gothic ship's keel roof.
Burano
Another popular island north of Venice is Burano, celebrated for its colorful houses hemmed in around its canals. It is crowned by the tilting tower of its church.
Torcello
Founded in the 5th to 6th century, Torcello was once an important political and trading center before it was eclipsed by Venice. It is home to the oldest building in the lagoon – the Cathedral of Santa Maria dell'Assunta that houses age-old mosaics, including the 12th century Byzantine mosaic of Last Judgement.
---
Other Attractions in Venice
---
Accademia Gallery of  Venice: Located on the south bank of the Grand Canal, the Accademia Gallery of Venice houses a wealthy collection of paintings of the Venetian school from the Byzantine era through the Renaissance and Baroque period.
Libreria Acqua Alta: This popular Instagram spot in Venice is actually a bookstore with new and used books distinctly set on canoes, boats, gondolas, tanks, etc.  It's a few minutes away from St. Mark's Square.
---
WHERE TO STAY IN VENICE, ITALY
---
 Top Budget Hotels  in Venice
---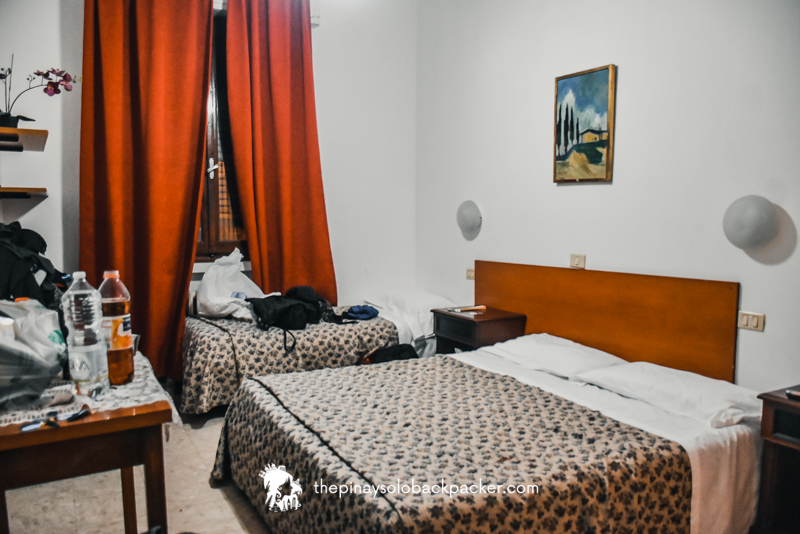 Hotel San Giorgio
      San Marco, Venice
     CHECK RATES HERE  OR RESERVE HERE
Santa Sofia
San Polo, Venice
Ca Fortuny
San Marco, Venice
CHECK RATES HERE or RESERVE HERE
Ca Centopietre
Dorsoduro, Venice
CHECK RATES HERE or RESERVE HERE
Hotel San Luca
San Marco, Venice
CHECK RATES HERE or RESERVE HERE
Albergo Casa Peron
Santa Croce, Venice
CHECK RATES HERE or RESERVE HERE
San Lio Tourist House
Castello, Venice
CHECK RATES HERE or RESERVE HERE
---
VENICE ITINERARY + BUDGET
---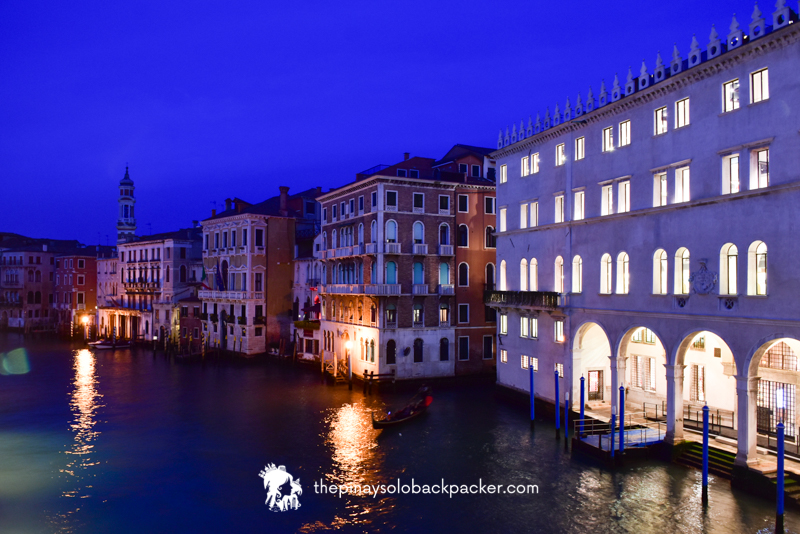 | | |
| --- | --- |
| Day 1 | MURANO, TORCELLO, BURANO |
| 12:00 PM | Arrival in Venice by train (Venezia Sta. Lucia Station) |
| |   BOOK TRAIN TICKETS HERE |
| 12:05 PM | Exit Station. Walk to vaporetto ticket booth. RESERVE HERE |
| 12:10 PM | Ride vaporetto (Line 1) to Rialto (near our hotel). (€7 – ₱428) |
| 12:40 PM | Get off at stop. Walk to hotel. CHECK RATES HERE |
| 01:00 PM | Hotel check-in |
| 01:15 PM | Lunch (€15 – ₱915) |
| 02:15 PM | Meet up for tour |
| 02:30 PM | Murano, Torcello, & Burano Tour. (€19 – ₱1,162) BOOK HERE |
| 06:30 PM | End of tour |
| 07:00 PM | Dinner (€20 – ₱ 1,224) |
| 08:00 PM | Hotel (€41 – ₱ 2,500) |
| | |
| | |
| DAY 2 | VENICE WALKING TOUR |
| 08:45 PM | Meet tour guide |
| 09:00 AM | Venice walking tour (€23.75 – ₱1,452) BOOK HERE |
| 10:30 AM | End of tour |
| 10:45 AM | Gondola ride. (€30.40 – ₱ 1,858)  BOOK HERE |
| 12:00 PM | End of tour |
| 12:30 PM | Lunch (€15 – ₱915) |
| 01:00 PM | St. Mark's Basilica. (FREE) |
| 02:15 PM | Doge's Palace Guided tour. (€34.20 – ₱2,091)   BOOK HERE |
| 03:30 PM | End of tour |
| 03:40 PM | Buy souvenirs. Stroll. |
| 07:00 PM | Dinner (€20 – ₱ 1,224) |
| 08:30 PM | Hotel (€41 – ₱ 2,500) |
| | |
| | |
| DAY 3 | DEPARTURE |
| 08:00 AM | Check-out |
| 08:30 AM | Vaporetto to Piazzale Roma (€7 – ₱428) |
| 09:05 AM | Walk to  Venezia Sta. Lucia Station |
| 09:35 AM | Train to Milan or next destination. BOOK TICKET HERE |
| | |
| | |
| TOTAL EXPENSES | € 242.95 – ₱ 14,866 |
| | |
| | |
*Our hotel is (€82 per night, good for 2). Since there's 2 of us traveling, we shared the cost (€41 – ₱ 2,500) per person.
---
VENICE BUDGET BREAKDOWN
---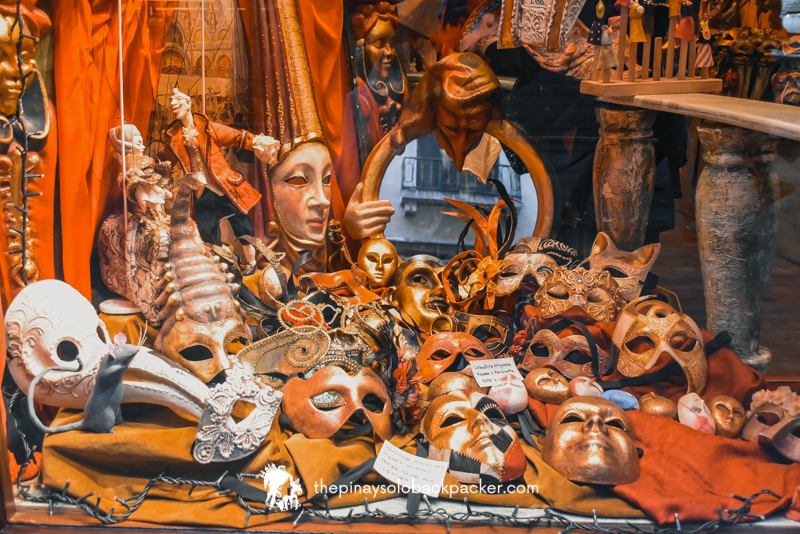 Here's a sample budget breakdown for 3 days 2 nights Venice tour if you follow the above itinerary.
Vaporetto (2 tickets): €14 – ₱857 ($16, SGD 22, MYR 76)
Food (4 meals):  €70 – ₱4,285  ($80, SGD 110, MYR 334)
Hotel (2 nights per person): €82 – ₱5,019  ($94,  SGD 129, MYR 391)
Venice walking tour: €23.75 – ₱1,452  ($27, SGD 37, MYR 113)
Murano, Torcello, and Burano Tour: €19 – ₱1,162 ($30, SGD 30, MYR 90)
Doge's Palace Guided tour: €34.20 – ₱2,091  ($39, SGD 54, MYR 163)
Total Expenses: € 242.95 – ₱ 14,866 ($286, SGD 382, MYR 1167)
---
SAFETY IN VENICE
---
Venice is generally safe for tourists, even for solo travelers.  It's the only place in Europe where I traveled alone briefly and I find it really safe and walkable. But still be careful of pickpockets that roam the touristy area and even ride the vaporetti.
Acqua alta is the period of high water that could lead to flooding in Venice.  It usually happens in winter and autumn.  If you are traveling to Venice during this period, choose a hotel on the upper part of town, close to the railway station or Piazzale Roma.
---
VENICE TRAVEL TIPS + REMINDERS
---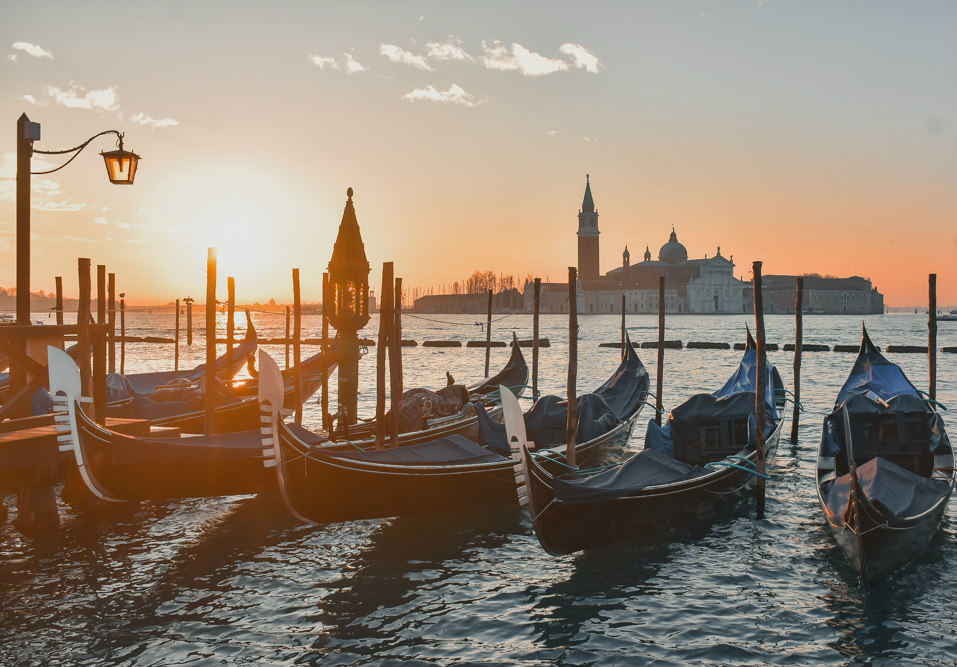 Feeding pigeons on St. Mark's Square is pretty common, especially for those who want a pretty Instagram photo.  Some men will approach you to buy feeds from them, but be careful, because it is prohibited under Italian Law since 2008. You can be fined up to EURO 700! Better be safe than sorry.
Like I said, wells are scattered in Venice, and so are drinking fountains. Tap water from these drinking fountains  are free and safe because they are carefully checked for quality and characteristics.  So, feel free to refill your drinking bottle from those fountains.
Tipping is accepted in Venice. You can give Euro 1-2 per person each day. Restaurant bills usually include service charge, if you are on a sit-down restaurant though, you can leave 5-10% on the table for good service.
Use a backpack when traveling in Venice. I used a wheeled luggage because that's what I've been using during our Europe trip, but it was pretty noisy on cobbled streets.
When buying a vaporetto ticket, buy a pass for 24/48/72 depending on your itinerary so you won't have to worry where to purchase one for your return trip.
Restaurants are everywhere in Venice, but if you want to save a few bucks avoid the ones near tourist areas, you can walk deeper streets and alleys. We did try a restaurant near Rialto Bridge, and we find the price reasonable. We paid around Euro 20 for a pizza, pasta, and salad.
Try cichete and crostino in Venice. Cichete is Venice's answer to tapas.  They are small dishes traditionally served at bacari (wine bars) at lunch and around 6:00 PM to 8:00 PM with Venetto wines. They range from basic snack bars like spicy meat with fresh tomato and basil bruschetta to small plates like shrimp wrapped in pancetta. Crostino are Italian appetizers consisting of toasted breads topped with cheese, shrimp, meat, etc.
Also try the affogato in Venice, it is heavenly.
 If you want to take home a Venetian mask, choose the ones made from handcrafted paper.  They are quite expensive though compared to the China-made plastic masks.
 If you plan to visit St. Mark's Basilica, avoid carrying a backpack. If you really have to bring one, make sure to leave it at the luggage storage first before queuing.
---
ALSO READ:
---
About the Blogger : Gael is a Filipina travel blogger. Her work has appeared in local and international publications.
Follow her on [wp-svg-icons icon="facebook-2″ wrap="i"] Facebook , [wp-svg-icons icon="twitter" wrap="i"] Twitter and  [wp-svg-icons icon="instagram" wrap="i"] Instagram.
For advertisements, sponsorship and partnerships, you may reach her at gaelhilotinblog (at) gmail (dot) com.
---
LIKE MY PAGE ON FACEBOOK FOR TRAVEL GUIDE UPDATES
---
FOLLOW ME ON INSTAGRAM
---
Watch my latest 
[wp-svg-icons icon="youtube" wrap="i"]

Youtube video.
Don't forget to click  
[wp-svg-icons icon="point-right" wrap="i"]
SUBSCRIBE HERE