I just returned from my Greece winter trip and as promised, I will blog about Greece and how to apply for a Greece Visa for Filipinos (Philippine Passport Holders). Applying for a tourist visa is always nerve-racking, so here's a guide on How to Apply for a Schengen Visa via the Greece Embassy  based on my personal experience recently to help you prepare for the dreaded process.
Greece is part of the Schengen zone, composed of 26 European countries.  So if you are a Philippine Passport Holder (Filipino), you need to secure a Schengen Visa that will allow you to  stay up to 90 days within any 180-day period any of the following 26 Schengen countries: Austria, Belgium, Czech Republic, Denmark, Estonia, Finland, France, Germany, Greece, Hungary, Iceland, Italy, Latvia, Lithuania, Luxembourg, Malta, Netherlands, Norway, Poland, Portugal, Slovakia, Slovenia, Spain, Sweden, Switzerland and Liechtenstein.
Thanks to Scoot Airline, you can now fly to Greece from the Philippines!  Last year, Scoot launched their flight from Manila to Athens via Singapore, and they are pretty cheap! Fares start at PHP 11,501.32 (USD 221/EURO 179/SGD 292/MYR 871) from Manila, PHP 11,900.32 (USD 229/EURO 185/SGD 302/MYR 901) from Cebu , PHP 12,001.32 (USD 231/EURO 186/SGD 305/MYR 909) from Clark, and PHP 12,501.32 (USD 240/EURO 194/SGD 317/MYR 947) from Kalibo.  So plan your Europe Dream trip now with Scoot, book your fights at https://www.flyscoot.com
HOW TO APPLY FOR A GREECE TOURIST VISA FOR FILIPINO
STEP 1: DETERMINE THE TYPE OF VISA THAT YOU NEED TO APPLY.
If you are applying for a Greece Visa for Filipino for the purpose of tourism and you are a Philippine Passport holder with valid permanent address in the Philippines or you are a foreigner registered as permanent resident in the Philippines, then this post if for you. Greece Embassy also processes the Tourist Visa for Portugal, so if you plan to apply for a Portugal Schengen Visa, then this is also applicable.
STEP 2: DETERMINE IF YOU NEED TO APPLY AT THE GREECE EMBASSY.
Take note that you can only apply at the Greece Embassy if you meet ANY of the following conditions:
You are traveling to Greece only or Portugal only.
You are traveling to other Schengen countries but you will stay the longest in Greece or Portugal.
Greece or Portugal is your point of entry, but you will travel to other Schengen countries for exactly the same number of days.
STEP 3: REQUEST FOR A GREECE  VISA APPOINTMENT.
Request for a Greece Embassy Manila visa appointment via email.  No phone calls, no walk-ins.  You must apply for a visa AT LEAST 15 days before the intended visit and no earlier than 3 months before the start of the intended visit. I highly suggest you apply 2-3 months before your planned trip. I requested an appointment on October 27, we were told earliest date for visa appointment is December 5.
Send your  Greece Tourist Visa appointment request to this email address: [email protected]
On the Subject, for individual interview you can write: INDIVIDUAL LAST NAME (write your last name), if you are a Group, write GROUP LAST NAMES (write the last names of the persons applying for a visa)
Example:
INDIVIDUAL CRUZ
GROUP CRUZ; MENDOZA
Now here's the e-mail format:
Preferred Date: (DAY MONTH YEAR)
Name of Applicant: (LAST NAME, FIRST NAME)
Passport No:
Contact Tel.:
Type of Visa: (SCHENGEN/SHORT TERM or NATIONAL/LONG TERM)
Main Country of Destination:
Expected Date of Departure: (DAY MONTH YEAR)
________________________________________________________________________________
Now once you've sent the e-mail, you'll receive an acknowledgment response within 24 hours. Always check your spam folder (I found their reply on my spam folder).
If you need to cancel your appointment, e-mail them at least 2 working days before your scheduled visa interview. You need to follow a different template though, you can find it HERE.
If you need to change something, e-mail them at least 24 working hours before your visa appointment date.
Take note that the e-mail address provided above is for your visa appointment only. You can't send other inquiries to that e-mail address.
STEP 3: PREPARE YOUR REQUIREMENTS.  
GREECE VISA REQUIREMENTS
I. GENERAL REQUIREMENTS FOR ALL VISA APPLICANTS
3.1. Completed SELF-CHECKLIST. You can download HERE
3.2. Dully filled APPLICATION FORM (typewritten). You can download it HERE.
3. 3. Recent PASSPORT-SIZED PHOTO with white background. Must be pasted on the application form.
3.4. VALID PASSPORT. Make sure it is still valid at least 6 months after the start date of your travel and with at least 2 adjacent blank pages. Also make sure there is no existing still valid Schengen Visa.
3. 5. PREVIOUS PASSPORTS. All previous passports must be submitted. If previous passport was lost/stolen/destroyed, submit an AFFIDAVIT OF LOSS (you can obtain this from a Notary Public).
3.6.  PROOF  OF FINANCIAL MEANS (All documents required).
Bank book and Bank certificate
Personal bank statements, credit card statements or balance covering the last six
months
For minors: Proof of economic means of parents or legal guardian (see list above)
3.7. PROOF OF TRAVEL
Copy of the round-trip airline reservation with Passenger Registration Number (or reservation number) and travel itinerary. The flights must included your other flights (in case your itinerary includes a visit to other Schengen zone) to other Schengen countries.
IMPORTANT: You don't have to purchase your airline ticket yet to avoid wasting your money in case your visa gets declined. You can request for flight reservation/s from a travel agency. Your departure date must be at least 15 days after your Greece visa interview appointment.
3.8. PROOF OF WILL TO RETURN
Copy of employment contract or social security contributions (if relevant)
Copy of real estate property – title-deed (if relevant)
Proof of family ties in the Philippines (e.g. marriage certificate)
3.9. PROOF OF OCCUPATION
FOR EMPLOYED:
Certificate of employment
Certificate of leave absence
FOR SELF-EMPLOYED
Department of Trade Industry (DTI)/Securities Exchange Commission SEC registration of business
Income Tax Return
Business Financial Statement
FOR STUDENT
Proof of enrollment
Certificate of leave absence if travelling during school yea
3.10. IF TRAVELING WITH SPOUSE/OR CHILDREN

Marriage contract certified by the National Statistics Office (NSO)
Birth certificates of children certified by the National Statistics Office (NSO)
3.11 FOR FOREIGNERS WHO HAVE VALID RESIDENCE STATUS IN THE PHILIPPINES
Copy of Alien Certificate Registration (ACR) and Re-entry permit
3.12.FOR MINORS:
Affidavit of support & consent of parents (specially of the non-travelling parent) or legal guardian
Copy of passport of parents or legal guardian
Birth certificate of the minor certified by the National Statistics Office (NSO)
Department of Social Welfare and Development (DSWD) clearance
II. DOCUMENTS TO BE SUBMITTED DEPENDING ON THE PURPOSE OF TRAVEL
3.13. TOURISM
Proof of accommodation: Hotel confirmation or hotel voucher for the entire duration of your stay in the Schengen area. You can book this via AGODA, CHOOSE HOTELS WITH FREE CANCELLATIONS! BOOK HERE. 
Detailed day-to-day itinerary of the planned trip. This is  super important. Make sure you really know your itinerary since the Consul will ask you about it during the interview.  See my sample itinerary below.
FORMAT OF SAMPLE ITINERARY HERE
 
ACTIVITY
HOTEL
Day 0 : JANUARY 08
MANILA TO SINGAPORE

 

SCOOT AIRLINE

FLIGHT # TR375

21:35 PM – 1:15 AM

BOOKING#: XXXXXX

 

 

 

 
DAY 1: JANUARY 09
SINGAPORE TO ATHENS

 

SCOOT AIRLINE

FLIGHT # TR712

3:00 AM – 9:20 AM

BOOKING#: XXXXXX

 

 

 

 

AthensWas Hotel
5, Dionysiou Areopagitou Street, 11742 Athens BOOKING #: XXXXXXX
DAY 2: JANUARY 10
ATHENS, GREECE

 

ATHENS TOUR

 

Panathenaic Stadium

Zappeion

Temple of Olympian Zeus

Athens Trilogy

University of Athens

Academy of Athens

National Library

Acropolis Museum

Parthenon

 

AthensWas Hotel
5, Dionysiou Areopagitou Street, 11742 AthensBOOKING #: XXXXXX
DAY 3: JANUARY 11
ATHENS, GREECE

 

 

METEORA TOUR

 

Transfer to Meteora

Meteora Monasteries

Transfer to Athens

 

AthensWas Hotel
5, Dionysiou Areopagitou Street, 11742 Athens BOOKING #: XXXXXX
3.14. FAMILY OR FRIENDS VISIT
Proof of sponsorship
Letter of guarantee, invitation letter or hotel reservation
Proof of relationship (birth certificate, marriage certificate)
A photocopy of the bio data page of the passport and/or travel history of the sponsor in case of non-formalized relationship (boyfriend/girlfriend)
3.15. TRAVELLING FOR THE PURPOSE OF BUSINESS TRIP, CULTURAL OR SPORTS EVENTS, OFFICIAL VISIT:
CERTIFICATE FROM THE EMPLOYER
Letter of the Philippine company introducing the businessperson, purpose and duration of the visit(s), financial cover of the visit, short company profile, etc.
INVITATION FROM THE VISITED COMPANY OR ORGANIZATION
The letter should incorporate relevant personal data of the invited, length of the invitation, reason and activity to develop in the Member State during the visit
PROOF OF RECENT BUSINESS CONTACT
In case of doubt repeated invitations from the same company in favor of the same applicant, documents in order to proof that the continuation of the commercial relationship with the company that invites (contracts, bills, etc.)
PARTICIPANTS IN COMMERCIAL FAIRS OR CONGRESS/CULTURAL OR SPORTS EVENT:
Letter of invitation from the organisation of this events or invitations to attend
them
Proof of accommodation: Hotel confirmation or hotel voucher
III. TRAVEL INSURANCE
A travel medical insurance is required for all Greece visa appllicant. You can book this via a travel agency. See list HERE
Travel medical insurance should cover emergency medical care, hospitalization and repatriation (in case of death included). The minimum coverage should be for EURO 30,000. This insurance shall be valid for the entire Schengen area and throughout the duration of the stay.
IMPORTANT: All required documents above must be placed in a long brown envelope in the same order as listed above. Write your name and contact number on upper right of the envelope.
PHOTOCOPY all the required documents and place them inside the same envelope.  This is no longer listed on the new list of Greece Visa Requirements, but just to make sure, I suggest you photocopy everything and bring it during your Greece visa appointment.
STEP 4: VISA INTERVIEW.
Bring your requirements during your visa appointment at the Embassy of Greece. You need to be there in person as you will be interviewed by the consul. If you fail to show up, it means your appointment slot is forfeited.
Here's the address of the Embassy of Greece:
EMBASSY OF GREECE
Unit 701 7F SEDCCO I Building
Corner Rada and Legazpi Streets, Legaspi Village
Makati City, Metro Manila, Philippines 1229
Visa applications:
Monday to Thursday, 9:00 AM to 12:00 PM.
Visa pick-up and walk-in Inquiries:
Monday to Friday, 01:00 PM to 02:00 PM
During your appointment day, follow these steps:
Arrive a few minutes before your visa appointment at the lobby of the SEDCCO I Building on the 1st The guard will not let you in until your scheduled time for interview. Yes, not even 5 minutes.
Approach the guard on the time of your visa appointment, sign in and leave your ID. You will be given a visitor's ID that you need to return after your visa interview.
You need to take the elevator to the 7th Floor and enter the Greece Consular Office.
Approach the desk right away and register on the sheet. It is important to register right away because this will determine who gets to be interviewed first.
Take a seat and wait for your name to be called.
Once they call you, you need to submit your documents in a long brown envelope. They must be in the same order as the checklist above.
Take a seat as they examine your documents. Wait for your name to be called again.
Once they call you, if your documents are complete, they will return the original documents and they will provide you a deposit slip. If your documents are incomplete, they will tell you. And depending on what document is missing, you might be asked if you want to push through with the interview despite the incomplete documents, if you say yes, they will give you a deposit slip. *Take note though that it is important to submit complete documents, because having incomplete documents might ruin your chance of securing a visa, unless you can explain to the consul why you don't have it.
Fill out the deposit slip
Exit the Consular Office and go down.  Pay the visa fee at the BDO Branch fronting the building.  Greece Visa fee is EURO 60 but you will pay in Philippine peso.  Rate when we applied is PHP 3,600.  Make sure you have 4 transaction slips, one for the bank, one for you and two for the embassy.
Return to the Consular Office and submit the deposit slip.
Take a seat and wait for your name to be called for the biometrics (photo and fingerprint).
Once your name is called, they will take your biometrics.
After the biometrics, take a seat again and wait for your name to be called for the interview.
If you are applying as a group, there's a chance that you will be interviewed together. I applied with a friend, he was called first and then I was asked to enter the room when the consul learned he has a travel buddy.  So we were interviewed together.
After the interview, they might ask you to submit more documents if they think that your documents are not enough. Then you will be given a slip that you need to sign and return once you claim your passport and visa.
STEP 5. CLAIM YOUR PASSPORT/VISA.  After 7 working days – 14 days (depending on how many days you were advised to claim your passport), you can now return to the Greek Embassy and get your visa/passport.  Bring the slip they gave you to claim it and attach a photo of your ID with it. Make sure you double check the visa for any errors, in case of error, tell the consular authority immediately.
FREQUENTLY ASKED QUESTIONS
What's the earliest date I can apply for the Greece Visa interview?
3 months before your planned trip.
What are the Greece Visa interview questions?
It depends, but usually you will be asked who are you traveling with, why are you traveling to Greece, why are you traveling to another Schengen or non-Schengen country and why did you pick that country.  Make sure you know your itinerary details because the consul will ask you about it.  The consul was browsing our documents while interviewing us and asked us questions based on our documents. We were asked about our work, how much we are earning and how we will be able to afford the trip.  It was a straightforward interview, it was pleasant and we learned a lot from the consul about Greece. The consul knows her country by heart, in our case, she even suggested places that we should visit.
Answer confidently, honestly and respectfully.  Don't babble and don't be nervous.
How much money should I have in the bank?
I don't know for sure, and no one knows.  But it should be enough to cover your expenses for the entire duration of your trip.  Greece embassy requires a EUR 50 (PHP 3,193.86) per person per day budget/pocket money, and a minimum total amount of EUR 300 (PHP 19, 163.15)  for a stay of up to 5 days, so to be safe make it around EURO 60 (PHP 3,840) per day. On top of that, you will be submitting flight reservations and hotel bookings that aren't paid yet, so you need to include that in the budget as well.
Make sure you can back up your financial ties to the Philippines, they need proof of sufficient means of subsistence for the duration of your trip and proof that you acquired those funds legally (example: through employment or business ) and that you are returning back to the Philippines. So having a god amount of money on your bank account does not really guarantee that your Greece Visa will be approved. They will also evaluate your financial ties to the Philippines, they need to determine if you have a consistent source of income. So if you are new to your job, your business or you just resigned recently, you need to prove them that you will be returning back to the Philippines.  Submit other documents like property title, vehicle title or  investments.
Can I submit other documents not listed above?
You can try, anyway they will return it to you if there is no need for it.
Do I really need to book flights and hotels before applying? What is my Greece visa application gets denied?
Like I mentioned above, no need yet.  You can contact or go to a travel agency and request for flight reservations.  They usually charge a minimal amount for this.  So for example, in your itinerary, you will be flying to a Schengen or non-Schengen state, you need to include a flight reservation for that.
For hotel bookings, you can book hotels via Agoda, choose hotels with free cancellations. Or you can do this visa travel agency.
Should I apply for a single, double-entry or multiple-entry visa?
If you are applying for a Greece visa, you need to determine what you need to apply – is it a single-entry Greece Schengen visa, double-entry Greece Schengen visa or multiple-entry Greece Schengen visa?
SINGLE-ENTRY GREECE VISA/SCHENGEN VISA:
 If you intend to stay only in Greece or Portugal, then you need a single-entry Greece Schengen visa.
If you intend to visit other Schengen countries only, then you can apply for a single-entry Greece Schengen visa but make sure your flights to other Schengen states will not require you to exit the Schengen state.
DOUBLE-ENTRY GREECE VISA/SCHENGEN VISA:
If your itinerary requires you to travel to a non-Schengen State and you need to return to the Schengen state after, then you need to apply for a Greece Schengen double-entry visa.
MULTIPLE-ENTRY GREECE VISA/SCHENGEN VISA:
If you will be flying in and out of the Schengen state multiple times, then apply for a the multiple-entry Greece Schengen visa.
How long is the Greece Schengen Visa valid?
It depends on the itinerary you will submit. So make sure you plan your itinerary well and you know it by heart because the Greece Embassy will based the length of the visa on your itinerary. We submitted a 22 day itinerary including another Schengen country. So since we are flying to another Schengen country from Greece, we also submitted flight reservations between both countries. We were granted 22 days visa but the validity is about 1 month and a half just in time for my passport's validity for travel (at least 6 months from actual passport expiration date). It depends on the season.  We applied during off-peak season, some months may be busier.
How long will the whole visa application process take? 
October 27 – We requested for a visa appointment by e-mail.
October 28 – We received an e-mail saying the earliest schedule is December 5. We took it but also requested an earlier date if possible so we can travel with our travel blogger friends.  We did not receive any e-mails after that. So it means, no other earlier schedule available.
December 5 – Visa interview. The consul told us she will grant us a visa during the interview. We were told to claim the visa/passport after 7 working days.
December 15 – We claimed our visa and passport.
How long does it take for a Greece Visa to be released?
About 7 – 14 working days.  We got ours after 7 working days.
How does the Greek Schengen Visa looks?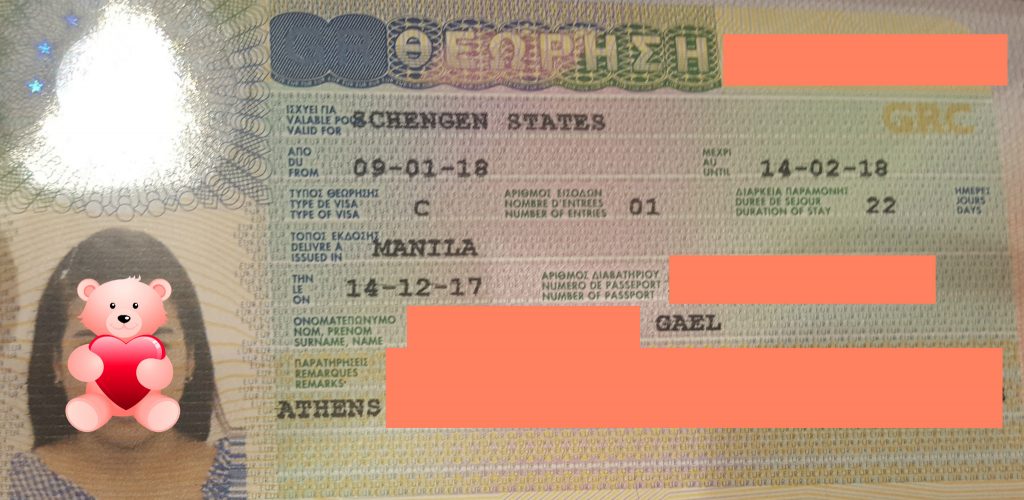 What are the reasons why my application would be denied?
Your intention to leave the territory of the Schengen member states before the expiry of the visa could not be ascertained. Possible reason for this is when there is insufficient proof of employment or there is no enough proof of ties to the Philippines. Maybe you are just newly employed, newly resigned or no stable job, so it seems that there is no guarantee that you will be returning to the Philippines or that you plan to stay longer than what you declared.
You have not provided proof of sufficient means of subsistence for the duration of the intended stay or for the return to the country of origin or residence or for the transit to a third country into which you are certain to be admitted or you are not in a position to acquire such means lawfully. Possible reason for this is the money in your bank account is not enough or your guarantor is not in good financial standing. Or, even if you have enough money in your bank account to cover the cost of the trip but there is not enough evidence to prove the origin of the funds in your bank account. Your declared salary or business income may not be enough source of the funds on your bank accounts, which may raise some red flags.
You don't know your itinerary by heart, you are giving an impression that you don't know what you will be doing during your trip, which may raise more questions.
You've abused your previous Schengen visa. Possible reason for this is you overstayed, or you worked while on a Schengen visa (paid or unpaid).
Remember that visa shopping is prohibited in the Schengen states. This happens when you got denied at an embassy you tried to apply for a Schengen visa, so you tried to avoid that now and you re-applied at an 'easier' embassy/consulate and so you created an itinerary for the sole purpose of applying at that other embassy but you will actually be traveling to another country (where your visa was denied) not where you re-applied your Schengen visa now. This is a form of fraud and should be avoided, and can result in the annulment of a visa if detected, and worse, you might be banned from entering Europe, especially the Schengen zone.
My Greece Visa Application was denied, is there anything I can do?
You can try to appeal.  You will be notified in writing of the reason/s why you were declined. The form notifying you of the refusal of your application contains the necessary information on how you can appeal the decision.
IMPORTANT: Mere possession of an entry visa does not automatically confer the holder the right to enter the Schengen area. The border control authorities or other competent authorities can check the purpose of the journey and whether entry conditions are met.
*I'm no visa expert, this is post is based on my experience when I applied for a Greek Schengen visa recently. Please double check with the Greece Embassy's website to make sure everything is still up to date.
---
ALSO READ:
FOLLOW ME ON FACEBOOK FOR TRAVEL GUIDE UPDATES
About the Blogger : Gael is a Filipina travel blogger. Her work has appeared in local and international publications.
Follow her on Facebook , Twitter and Instagram.
For advertisements, sponsorship and partnerships, you may reach her at gaelhilotinblog (at) gmail (dot) com.