Summer isn't over yet! So go dig out your sun block, pack your shades because it's time to seek out the sun and escape to a paradisaical beach you can call your own! Problem is, with over 7,000 mind-boggling islands to choose from, planning your next beach destination in the Philippines can be truly daunting.
Maybe it's now time to recharge in an under-the-radar enclave that exudes all the elements of an idyllic tropical holiday sans the tourist crowd.  Why not flee to Sorsogon?
(Subic Beach in Matnog Sorsogon)
Blissfully resting on southeastern Luzon, this unassuming province is composed of 14 towns and 1 city – Sorsogon City, its eponymous capital.  Despite the fact that all its municipalities (except for the landlocked Irosin) are situated along the coast, in a round-up of the finest beaches in the country, it is often overlooked. But it does not mean you have to skip it, as this bountiful region is densely packed with utterly beguiling beaches, as I have recently discovered.
(In no particular order.)
SUBIC BEACH (MATNOG)
It may feel more of an adventure than you bargained for, but once you lay your feet on its unique pearly pink shores, you will be rewarded with bliss!  Situated off the coast of Matnog, Subic Beach in Calintaan Island epitomizes the beauty of tropical island cliché. Lush mountains plummet into the coral-fringed turquoise water that is ideal for snorkeling. Just don't go looking for a posh resort here because the island is untainted by luxury trappings, camping is the best way to enjoy its unblemished beauty.
TIKLING ISLAND (MATNOG)
Despite its proximity to mainland Matnog, it was only uncovered to the public recently. The wild shrubs and vines on the ground add up to its raw appeal. The white talcum-powder coast clad by palm trees swaying in gentle breeze is long enough for a leisurely walk, not to mention the beach is a seductive thread of emerald and cerulean waters. Tikling Island offers unending serenity for you; the only inhabitants here are the caretakers that thrive on fishing and copra production.
How to get there:
From Catarman, board a jeep to Allen and take a ferry to Matnog. At the port, you can charter a boat for island hopping in Calintaan Island which includes a stop at Subic Beach, Tikling Island and Juag Fish Sanctuary.  Alternatively, you may fly to Legazpi City and take a bus en route to Bulan.  Ask the driver to drop you off at Trece, the boundary of Matnog and Bulan, and then wait for a jeep to Matnog.  Or you may also board a bus bound for Sorsogon City from Legazpi and ride a Matnog-bound jeep.
OLANGO BEACH (STA. MAGDALENA)
Sea, sand and surf make Olango Beach a great low-key hideaway.  Time keeping here is irrelevant; it's the kind of place that you've always promised yourself where you can relax while basking in cobalt clear waters and soft tropical breeze. Bring your snorkeling gear and check out the colorful underwater habitat. During habagat season, the breeze blows strong and steady creating waves perfect for surfing.
How to get there:
From Catarman, board a jeep to Allen and take the ferry to Matnog. There are jeeps en route to Sta. Magdalena from the town center. 
(Paguiriran Island in Bacon, Sorsogon)
PAGUIRIRAN ISLAND (SORSOGON CITY)
Hugged by rock formations rising above an exposed endless sea, Paguiriran Island is a place to discover and escape back to nature. Don't forget to bring your swimming outfit and snorkeling gear for maximum enjoyment of its clear sapphire blue waters. Besides swimming, this craggy isle also offers other activities including spear fishing, cliff jumping, bird-watching and beachcombing.
How to get there:
From Legazpi City, board a bus to Sorsogon City and look for the jeep terminal en route to Bacon.  Tell the driver you are bound for Paguiriran Island in Brgy. Sawanga.  You may also hire a tricycle all the way to Paguirian Island.  If you have the luxury of time, you can also check out other decent beaches located in Bacon town proper.
PAROLA BEACH (MAGALLANES)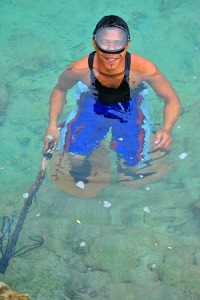 You would not think that the inconspicuous town of Magallanes played a significant role in our history.  Here lies Gibalong, dubbed as the place where the first Christian mass in Luzon was celebrated.  It is also home to Bagatao Island, known in the olden days as Real Astillero de Bagatao, one of the biggest shipyards where colossal Spanish galleons were built. Nearby is a local favorite – Parola Beach, crowned by an age old parola (lighthouse).  Bring your goggles, dive and discover the corals and multi-hued fishes that dwell near its shore.
How to get there:
From Legazpi City, take a bus bound for Sorsogon city and transfer to a jeep en route to Magallanes. At the port, you can talk to a local fisherman and charter  a boat to take you to Parola Beach.
LOLA SAYONG SURF CAMP, BUENAVISTA BEACH (GUBAT)
Swimming, surfing and beachcombing for shells are three ways to enjoy a lazy day at the beaches of Rizal. Its long shoreline is hemmed in by a handful of low-key resorts and cottages ideal for family picnic and barkada getaway.  For a change of scenery, head to Lola Sayong Surf Camp, grab a surfboard and ride the waves of Buenavista Beach. "For a minimal fee of Php 350, you'll get to enjoy surfing for an hour inclusive of surfboard and your own instructor", says Noli Mercader, a surfer from Gubat. The surf break at Lola Sayong Surf Camp Beach produces consistent waves year round, with the major swell season starting in October to March.
How to get there:
From Legazpi City, take a bus bound for Sorsogon City and transfer to a jeep to Gubat. At the town proper, you can hire a tricycle for Php 50 to take you to Rizal Beach.
(Dancalan Beach in Bulusan, Sorsogon)
DANCALAN BEACH ( BULUSAN)
Bulusan has always had the bevy of things to attract tourists from the scenic fusion of soaring mountains draped by verdant jungles, emerald green lakes and lagoons and breath-snatching coast!  For as low as Php 10 entrance fee per person take pleasure in the picnic-perfect Dancalan Beach. Watch in awe as traditional fishing boats ply its azure waters, while local fishermen catch fish, tend their fishing nets or just simply enjoy the afternoon breeze under the shades of coconut trees. Cottages have mushroomed on its shore, so if you plan to stay overnight; they offer air-conditioned rooms starting at Php 1,000.
How to get there:
From Legazpi, ride a bus bound to Sorsogon City then take a jeep bound for Gubat proper.  Travel time is about 30 minutes. From Gubat, ride another jeep to Bulusan and ask the driver to drop you off at Dancalan Beach. If you're coming from Samar or Matnog, you can also reach Bulusan via Irosin.  Ride a jeep (the schedule though is erratic) or charter a tricycle starting at Php 300 (one way) to take you to Dancalan Beach.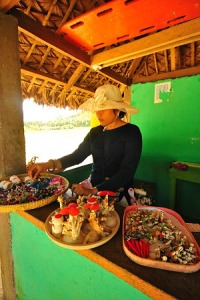 PANUMBAGAN SANDBAR (CASTILLA)
Like a jewel that emerges once the tide recedes, Panumbagan Sandbar just off the coast of Brgy,Bantayan boasts of powdery cream sands hugged by cerulean waters.  The island has recently been developed for the convenience of tourists.  Floating cottages connected by make-shift bridges with fish cages were constructed. Interestingly, the Bantigue Point Marine Sanctuary is just a few minutes away where visitors can plunge into the water and explore the staggering variety of marine life. Don't leave without indulging in local cuisines and delicacies such as Bicol Express, kinuno (fish meat with malunggay leaves and cocnut milk), kaluko (grated gabi with coconut milk) and bayokbok (sticky rice mixed with grated young coconut).
How to get there:
From Legazpi City, board a bus to Castilla and board a jeep to Brgy. Bantayan,the jump-off point to Panumbagan Sandbar. Hire a boat at the port to take you to the sandbar and Bantigue Point Marine Sanctuary. If the sea is calm, you may also swing by in Malawmawan Sandbar.
LEBANON BEACH (PRIETO DIAZ)
Rugged, meandering and riddled with tropical beaches blissfully uncharted by mass tourism, the underrated town of Prieto Diaz is worth visiting.  Sensuously soft white to cream sands and azure water make Lebanon Beach in Brgy. Lupi perfect for lazing around and tanning while reading your favorite novel.  You can also dive the astonishing coral reef formation inhabited by rainbow-hued fishes and other marine animals.
TUTIN BEACH (PRIETO DIAZ)
Situated just a few meters away from Lebanon Beach is Tutin Beach in Brgy. San Ramon.  Though virtually unheard of for most visitors, it is a favorite hideaway of the locals.  Rugged waved carved shores hugged by aquamarine waters makes for a scenic respite.  Make time to visit the Mangrove Forest Eco-Exploration while in the area.
How to get there:
From Legazpi, ride a bus to Gubat and transfer to a jeep en route to Prieto Diaz. From the town proper, take a tricycle to Lebanon Beach or Tutin Beach.
Philippine Airlines and Cebu Pacific fly daily between  Manila and Legazpi.  From Legazpi, most of these beaches are either 1 to 2 hours away. Alternatively, you can also fly to Catarman from Manila via PAL for the beaches in Matnog.  From, Allen Port in Northern Samar, ride a ferry for about an hour to reach Matnog.
*This is the unedited article that appeared in Mabuhay Magazine ( the in-flight magazine of Philippine Airlines) July 2014 issue.  And was also republished on It's More Fun in the Philippines website by Department of Tourism Philippines. All rights reserved. Copyright 2014